House Deputy Speaker Rodante Marcoleta zeroes in on a phrase in the Government Procurement Policy Board's issuances that have been cited by COA and the Senate in going after PS-DBM on problematic pandemic contracts
House Deputy Speaker Rodante Marcoleta was fuming during the latest hearing into government's COVID-19 purchases, slamming the Government Procurement Policy Board (GPPB) over issuances that confused agencies when procuring supplies.
At the House good government and public accountability hearing on Monday, September 27, Marcoleta pressed GPPB on why it had to mention provisions of the Procurement Law when it issued guidelines for the implementation of the Bayanihan to Heal as One Act or Bayanihan 1.
Bayanihan 1 effectively allowed the government to do away with the Procurement Law.
Mentioning provisions of the Procurement Law therefore "confused" procuring entities on the requirements they had to meet and the processes they needed to follow, claimed Marcoleta. The Procurement Law, for example, could require bank guarantees for contractors.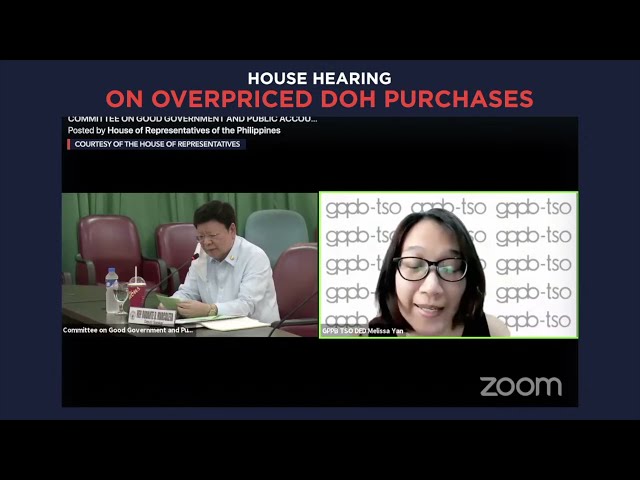 On Monday, Marcoleta specifically asked GPPB Deputy Executive Director Melissa Yan about the mention of Section 53(b) of Republic Act 9184 or the Procurement Law, and Section 53.2 of the implementing rules and regulations of the said law.
Section 53(b) of RA 9184 and Section 52.3 of the revised IRR simply say that negotiated procurement can be undertaken under "emergency cases" or in case of "imminent danger to life or property" during a state of calamity.
As negotiated procurement under emergency cases is considered an alternative mode of procurement, the IRR of RA 9184 says contractors may be required to submit performance security and warranty security "depending on the nature of procurements." Both entail bank guarantees.
As Yan tried to answer, Marcoleta kept interrupting her. She said that procedures had been simplified already pursuant to Bayanihan 1.
"Ibig mo sabihin ako nagsisinungaling dito? (Are you telling me that I am lying?)" Marcoleta said in reponse.
Marcoleta went on to cite Non-Policy Matter Opinion 004-2020, which mentioned the said provisions in passing. He also brought up GPPB Circular 01-2020 and Resolution 06-2020, which laid out the rules for negotiated procurement under Bayanihan 1.

"Although there are similarities, we don't want to reinvent the wheel," said Yan as she was cut by Marcoleta again.
The deputy speaker responded that, by mentioning those provisions, the agency "negated" the wisdom of Congress and only confused people.
"Mas marunong pa ba kayo sa Congress? (Do you know better than Congress?) Under Bayanihan 1, we dispose of the application of [RA] 9184 that was the wisdom of the Congress. You have no right to reverse the wisdom of Congress," Marcoleta said.
"Why did you have to put that phrase? Ito ngayon ang nangyari, napunta tayo sa Senate. Ginamit ng Senate 'yon. (Now it has reached Senate. The Senate used it.) And even COA (Commission on Audit) was insisting on this particular phrase that you included," he said.
Former budget undersecretary Lloyd Christopher Lao had taken cover under Bayanihan 1 in defending the controversial deals with Pharmally Pharmaceutical Corporation awarded under him in 2020.
Under normal competitive bidding, a firm is required to submit its net financial contracting capacity (NFCC), which determines its financial capability.
Under GPPB Circular 01-2020, NFCCs are required only for infrastructure projects, and no longer for other items to be procured. Required instead are omnibus sworn statements, technical specifications, and other appropriate licenses and permits.
If anything, GPPB Circular 01-2020 provided protection to Lao.
Thank PS-DBM for due diligence?
Earlier in the hearing, Marcoleta also shut down tax expert Mon Abrea for his statements in past Senate blue ribbon panel hearings.
During the September 10 and September 17 Senate hearings, Abrea guided senators on how to better analyze Pharmally's financials.
Upon questioning of Senator Richard Gordon on due diligence, Abrea said "it was obvious" that there should have been questions on the financials of Pharmally before contracts were awarded.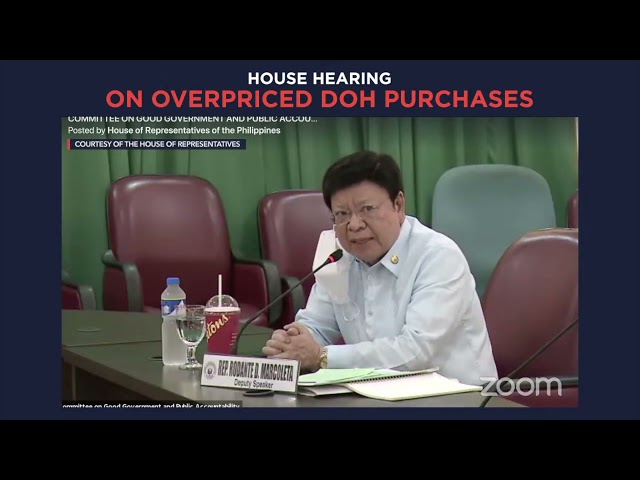 On Monday, Marcoleta lectured Abrea about due diligence and cited "the diligence of a good father of a family" under Article 1163 of the Civil Code.
He said Abrea should have "thanked" PS-DBM for doing ordinary diligence. The agency required NFCC when it requested Pharmally for quotations for face masks on March 25, 2020.
"Dapat pinasalamatan mo sila because kahit hindi na kailangan ginawa pa rin nila," Marcoleta said. (You should have thanked them because they asked for it even if they didn't have to.)
An internal audit ordered by resigned Department of Budget and Management secretary Wendel Avisado showed that Pharmally's delivery of test kits was consistently delayed, which senators said was not a good measure of its capability to deliver.
Similar to previous House hearings, congressmen were quick to defend the Duterte administration after stunning admissions made at Senate hearings.
House good government and public accountability panel chairman DIWA Representative Michael Aglipay even had to ask if the alleged expired face shields led to the deaths of frontliners.
House lawmakers also fell short of questioning Pharmally if it swindled the government when it tampered with the expiration dates of face shields. It stopped at Pharmally executive Mohit Dargani's denial. – Rappler.com
Read the other stories from the September 27, 2021, House committee on good government and public accountability hearing: