(5th UPDATE) Pro-Marcos lawyer Larry Gadon, a controversial figure once suspended by the Supreme Court, represents the complainant against Justice Marvic Leonen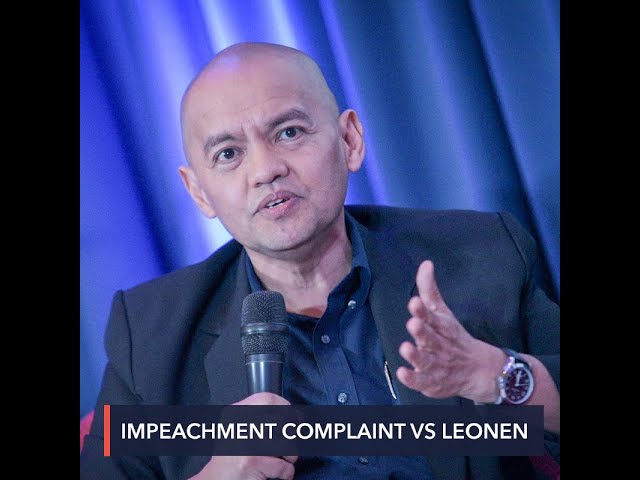 A member of the powerful Marcos clan endorsed an impeachment complaint against Justice Marvic Leonen at the House of Representatives on Monday, December 7.
This comes after the Marcos camp failed to force him to inhibit from the electoral protest case by former senator Ferdinand "Bongbong" Marcos Jr against Vice President Leni Robredo.
Ilocos Norte 2nd District Representative Angelo Marcos Barba, cousin of Bongbong, endorsed the impeachment complaint filed against Leonen by a group claiming to push for good government.
The impeachment complaint was submitted to the Office of the House Secretary-General by Edwin Cordevilla, who identified himself as secretary-general of Filipino League of Advocates for Good Government, on Monday, December 7.
The complainant is represented by Larry Gadon, a controversial pro-Marcos lawyer who was suspended by the Supreme Court for 3 months in June 2019.
With a House member endorsing it, this means the impeachment complaint against Leonen has been officially filed.
Barba is the son of the late Fortuna Marcos Barba, the youngest sibling of the strongman Ferdinand Marcos, Bongbong's father.
Barba told reporters he endorsed Cordevilla's complaint because the latter hails from his own district. The Marcos clan controls the so-called Solid North provinces, including Ilocos Norte where members of the family hold various positions.
"Mang Ed Cordevilla came to me, and as a constituent in my district, I entertained him, I read his complaint, I believed in it. That's why I'm here as his congressman and I accompanied him," the Ilocano lawmaker said.
Leonen, in a brief statement around noon on Monday, said he has not received a copy of the complaint, then warned against raising false issues to exact revenge.
"Given the urgent and pressing needs of our people during this time of crises, we are confident that our leaders will do the right thing. Certainly, this may not be to attend to false issues raised by some for clearly personal or vindictive reasons," said Leonen.
"Regardless, we wish everyone the best for this season of kindness and compassion. May we all continue to help others who are still truly in need," he added.
While President Rodrigo Duterte is a known Marcos ally, Malacañang on Monday distanced itself from the impeachment complaint against Leonen.
Asked if it has Duterte's imprimatur, Presidential Spokesperson Harry Roque said in a mix of English and Filipino: "Absolutely not, none. Nothing to do with it. We don't even know who the proponents are."
Marcos' lawyer Vic Rodriguez said Bongbong "is not connected and has nothing to do" with the complaint.
"We refrain from commenting on an event or case where we are not a party as it is inappropriate for anyone to make wild accusation on something that they have no basic comprehension of the allegations, have not read the complaint and are just but the usual ballyhoos," Rodriguez said in a message to reporters on Tuesday, December 8.
Timing of the complaint
Cordevilla submitted his complaint a month after Marcos sought Leonen's inhibition from the election case the latter filed against Vice President Leni Robredo. The SC later thumbed down Marcos' petition on November 17.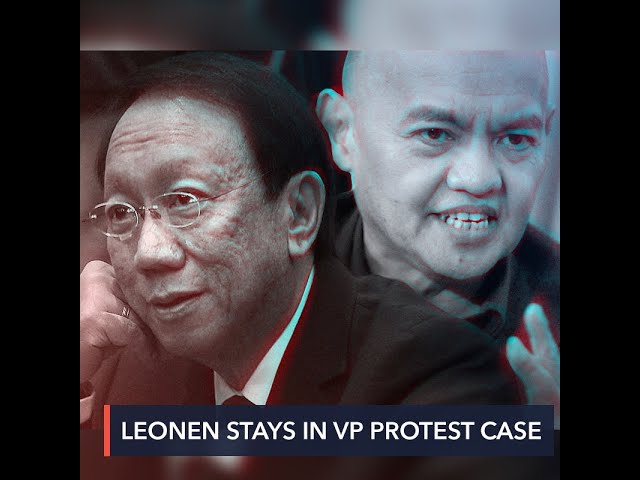 In November, Marcos admitted in a press briefing he was "in touch" with Gadon, but supposedly cautioned the notorious lawyer against ousting Leonen – at least until the Commission on Elections and Solicitor General Jose Calida released their respective comments on pending issues on the vice presidential protest.
In his impeachment complaint, Cordevilla accused Leonen of culpable violation of the 1987 Constitution after the SC justice allegedly failed to dispose of at least 37 cases within 24 months.
Cordevilla also said Leonen supposedly delayed the resolution of cases pending before the House of Representatives Electoral Tribunal, which the magistrate chairs.
Cordevilla also alleged that Leonen committed betrayal of public trust after failing to file his Statements of Assets, Liabilities, and Net Worth (SALN) for 15 years while serving various positions at the University of the Philippines (UP) from 1989 to 2011.
"This also negates the probity and integrity required of him as a member of the judiciary," Cordevilla said.
Leonen hit for allegedly favoring Aquino
Cordevilla also took issue with Leonen for allegedly "being anything but impartial" during the administration of former president Benigno "Noynoy" Aquino III, who appointed Leonen to the High Court.
He cited several SC cases where Leonen allegedly favored what was supposed to be the stance of Aquino, including upholding the constitutionality of the reproductive health law in September 2014 and dissenting from the January 2015 ruling that allowed ex-president Joseph "Erap" Estrada to run for office after being pardoned for plunder.
Cordevilla said Leonen, on the other hand, wrote dissenting opinions and "took sides against the current administration" of President Rodrigo Duterte, from allowing the hero's burial for Marcos, acquitting former president Gloria Macapagal Arroyo of plunder, and upholding the arrest of opposition Senator Leila de Lima. De Lima is Aquino's ally in the once-ruling Liberal Party.
"From the foregoing, it is clear that respondent has continuously ignored ethical precedents to the point of casting doubt on the integrity of the entire judicial institution. His dissenting opinions, which partake of long winded dissertations, are designed to embarrass his colleagues and inflict harm to the reputation of the High Court," said Cordevilla.
Cordevilla also cast doubt Leonen's credentials, claiming the SC justice is unfit for his post since he had served as an academic in UP before Aquino appointed him to the High Court. Cordevilla also said Leonen was allegedly incompetent during his stint as chief peace negotiator under Aquino.
"Being an academician all his life, one wonders if he ever even saw the 4 walls of a courtroom prior to his appointment. And yet, despite the respondent's lack of experience in the judiciary and despite his disastrous performance as the Bangsamoro chief negotiator, Aquino appointed him to the High Court at the young age of 49, making him the youngest justice named since 1938," said Cordevilla.
A repeat of Sereno impeachment bid?
Cordevilla's lawyer Gardon previously asked the SC for copies of Leonen's SALN to support a potential filing of a quo warranto petition against the magistrate, but the High Court rejected Gadon's request.
Cordevilla instead cited the Manila Times columnist Rigoberto Tiglao's article entitled "Leonen failed to file his SALNs like Sereno, but for more years" to back his accusations against the SC justice.
In August 2017, Gadon went for Sereno's head over her failure to be truthful in her SALNs, her alleged tax misdeclarations, and unauthorized expenses. His impeachment complaint was endorsed by 25 legislators.
Seven months later in March 2018, the House committee on justice approved the articles of impeachment against Sereno.
But this was rendered moot and academic when the SC itself later decided in May 2018 to oust the chief justice via the unprecedented quo warranto petition because of the non-filing – or at least the non-existence – of SALNs when Sereno was a professor at the UP College of Law.
Gadon ran but lost as a senatorial bet in the 2019 elections under the Kilusang Bagong Lipunan, a party founded during the presidency of Marcos' late father, the dictator Ferdinand Marcos.
One of the last times Gadon made headlines was when he claimed face masks cannot stop the spread of COVID-19. The Department of Health slammed Gadon on August 17 for making this false claim. – with reports from Pia Ranada/Rappler.com