This is AI generated summarization, which may have errors. For context, always refer to the full article.
'Kaya ano'ng dapat nating gawin? Kailangan nating talikuran ang mga kandidato na gusto tayong ibalik sa panahon ng Martial Law ni Marcos,' says Kris Lacaba, son of a Martial Law victim
On the 49th anniversary of the declaration of late dictator Ferdinand Marcos' militaristic rule, Martial Law victims and their families have called for a stop to supporting candidates who favor a return to tyranny.
"Kaya ano'ng dapat nating gawin? Kailangan nating talikuran ang mga kandidato na gusto tayong ibalik sa panahon ng Martial Law ni Marcos (What do we need to do? We need to turn our backs on the candidates who want to put us again under Martial Law)," Kris Lacaba said during a press conference for the victims of Martial Law on Monday, September 20. 
Lacaba is the son of Jose Maria "Pete" Lacaba, a poet and film writer, who was tortured during Martial Law. Pete Lacaba was tortured using the "San Juanico" method, where he was forced to lie on two different beds for hours – his head on one, his legs on the other.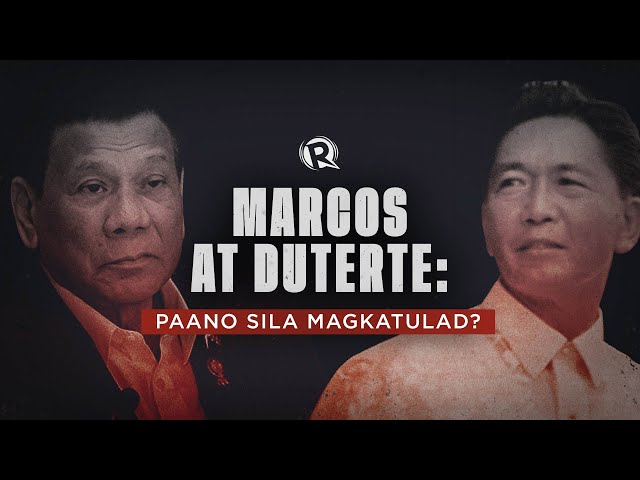 When Pete would fall, the military torturers would force him up. The method was named after the long bridge which linked the islands of Samar and Leyte. San Juanico Bridge was among the centerpiece projects constructed during that dark era. 
"Huwag tayong sunod-sunuran. Maging mapanuri sa mga nangyayari sa lipunan. Huwag sana tayong maging minion, maging machine (Let's not be subservient. Let's be vigilant with what's happening in our society. We should not be like minions or machines)," Kris added.
National Union of Peoples' Lawyer chairperson and former lawmaker Neri Colmenares said the 49th commemoration of Martial Law would not just honor the struggle of the Filipino people, but would also campaign against the attempt of the Dutertes to stay in power.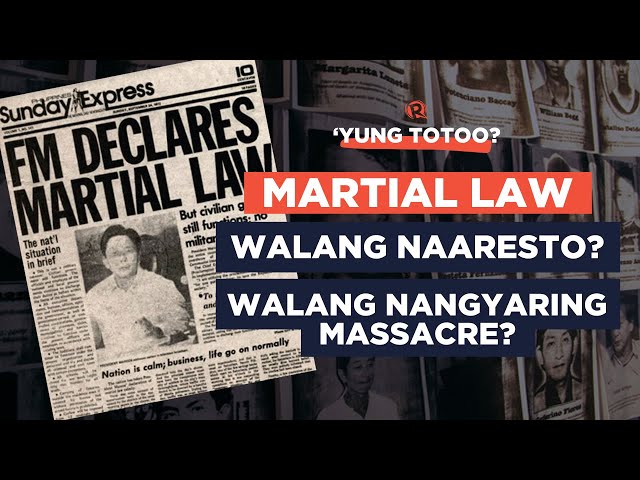 "So lalong naging significant ang pagkilos ngayon (Our fight today becomes significant) not only to commemorate the struggles of the Filipino people during the Martial Law, but as a commitment also to fight this specter that is haunting the Philippines, which is another six years of Duterte de facto Martial Law," Colmenares told Rappler.
Activists and Martial Law victims find many similarities between President Rodrigo Duterte and the disgraced strongman. Duterte has been frank about his support of the Marcos family.
Duterte-Marcos resemblance
According to Bonifacio Ilagan, a renowned screenwriter and Martial Law victim, Marcos and Duterte were the most detested Philippine presidents for Martial Law victims because of human rights abuses during their reign.
Danilo dela Fuente, vice chairperson of Samahan ng mga Ex-detainees Laban sa Detensyon at Aresto (Selda) and a Martial Law survivor, told Rappler that activists were being tagged as communists both under Duterte and Marcos. Dela Fuente also compared Marcos' Martial Law to Duterte's Executive Order (EO) No. 70.
In 2018, in a bid to end the insurgency, Duterte signed EO 70, which ordered a whole-of-nation approach against communism. However, the EO paved the way for intensified red-tagging against legal organizations and the killings of activists.
Since late tyrant Marcos declared military rule on September 21, 1972 until 1981, rights group Amnesty International recorded a total of 3,340 people killed at the hands of the Marcoses. Around 70,000 people were imprisoned, while 34,000 were tortured in the span of nine years.
Under Duterte, rights group Karapatan tallied a total of 414 victims of extrajudicial killings in the country from June 2016 up to July 2021. Of these hundreds of killed individuals, 211 were activists. – Rappler.com