Supporters also commemorate the 12th death anniversary of democracy icon Cory Aquino, Noynoy's mother
Supporters of the late former president Benigno "Noynoy" Aquino III mark the 40 days since his passing with over 40 Masses to be held nationwide throughout the day on Sunday, August 1. 
The Masses also commemorate the 12th death anniversary of Aquino's mother, former president Corazon "Cory" Aquino. Known as the widow who toppled the late strongman Ferdinand Marcos, Cory Aquino passed away on August 1, 2009.
The main Eucharistic celebration for the Aquinos will be held at 5 pm at the Sacred Heart Chapel in the Church of Gesu at the Ateneo de Manila University, Noynoy's alma mater.
The Mass will be streamed by the official Facebook page of the the Kaya Natin! Movement for Good Governance and Ethical Leadership.
Vice President Leni Robredo, opposition leader and chair of the once-ruling Liberal Party (LP), will deliver a message right after the Mass. A candle-lighting ceremony will follow. 
Aquino, the 15th president of the Philippines, was chairman emeritus of the LP. 
The other Masses for the Aquinos will be held in various parts of the country between 7 am and 5:30 pm. Most will be live-streamed for their supporters, who would be unable to leave their homes due to coronavirus quarantine restrictions. 
Aquino shocked the entire nation when he died of renal disease secondary to diabetes on June 24. He had been suffering from various illnesses since 2019, and had been undergoing dialysis for at least three months. He had a heart operation shortly before his passing.
He was laid to rest beside the graves of his parents, democracy icons Cory Aquino and former senator Benigno "Ninoy" Aquino Jr., at Manila Memorial Park in Parañaque City.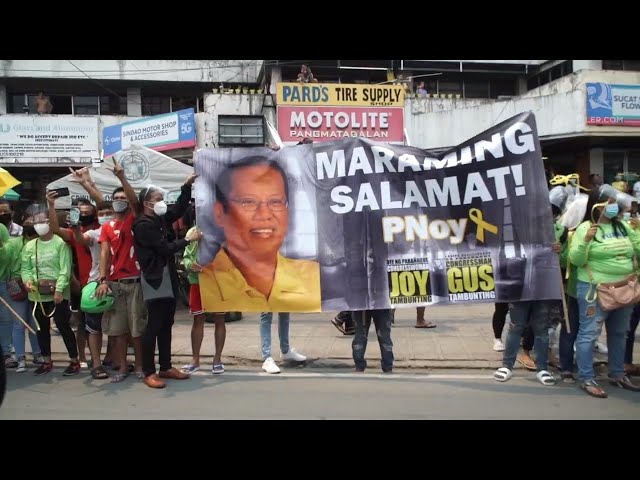 Aquino first entered politics as congressional representative of Tarlac's 2nd District. After serving three consecutive terms as congressman, he ran a successful bid for the Senate and served as senator from 2007 to 2010.
He initially had no plans to gun for Malacañang in the 2010 elections, but Aquino eventually sought the presidency following public clamor after his mother's death in 2009. 
Aquino would be remembered as the Philippine leader who brought China to court and challenged Beijing's false claims over the West Philippines Sea. The Philippines would later win the case in July 2016, a month after Aquino's term ended.
His anti-corruption drive called "Daang Matuwid (Straight Path)" helped stabilize the Philippine economy.
His efforts to revive the peace process in Mindanao also paved the way for the preliminary peace agreement between the government and the Moro Islamic Liberation Front, which later culminated in the creation of the Bangsamoro Autonomous Region in Muslim Mindanao.
Aquino remained a largely popular leader for most of his presidency – until the Mamasapano incident on January 25, 2015, where 44 elite cops were killed in an operation that targeted terrorists Abdulbasit Usman and Malaysian bomb maker Zulkifli Abdhir, better known as "Marwan."
Despite this, his final public grade was "very good," according to pollster Social Weather Stations. – Rappler.com