The government eases quarantine restrictions in Davao de Oro and Davao del Norte from MECQ to GCQ with heightened restrictions, also from July 23 to 31
The national government is imposing slightly tighter quarantine restrictions in Metro Manila, Ilocos Sur, and Ilocos Norte amid a spike in COVID-19 cases in these areas.
Metro Manila will be under general community quarantine (GCQ) "with heightened restrictions" from July 23 to 31, from its current status of ordinary GCQ, Presidential Spokesman Harry Roque said on Friday, July 23.
Ilocos Sur and Ilocos Norte, which had been under the loosest modified GCQ, will be elevated to GCQ with heightened restrictions during the same time period.
The stricter quarantine classification means mobility restrictions for kids are back. (READ: Metro Manila mayors want to bring back restrictions for kids)
"As these areas will be placed under GCQ with heightened restrictions, children five years old and above will not be allowed to go to outdoor areas," said Roque.
Gyms are also not allowed to operate under GCQ with heightened restrictions. Below is a guide to the different types of GCQ.
Meanwhile, there was a loosening of restrictions in Davao provinces. Davao de Oro and Davao del Norte will go from the semi-lockdown state of modified enhanced community quarantine (MECQ) to GCQ with heightened restrictions from July 23 to 31.
Davao del Sur, also currently under MECQ, has been placed under ordinary GCQ.
The Delta factor
The slight tightening of restrictions comes a day after the Department of Health (DOH) confirmed the local transmission of the feared Delta variant.
There are now 47 cases of the more virulent COVID-19 variant in the country. Of these, 23 are local cases, meaning they appear to have gotten infected while in the country and not from someone who came from abroad.
To address this, the national government approved the "continuous and strengthened" implementation of contact tracing, immediate isolation, and localized lockdowns in barangays with spikes in infections.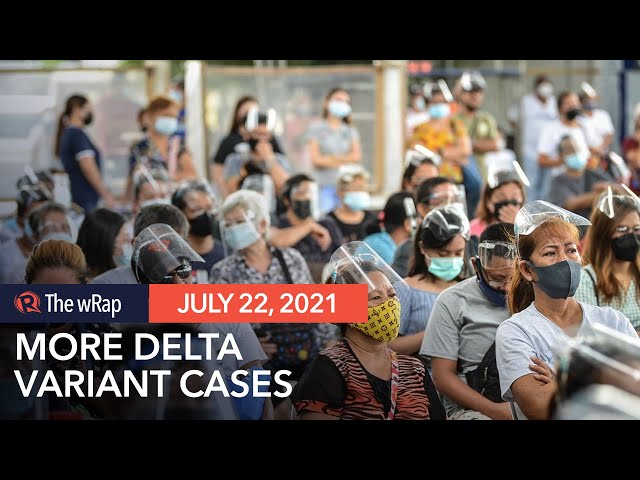 Concerned that spikes in cases would stymie economic activities, the national government has asked establishments to use more outdoor spaces for their business activities.
This includes more temporary outdoor weekend markets, outdoor dining spaces, and permanently accessible urban green spaces, outdoor recreational spaces, and public sanitation facilities, said Roque.
– Rappler.com