This is AI generated summarization, which may have errors. For context, always refer to the full article.
The Department of Social Welfare and Development pulls out over 100 children from Quezon City-based orphanage Gentle Hands over alleged living standards violations, but the children cry as they are told they have to leave
MANILA, Philippines – The sudden pullout of over 100 children from Quezon City-based orphanage Gentle Hands will "reactivate trauma" for the many children in the facility who have experienced abuse, the facility's executive director Charity Graff said on Tuesday, May 23.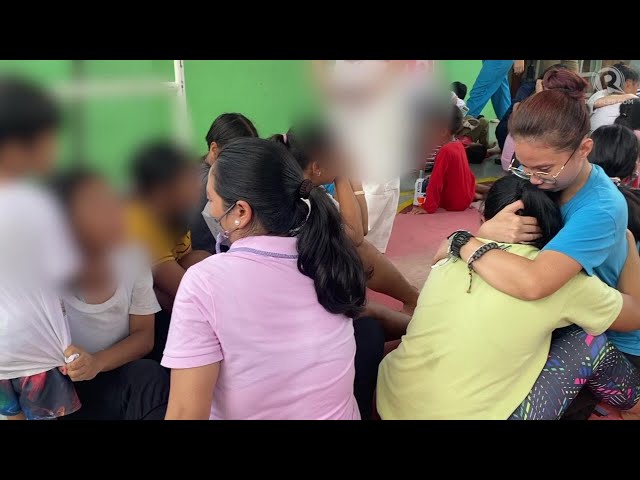 The Department of Social Welfare and Development (DSWD) went through with pulling out the children on Tuesday in line with a cease and desist order (CDO) they issued over the organization's alleged failure to comply with the agency's minimum standards for residential facilities for children.
"This is reactivating trauma. When the children are here, they are processed, they have counselors, they meet with the counselors who are on call every week individually and in group sessions, and that's to process rape, child abuse, abandonment, being a foundling, those kinds of things," said Graff.
"This incident will create trauma in the children that possibly just had stress or anxiety upon admission. It will re-trigger the kids that have already PTSD (Post-Traumatic Stress Disorder), and it will affect them for the rest of their life," she added.
Graff, a Canadian who has been in the Philippines since 2000, worried about how well the kids would be taken care of, given that many have previously experienced trauma or have disabilities.
The CDO was issued on Monday, May 22, and the DSWD sent buses to Gentle Hands that evening. The DSWD and Gentle Hands eventually agreed to a "compromise" to not pull out the kids that evening, and the buses left empty. However, the pullout was still imminent.
Gentle Hands was given 20 days to comply with the DSWD's findings. Meanwhile, the children were taken to Elsie Gaches Village in Alabang, Nayon ng Kabataan in Mandaluyong, and the Reception and Study Center for Children in Quezon City.
'Imminent danger'
DSWD Secretary Rex Gatchalian said in a Malacañang briefing on Tuesday that he had personally received complaints about the Gentle Hands facility on Friday, May 19.
On Saturday, May 20, Gatchalian and social workers visited the facility to do a spot check. Some issues he mentioned were littered spaces, faulty ventilation, and overcrowding.
DSWD Assistant Secretary Romel Lopez in a message to reporters further specified Gentle Hands' alleged violations:
Violation of Fire Code due to obstructed fire exits
Absence of social workers during the spot monitoring (DSWD's protocols hold that social workers must be onsite 24/7), only caretakers were present
Overcrowded living conditions – 85 maximum capacity, but the orphanage housed over 100
"Non-compliance" due to use of triple-decker beds, when only up to double-decker beds can be used
"Even in the 20 days you cannot keep them there, because nga may mga immediate, imminent danger findings na kami eh (because we have immediate, imminent danger findings already)," said Gatchalian.
Graff responded to each of the alleged violations in an interview with reporters. During the time of the inspection, there were two high chairs in front of the fire exit door which could be moved. Graff also defended the facility's fire safety inspection permit given in January.
As for the absence of social workers during the inspection, Graff said that their social workers are "on call" on weekends, and live "just about across the street" during their on-call. But they were on duty, she said. One of Gentle Hands' counsels added that some workers were on leave, while another was isolated for being positive for COVID-19.
Meanwhile, Graff said that she had "never heard" of the 85 maximum for children in the facility. She said that the organization has been submitting a caseload inventory of around 150 children for more than two years, and such was not flagged before. They also denied overcrowding.
The DSWD had flagged the use of triple-decker beds in an earlier meeting with Gentle Hands in March. While standing by the "safety" of the third decks, Gentle Hands agreed to convert the third decks into storage spaces, and they are no longer being used as beds at present.
Gentle Hands rejects that the alleged violations warranted the need for a CDO, or for the children to be pulled out.
'We will do everything that we can to get you back'
It was an emotional Tuesday morning for the children of Gentle Hands.
At the facility's roofdeck, the children of various ages – infants, toddlers, small kids, and teenagers – sniffled and wailed as they held on to each other for as long as they could. They were told they were going to be taken, and many were heard saying that they did not want to leave.
Graff debriefed them just before their last lunch at the facility. Afterwards, they would head to the buses.
"We're going to fix everything that they've asked us to fix. And [the attorneys] are going to do everything they can… And we are going to make sure that we can get you back," she told them.
The woman they called "Mom" reminded them that if somebody hurts them, they needed to tell somebody. And if they saw "bastos (lasciviousness)," they should speak up.
"You are Gentle Hands kids," Graff said, her voice cracking. "You are strong. and God has a plan. Okay? Take care of each other and you behave."
Through her tears, a girl asked, "Are we coming back?"
"We're going to do everything we can. I don't understand why this is happening. I really don't. But we will do everything that we can to get you back. So you pray and you ask the Lord to give us wisdom, and favor, and pray how you know how to pray," she said.
The children's caretakers were crying with them. Caretakers Nizan and Bing held on to each other for support, saying they did not expect this to happen.
"Para po sa 'min, okay naman ang mga bata. Okay naman sila. Actually, ayaw nilang umalis sa amin," said Nizan (We believe the children are okay. Actually, they do not want to leave us.)
"Wala akong anak pero nagtrabaho ako dito nang hindi ko akalain na aabot sa puntong ganito at masasaktan ako pero napalapit na din kasi sakin yung mga bata. Parang tinuring ko na silang mga anak eh," she added. (I don't have children, but I worked here not expecting that I would reach this point of experiencing pain – but it's because I became close to the children. I see them as my own children.)
Gentle Hands said that it is willing to comply with everything the DSWD required. The children could be sent back if the cease and desist order is lifted, the orphanage's counsel said, provided that their license is not revoked during the DSWD's investigation.
"And we would comply with whatever else they would like us to comply with. I'm not anti-DSWD, I'll comply. We are supposed to be partnering for the best interest and welfare of these children," said Graff.
She added: "I'm willing to do anything. I live in this country because I've dedicated my life to the children of the Philippines. I could go back to Canada but I've chosen to stay here."
The DSWD assured the public that the children would be taken care of. In a statement on Tuesday, the DSWD said that it was re-auditing its centers and residential care facilities to guarantee the "safety, security, and well-being" of the children housed under their care. – Rappler.com