The military is still in the process of identifying the remains of 29 other soldiers who were killed in the July 4 plane crash
The Armed Forces of the Philippines (AFP) on Friday, July 9, announced that it has positively identified the remains of Airman First Class Fortunate Regidor who was killed with 51 others in the C-130 plane crash in Sulu.
The AFP said in a statement that Regidor's remains are being prepared for air transport. With Regidor's identification, the military has identified 20 out of the 49 plane crash victims from among its ranks.
The AFP said authorities are still in the process of positively identifying the remains of 29 soldiers from among the bodies recovered from the crash site. It said the recovered remains are still undergoing examination and preservation in different facilities in Zamboanga City.
The AFP said the 29 soldiers are the following:
Technical Sergeant Nelson B. Hadjiri, Philippine Army (PA)
Technical Sergeant Salaji J. Abdurahman, PA
Corporal Alhamin U.  Salahuddin, PA
Corporal Dexter E. Estrada, PA
Private First Class Keth Kane S. Alegarme, PA
Sergeant Jelson J. Sadjail, PA
Corporal Gulam H. Ismael, PA
Corporal Philip Dante T. Camilosa, PA
Private Joey T. Loterte, PA
Private Erwin M. Canton, PA
Private Mar Jhun T. Capagngan, PA
Corporal Reynel A. Matundin, PA
Private Kevin L. Damole, PA
Private First Class Nazer S. Albaracin, PA
Private Michael C. Dalore, PA
Corporal Jay-ar V. Obenita, PA
Corporal Jemmer B. Mondido, PA
Private First Class Alzid S. Hawrani, PA
Private Carlos Jhun C. Pargua Jr, PA
Private Ian R. Arsuelo, PA
Corporal Jerome M. Balivado, PA
Private First Class Benjie S. Malanog, PA
Private First Class Lester Al T. Lagrada, PA
Private Mansueto B. Lingatong III, PA
Private First Class Bensheen V. Sabaduquia, PA
Private First Class Carlos D. Dapanas Jr, PA
Private First Class Marchi E. Bonzales, PA
Private Archie S. Barba, PA
Airman Second Class Glen Mar G. Biscocho, Philippine Air Force
At least 52 were killed and 47 were injured in the July 4 plane crash in Patikul, Sulu.
Financial assistance
The AFP said the families of the victims will receive financial assistance from the government. The families of the fallen soldiers will each receive special financial assistance, which includes the sum of their base pay, hazard pay, and other bonuses.
They will also receive a funeral assistance amounting to P80,000 (around $1,600). The monthly pension based on rank and length of service will also be given to the families.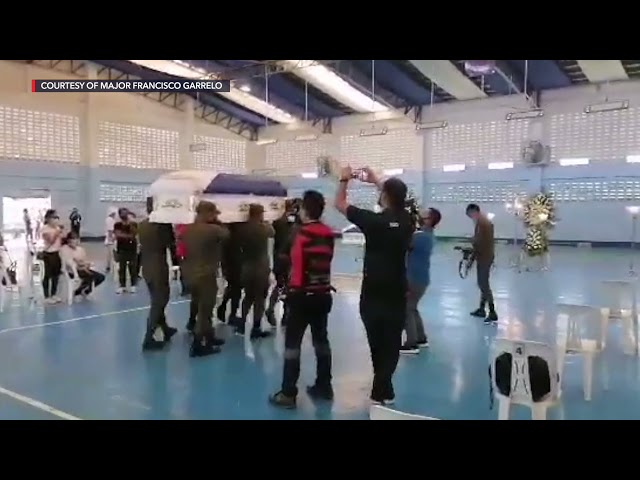 The families will also receive assistance under the Office of the President's Comprehensive Social Benefits Program. This includes special financial assistance worth P500,000 (around $10,000), shelter, health, education, and employment assistance.
The injured military personnel will receive full reimbursement of hospitalization expenses. They will also receive special financial assistance worth P250,000 ($5,000) for major injuries, while P100,000 ($2,000) for minor injuries. – Rappler.com
US$1 = P50.1134