This is AI generated summarization, which may have errors. For context, always refer to the full article.
China also challenges Philippine assets in the area by using radio communication, says a military officer from the AFP Western Command
The Armed Forces of the Philippines (AFP) raised another cause of concern in the the West Philippine Sea, reporting that China now uses flares to ward off Philippine military assets patrolling the area. 
In 2021 alone, the AFP Western Command (Westcom), which oversees the West Philippine Sea, recorded a total of five incidents where China fired pyrotechnic signals at Philippine military planes conducting routine patrols.
The data was shared by Lieutenant Colonel Bill Pasia of the Westcom during a webinar on Friday, August 20.
According to Pasia, the flares were fired from Chinese outposts built in these reefs:
(Once) Chigua (McKennan), June 16
(Twice) Calderon (Cuarteron), June 22
(Once) Burgos (Gaven), June 22
(Once) Mabini (Johnson), June 22
The military officer said that the main challenge now for the military was China's increasing assertiveness. Pasia added that the growing number of Chinese vessels in Philippine waters was also one of the military's concerns as of today. 
"The issues encountered in the Westcom's AOR (area of responsibility) has shifted from China's expansion activities and fortification of footholds to addressing the challenges brought about by the proliferation of Chinese militia vessels in the Kalayaan Island Group, which are occasionally complemented by Chinese Coast Guard and People's Liberation Army navy vessels," read Pasia's presentation. 
In 2021 alone, Philippine authorities recorded hundreds of Chinese vessels lingering in different parts of the West Philippine Sea. Last week, at least three Chinese vessels were spotted in Philippine waters by a United States-based expert. 
The lingering ships have become a cause of concern because maritime experts noted that one of China's strategies in occupying features was through swarming a certain feature with hundreds of its vessels. (READ: China claims territories without fighting, thanks to its maritime militia)
Additional concerns
Aside from firing of flares, Pasia said China has been strategically placing its outposts in Spratlys to form a strong position in the waters. 
At present, China has built outposts in Panganiban (Mischief), Kagitingan (Fiery Cross), and Zamora (Subi) – these reefs are all located within the country's exclusive economic zone (EEZ). Pasia warned about these outposts because it "can create a strategic dominating triangle independent of each other in terms of future military activities."
Aside from flares and outposts, the military officer said that China has been using radio communication to challenge Philippine assets in the West Philippine Sea.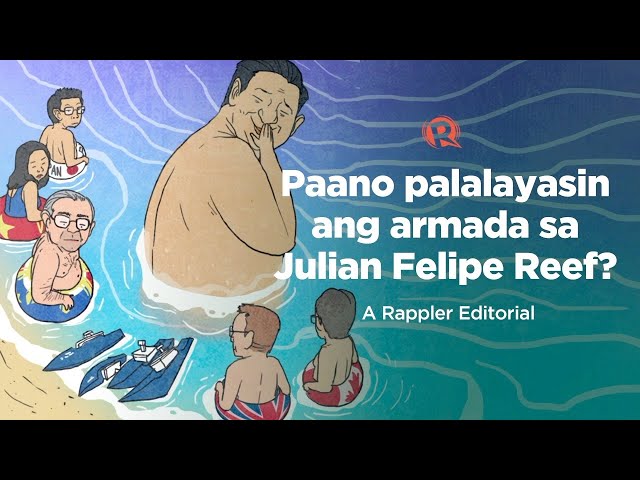 "As part of China's assertiveness, while we are patrolling the West Philippine Sea, our ISR ( intelligence surveillance and reconnaissance) team has been consistently receiving radio challenges from Chinese navy or reefs during routine flight patrols," Pasia said.
As of August 2021, there have been 218 radio challenges issued by China against Philippine military assets in the area, according to Pasia. 
The radio challenges were recorded in the following areas: 
Ayungin – 21 times
Burgos – 32 times
Calderon – 4 times
Julian Felipe – 16 times
Kagitingan – 29 times
Mabini – 4 times
Mckennan – 23 times
Pag-asa – 14 times
Panata – 4 times
Panganiban – 34 times
Roxas – 4 times
Sincowe East – 5 times
Zamora – 28 times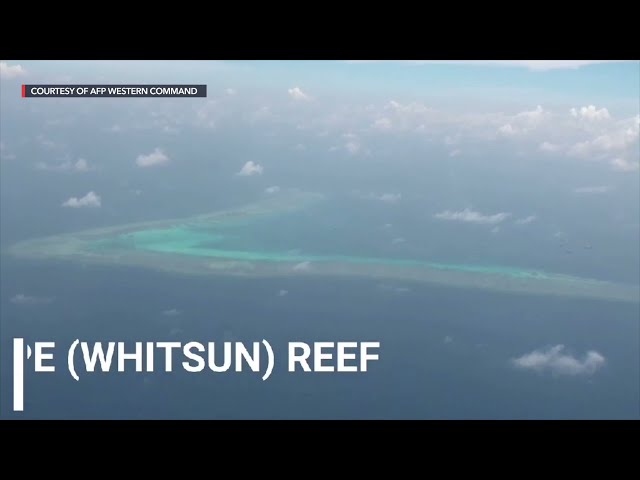 On March 21, an ABS-CBN news team documented an actual radio challenge by China to a Philippine military plane.
For years, China had been asserting its dominance in the West Philippine Sea by claiming territories and islands in the area. It justified its claim to these territories by virtue of its so-called 9-dash line. 
However, this claim was rebuked by the Hague Ruling, which reinforced the 1982 United Nations Convention on the Law of the Sea principle stating that all features located within the country's EEZ, rightfully belong to the country. – Rappler.com