The Department of Education still anticipates the enrollment figures to increase once data are completed, but concedes only 80% of last year's students will return
Two days after the Department of Education (DepEd) wrapped up its extended enrollment period for school year 2020-2021, the numbers show that more than 6 million students from last year have failed to enlist.
As of Friday morning, July 17, DepEd recorded a total of 21,344,915 students enrolled in the basic education program in public and private schools at the end of the July 15 enrollment period. This represents 76% of the enrollment for 2019-2020.
The decline in enrollment is across all the regions. The Bangsamoro Autonomous Region in Muslim Mindanao (BARMM) has the biggest drop with 42.1%. (See the list at the end of the article.)
Still, DepEd said it remained "optimistic" that it could meet the "adjusted target" of 80% of last year's 27.7 million students.
"We anticipate the figures to still increase in the coming weeks due to a lag in reporting of enrollment data, especially from private schools. Their enrollment period does not necessarily coincide with the enrollment period of DepEd," the department said.
Huge decline in private schools
For private schools, DepEd records showed that only 1,169, 976 enrolled for 2020-2021 – a huge decline from 4 million in the last year school year.
Over 300,000 private school students have transferred to public schools for the coming school year.
DepEd Secretary Leonor Briones attributed this to the economic downturn caused by the closure or limited operations of most businesses and establishments.
In a virtual press briefing on July 1, Briones said DepEd anticipated lower turnout in general, as they understood that not all parents could enroll their children due to the impact of the coronavirus pandemic. (READ: Decline in enrollees: Parents cite finances, doubts about distance learning)
DepEd Undersecretary Jesus Mateo told reporters that schools can still accept late enrollees, provided that each student "will be able to meet 80% of the prescribed number of school days for each school year and the quarterly requirement to pass the grade level as governed by the latest existing applicable DepEd issuances."
In a virtual press briefing on Thursday, July 16, Undersecretary Revsee Escobedo said that they would encourage the students who cannot enroll in a formal system of education to register in their Alternative Learning System (ALS).
DepEd failed the students?
The Alliance of Concerned Teachers said DepEd failed the millions of students who cannot return to school when classes start on August 24. (READ: Leaving it to LGUs to provide gadgets to students can further digital divide – group)
Briones said that school opening would push through on August 24 "whatever form it is." (READ: No backing down: Briones says classes will open on August 24 'whatever form it is')
Many have criticized DepEd's refusal to delay the school opening. They cite financial and technological difficulties, as well as mental health challenges, that go with the sudden shift to distant learning. (READ: No student left behind? During pandemic, education 'only for those who can afford')
The DepEd decided to shift to distance learning for the coming school year to comply with President Rodrigo Duterte's directive for schools to postpone face-to-face classes until a coronavirus vaccine becomes available.
Distance learning will be implemented in 3 ways: through online classes, printed materials, and broadcasting classes through television and radio. (READ: FAST FACTS: DepEd's distance learning)
Metro Manila
Metro Manila has registered a total of 2,119,757 public and private students – some 800,000 short of last year's 2,916,295 students.
Some local government units in Metro Manila such as Pasig, Taguig, Manila, Makati and Quezon City have pledged to give their students and teachers gadgets for distance learning since schools won't be opening physically in August.
Below are the enrollment figures per region, as of July 17: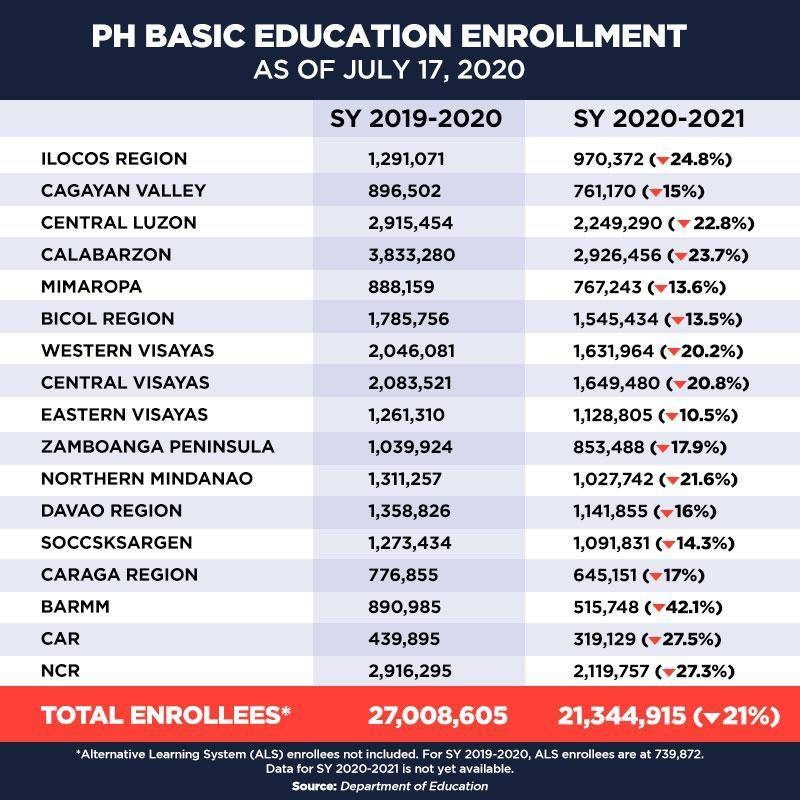 – Rappler.com