'It's very important for us, as an individual, to try to be watchdogs, to be budget watchdogs, to be tax watchdogs ourselves,' says Rappler's budget and finance reporter Aika Rey
It is high time for ordinary citizens to be vigilant and closely monitor how government funds are being utilized, especially at the height of irregularities discovered by the Commission on Audit (COA).
In a Newsbreak Chats episode on Thursday, August 26, Rappler's budget and finance reporter Aika Rey emphasized the need for budget watching to involve not just the media and advocacy groups, but also the public.
This is very important as deliberations for the 2022 National Budget begin.
"Kailangan na natin simulang tignan kasi habang nagsisimula pa lang ang mga budget hearings, na marinig na rin ng kongresista at senators natin kung ano dapat ang pinaprioritize kasi nakita na natin na in 2021, parang business as usual," Rey said.
(We need to start looking into the budget while the hearings are just beginning, so that our congresspersons and senators can hear from us about what they should be prioritizing. As we've seen in 2021, it seems like it was just business as usual.)
"It's very important for us, as an individual, to try to be watchdogs, to be budget watchdogs, to be tax watchdogs ourselves," she added.
In the episode Newsbreak Chats: Maling paggasta, sayang na pera sa gitna ng pandemya (Misspent, wasted funds in the middle of a pandemic), Rappler investigative editor Miriam Grace Go sat down with reporters Rey, Lian Buan, and Ralf Rivas to talk about why the public should care about government budget and spending.
The Duterte administration is consistently under fire for its misplaced priorities, including in the drawing up of annual budgets. (READ: In Duterte's 2021 budget, Filipinos are on their own)
The government proposed a budget of P5.024 trillion for 2022, higher by 11.5% than 2021's, but only 4% or P240 billion will be allotted for pandemic response.
"Sa review ng 2022 budget, ganoon din, business as usual (Reviewing the 2022 budget, it was also the same, business as usual)," Rey said.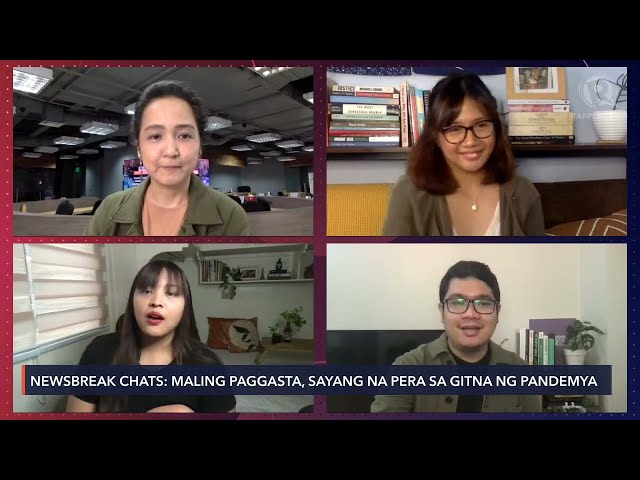 Monitor, read COA reports
Aside from the proposed budget, the public should also read audit reports released by COA. These are publicly accessible and uploaded online at the COA website.
"It's very important na hindi lang media, hindi lang advocacy groups, but even the public [try] and read kasi pera ng taumbayan ito, pera mo iyan," she said.
(It's very important that it's not just media and advocacy groups, but even the public, that tries to read the audits, because that's the people's money, that's your money.)
COA is mandated by the 1987 Philippine Constitution to have the "power, authority, and duty to examine, audit, and settle all accounts pertaining to the revenue and receipts of, and expenditures or uses of funds and property" of the government. (READ: Bakit nagsasagawa ng audit, at iba pang dapat malaman tungkol COA)
The annual audit reports are usually released in the third quarter of the year, or between July and August.
COA's latest reports found several cases of mishandling of government funds under the Duterte administration, particularly by the Department of Health. COA said that the "various deficiencies" amounting to P67.3 billion led to "missed opportunities" in the Duterte government's pandemic response. (READ: DOH's poor use of P67 billion COVID-19 funds led to 'missed opportunities' – auditors)
In a Beyond the Stories episode aired on Wednesday, August 25, Buan said the pandemic situation makes it all the more important to ensure that funds are being spent efficiently, since people "may potentially die due to misuse of money."
"It's no longer just this very abstract concept of funds or protecting ang kaban ng bayan (protecting taxpayers' money)," she said.
"Malapit na sa sikmura ng tao na kapag may perang na-misuse (It's become a gut issue now, because when funds are misused), it's equivalent to a ventilator that was not available to this person," Buan added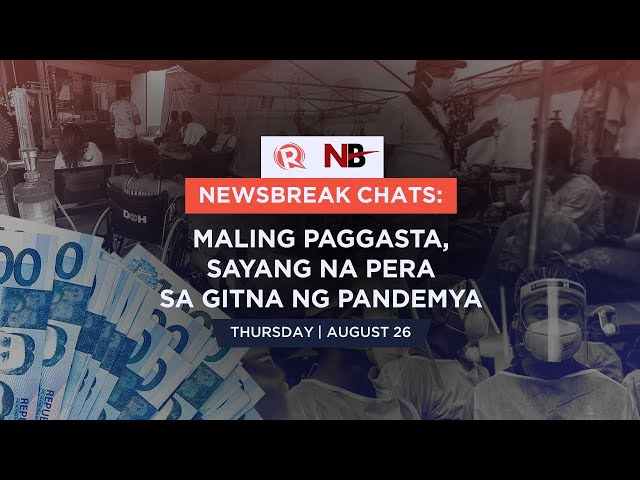 'Very core of governance'
Zy-Za Suzara, executive director of Institute for Leadership, Empowerment, and Democracy (iLEAD), told Rappler in a separate interview that the "budget process is the very core of governance."
It involves making several political decisions regarding allocations and priorities. This is why, aside from monitoring budget hearings and reading COA reports, Filipinos should band together to make themselves heard.
"If we want to ensure transparency and accountability in how those funds are used, we as ordinary citizens must take an interest in the budget process," she said.
"One concrete way of doing that is by joining citizen-led initiatives geared towards influencing the national budget," Suzara added.
She cited the People's Budget Coalition, a network of civil society organizations convened by iLEAD in 2020 that seeks to lobby for "a more pandemic-responsive budget."
"From this initiative, we learned that in order to meaningfully engage the budget process, citizens also need to engage in dialogues and to work together in order to make our voices heard," Suzara explained.
These efforts are very important because the Duterte administration "does not seem to see ordinary citizens as partners" in governance, including the budget process, based on the limited spaces for engagements.
"The current regime, especially the President, tends to have a heavily top-down approach to governance," she said. "There [are] very limited spaces for ordinary citizens to directly participate in [the budget process]." – Rappler.com