'Have the heart. Be humane enough to allow that.... We are open to arrangement, and the school is also open to that,' the hopeful mother implores
Only one more thing stands in the way of detained activist Myles Albasin of Mabinay six and her plans of attaining a law degree: the Bureau of Jail Management and Penology's (BJMP) rule against gadgets inside prison cells.
In a virtual interview with Rappler, veteran journalist Grace Albasin, Myles' mother, said she has written a letter of appeal to BJMP Region VII (Central Visayas) after it denied her daughter's request to have access to electronic communications.
Myles sought permission after getting admitted to Silliman's Law program. Her sister, Marley, earlier said Myles has enrolled at the Silliman University College of Law for the first semester of academic year 2021-2022.
Referring to the BJMP's August 3 decision, Grace asked the BJMP to reconsider. She cited the agency's mission "to enhance public safety by ensuring human safekeeping and development of Persons Deprived of Liberty (PDL) in all district, city, and municipal jails for their reintegration to society."
"In this regard, this novel project to support a person incarcerated to study law like Myles Albasin will be a testament to BJMP's mission and motto," she added.
The BJMP rejection was signed by Director for Operations Jail Senior Supt. Johnson M. Calub.
The BJMP's manual on standard operating procedures, Calub said, "does not include gadgets or electronic devices such as laptops, tablets or cellular phones in the list of authorized properties" for persons deprived of liberty, and considers these as contraband.
He also said Presidential Decree No 1445 prohibits the use of government-issued properties for private purposes.
In her appeal, Myles' mother reminded the BJMP that her daughter has suffered detention for three years without trial. With her case transferred to a new court, her daughter faces more years in detention, she said.
Myles' aspirations of becoming a lawyer grew from seeing social realities in her years of activism, Grace told Rappler. Her daughter's resolve grew exponentially during her detention, she added.
"Na-fire up siya lage tungod ana iyang journey og ang mga kaso sa mga kababayin-an sa sulod nga iyang mga kauban. Kasagaran gyud, the majority like 90%, drugs cases," she said.
(She was fired up by her own journey in detention and by the cases of her fellow women detainees. Majority of them, 90%, are there for drug-related cases.)
Before Silliman University accepted Myles, Xavier University College of Law in Cagayan de Oro City had already offered her a full scholarship. Myles completed her high school education in Xavier before enrolling in the University of the Philippines-Cebu's BA Mass Communications program.
Grace said that they filed a petition for recognizance before the court just before the COVID-19 pandemic hit, for Myles to be granted release to attend law school. In March 2021, the court denied their petition for bail.
It did not discourage Myles, her mother said.
"Ingon siya nga, 'ma, regardless sa result sa bail, nya pandemic ron and online classes are ongoing, can we push for the plan that I attend law school?'" Grace said.
(She asked me, "Ma, regardless of the bail result, because we're in a pandemic and online classes are ongoing, can we push for the plan that I attend law school?")
No discrimination from Silliman
Myles was able to submit the documentary requirements to Silliman. She was then allowed to attend the virtual panel interview with close supervision from the facility's wardens.
"We are so thankful to Silliman College of Law. It upholds an education that does not discriminate. An institution which looks up to the rights of its prospective law applicants. So, nalipay gyud mi nga gihatagan siya ana nga chance (we're really happy that she was given that chance [by Silliman]," said Myles' mother.
Three years since her arrest, Myles has just been scheduled for a pre-trial in October. With the transfer of her case from the Bais City Regional Trial Court to the Regional Trial Court 42 in Dumaguete City, they are expecting at least a couple more years of detention time.
This, Grace said, could at least be spent by Myles studying so as to lessen the years of education she needs to comply with after her release.
"Mao na akong hangyo sa BJMP. Nga unta, mag-open sila sa ilang mind. Mapangitaan man gud tanan og pamaagi," she said. (This is my request to BJMP. That they may open their mind. We can look for a way.)
She said they already offered to donate the computer needed by Myles to the facility. They have also agreed to spend for internet connection, and proposed that wardens monitor Myles during online sessions.
Grace added that they would also be open for modular learning but requested that Myles be allowed to use the gadgets for any recitations and oral exams.
They cited the college education program facilitated by BJMP for persons deprived of liberty in Davao as a sign that what they are asking for in terms of Myles' law studies are possible and permissible.
On Monday, September 6, Grace said she received a reply from the BJMP acknowledging the receipt of her appeal.
"Have the heart. Be humane enough to allow that to us. We are open to arrangement, and the school is also open to that," the hopeful mother implored.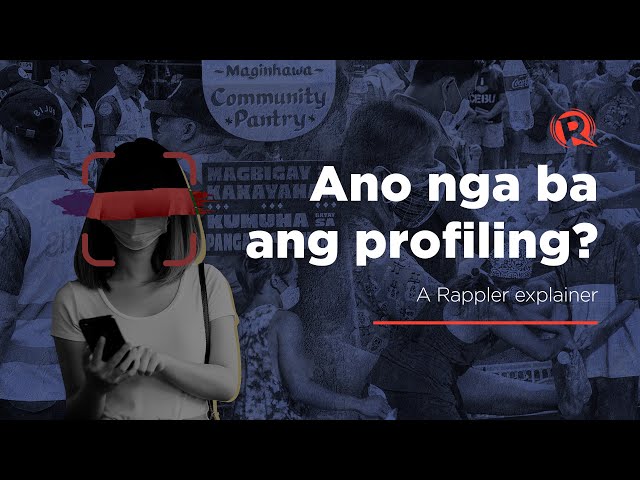 Myles was arrested, along with fellow activists Bernand Guillen, Joey Valloces, Carlo Ybanez, Randel Hermino in the early hours of March 3, 2018. They were accused by the military of being armed combatants who allegedly engaged government troops in a firefight.
The group tested negative for gunpowder in a paraffin test taken shortly after their arrest.The six were charged with illegal possession of firearms and explosives under Republic Acts 10591 and 9516. – Rappler.com
Grace Albasin. Myles' mother, is an awardee of the Aries Rufo Journalism Fellowship