SPD chief public information officer Police Major Hazel Asilo says the suspect underwent inquest proceeding on October 18
MANILA, Philippines – A murder complaint was filed against Joel Escorial, the suspect behind the killing of broadcaster Percy Lapid, the Philippine National Police's Southern Police District (SPD) confirmed on Wednesday, October 19.
The complaint, filed by the police and Lapid's family, included three others: brothers Israel and Edmon Dimaculangan, and a certain "Orly," whom Escorial alleged was part of the crime.
In a phone call with Rappler, SPD chief public information officer Police Major Hazel Asilo said the complaint was filed with the Department of Justice (DOJ) on October 18 – the same day Interior chief Benhur Abalos presented Escorial as the suspect in the killing.
Asilo added Escorial has undergone inquest. Prosecutor General Benedicto Malcontento also told reporters that the inquest was processed last night and the resolution will likely be released on Thursday.
Since Escorial surrendered and was arrested without a warrant, he underwent inquest proceedings before the prosecutors.
On Wednesday, Lapid's brother, veteran journalist Roy Mabasa, also went to the DOJ to affirm the complaint-affidavit filed against Escorial.
"Ito'y basic lamang 'yong mga information na nandito, na nakapaloob dito sa complaint at ang aking pagkakaalam, sa darating na mga araw ay magkakaroon na ng mga initial hearing, preliminary," Mabasa told reporters, referring to the content of the complaint.
(Only basic information are here, included in this complaint, and as far as I know, there would be initial hearings in the coming days.)
Under article 248 of the Revised Penal Code or murder, Escorial could face 20 years in prison (reclusion temporal's maximum period) to life imprisonment – since death penalty was already abolished. Among the elements of murder is "in consideration of a price, reward, or promise."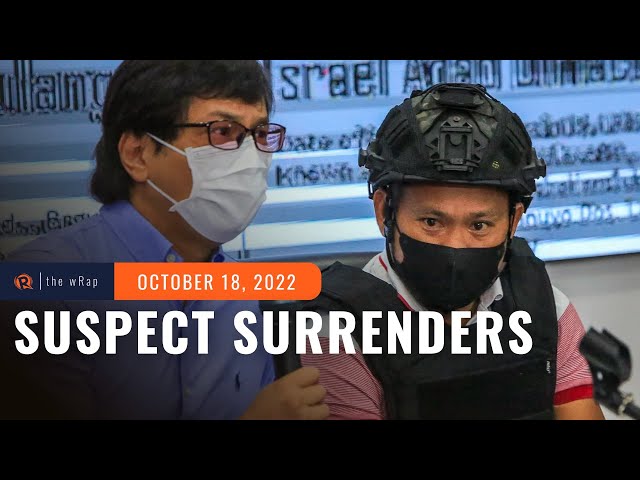 Escorial said there were six of them in the plan and they were paid a total of P550,000 to kill the broadcaster. He alleged the order came from inside the New Bilibid Prison.
Until now, the authorities have yet yet to clarify whether Escorial is a civilian or a person deprived of liberty since he mentioned the order came from Bilibid.
Lapid was gunned down on October 3 in Las Piñas. A staunch critic of former president Rodrigo Duterte and incumbent President Ferdinand Marcos Jr., he is the second journalist to be killed under the Marcos administration. – Rappler.com