(1st UPDATE) The complaints include homicide, attempted homicide, robbery, direct assault, falsification of official documents, and conniving or consenting to evasion
The National Bureau of Investigation (NBI) filed complaints against police officers and Philippine Drug Enforcement Agency (PDEA) agents involved in a botched anti-drug operation last February in Quezon City.
On the night of February 24, a gunfight broke out between Quezon City Police District's Special Operations Unit (QCPD-DSOU) and PDEA Special Enforcement Service near Ever Gotesco mall in Quezon City. Two cops, a PDEA agent, and an informant were killed in that incident, which both groups said was a misencounter.
According to the NBI's conclusion forwarded to the Office of the Prosecutor General under the Department of Justice, at least four PDEA agents and one cop face a homicide complaint. The document was dated September 2.
The following PDEA agents face a homicide complaint for the death of Police Corporal Eric Elvin Garado:
Maricar Pornobi Rodas, Intelligence Officer I
Jelou Juanitez Satiniaman, Intelligence Officer I
Jeffrey Panhon Baguidudol, Investigation Agent I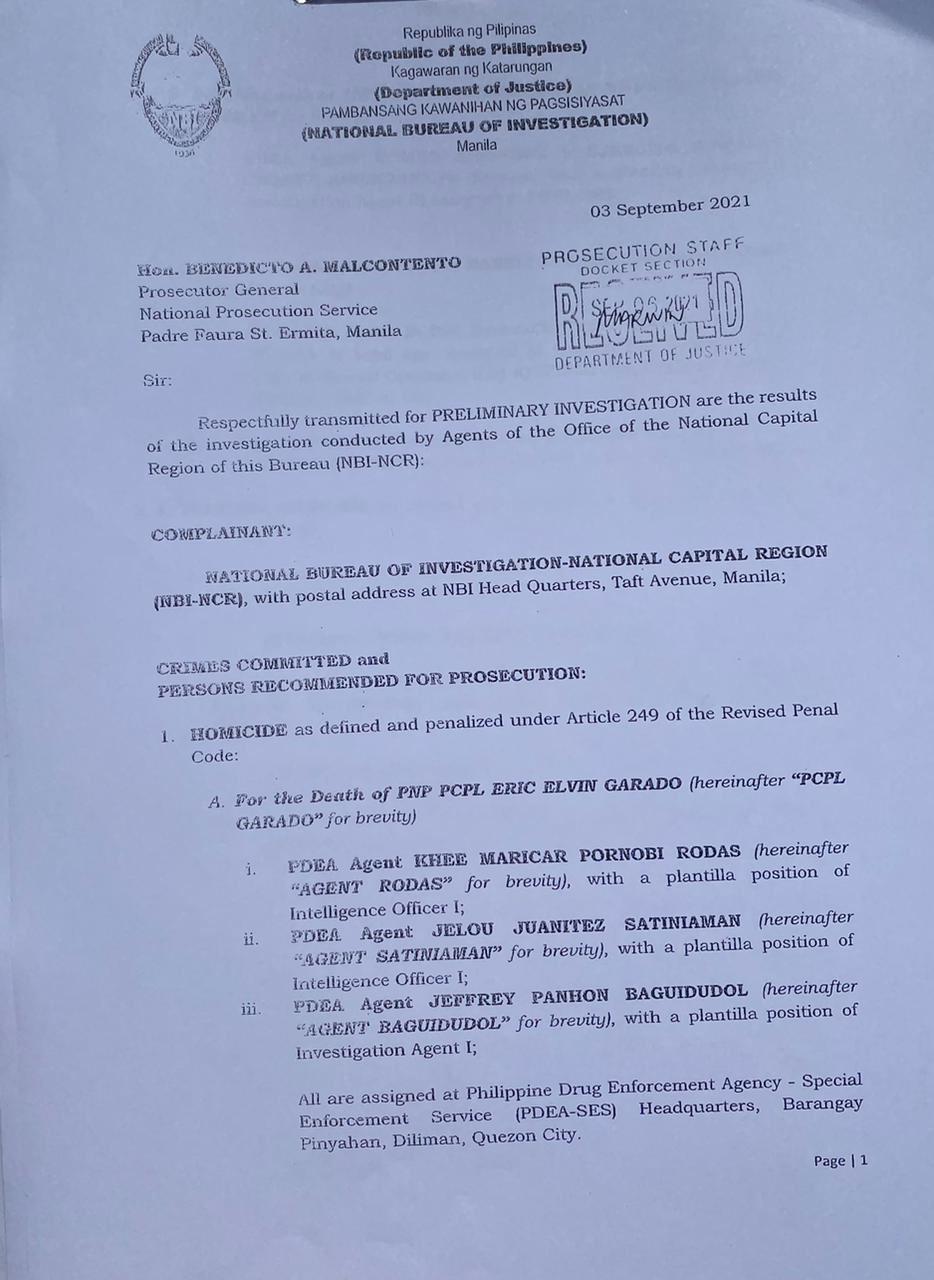 All of these agents are assigned to the PDEA-Special Enforcement Service. Meanwhile, a complaint for falsification of official documents was filed against PDEA agent Baguidudol.
For the death of Police Corporal Lauro De Guzman, PDEA agent Romeo Asuncion also faces a homicide complaint. The unidentified assailant who killed PDEA informant Untong Matalnas also faces the same complaint. Meanwhile, Police Corporal Alvin Borja assigned to the QCPD-DSOU faces homicide for the death of PDEA agent Rankin Gano.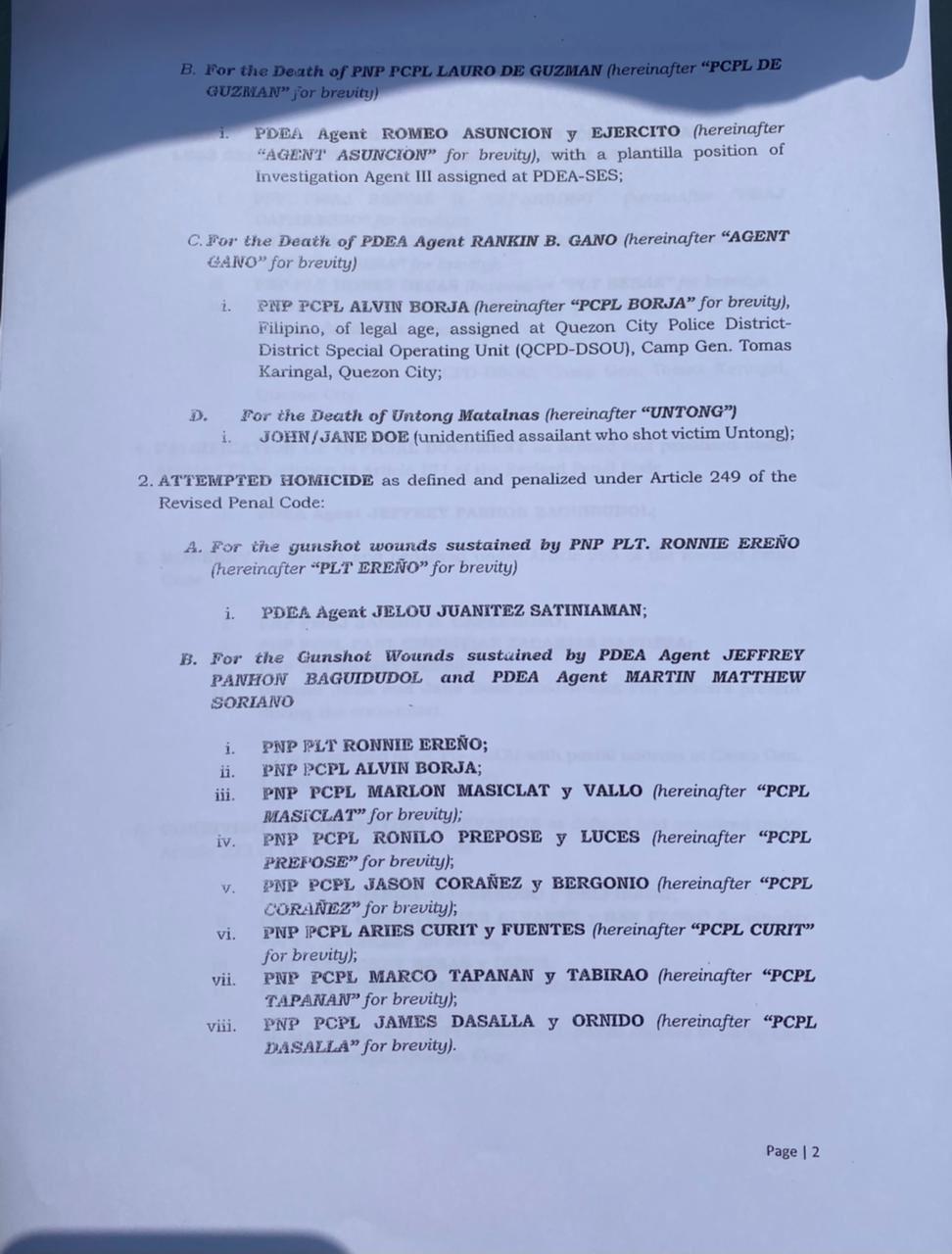 For the gunshot wounds sustained by Baguidudol and PDEA agent Martin Matthew Soriano, the following police officers from the QCPD-DSOU face an attempted homicide complaint:
Police Lieutenant Ronnie Ereño
Police Corporal Alvin Borja
Police Corporal Marlon Masiclat
Police Corporal Ronilo Prepose
Police Corporal Jason Corañez
Police Corporal Aries Curit
Police Corporal Marco Tapanan
Police Corporal James Dasalla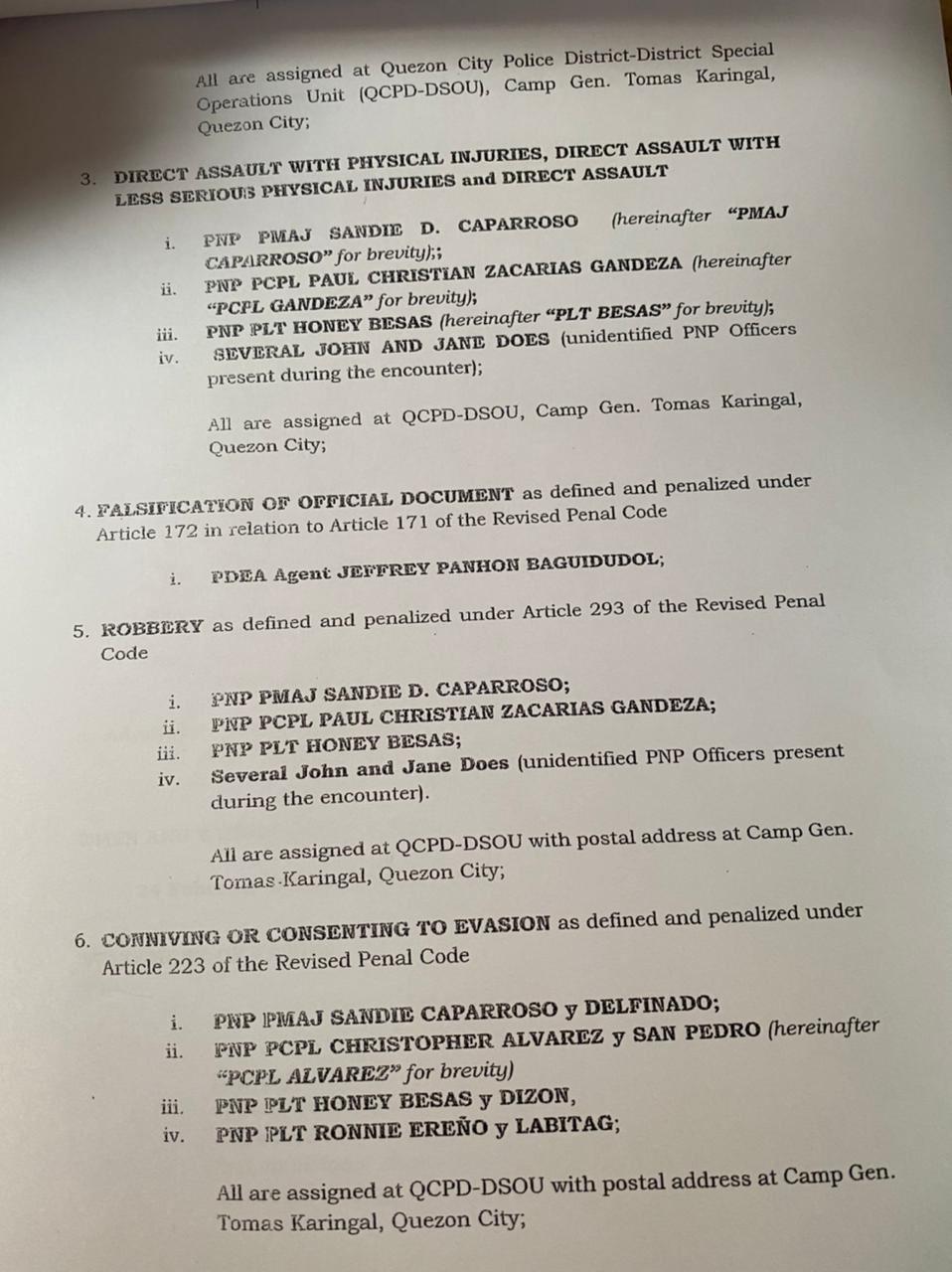 Meanwhile, PDEA agent Satiniaman also faces the same complaint for the gunshot wounds sustained by Police Lieutenant Ereño. Robbery, direct assault with physical injuries, direct assault with less serious physical injuries, and direct assault complaint were filed against:
Police Major Sandie Caparroso
Police Corporal Paul Christian Zacarias Gandeza
Police Lieutenant Honey Besas
Several unidentified police officers present in the encounter
A complaint for conniving or consenting to evasion was filed against:
Police Major Caparroso
Police Corporal Christopher Alvarez
Police Lieutenant Besas
Police Lieutenant Ereño
To ensure transparency, the NBI National Capital Region was tapped to probe the incident. During the Senate hearing in May, NBI NCR Director Cesar Bacani said they would complete the investigation within weeks – it took the NBI NCR 15 weeks to submit its conclusion on the incident.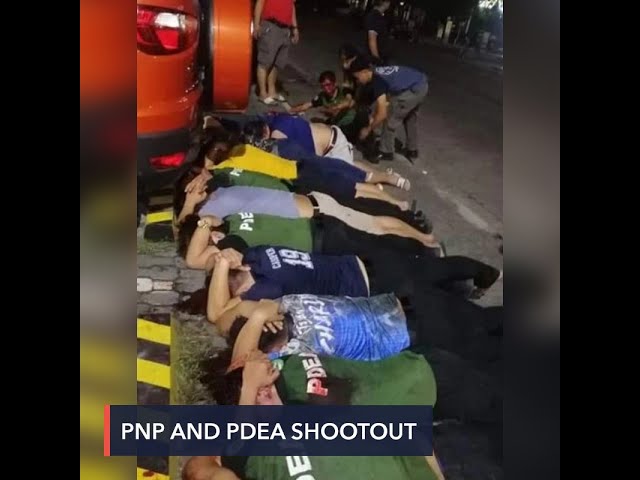 In a statement on Monday night, PDEA chief Wilkins Villanueva said the filing of cases against cops and PDEA agents was an opportunity to set things straight.
"PDEA Director General Wilkins Villanueva considers the filing of cases as an opportunity to answer all allegations against both parties. This also allows the legal process to ensue and ultimately determine the accountability of those involved and eventually obtain justice," Villanueva said.
Meanwhile, a day after the release of NBI's conclusion, PNP chief Police General Guillermo Eleazar said all the police personnel tagged in the gaffe would be made available for the justice department.
"All the PNP personnel involved are fully-accounted and would be made available should the Department of Justice require their participation in the conduct of its own review with regard to the findings submitted by the NBI," Eleazar said in a statement on Tuesday.
Months after the incident, the PNP and PDEA signed unified guidelines on the conduct of anti-drug operations to avoid misencounters from happening again.
The guidelines also seek to improve the coordination between the two agencies leading the government's drug war. – With a report from Lian Buan/Rappler.com