This is AI generated summarization, which may have errors. For context, always refer to the full article.
Two MARINA officials and the shipowner 'conspired for the purpose of illegally registering the MT Princess Empress with false documents,' says DOJ spokesperson Mico Clavano
MANILA, Philippines – The National Bureau of Investigation (NBI) Environmental Crime Division and Pola, Oriental Mindoro Mayor Jennifer Cruz on Tuesday, June 6 filed a criminal complaint against officers of RDC Reield Marine Services (RDC), the owner of the sunken oil tanker MT Princess Empress.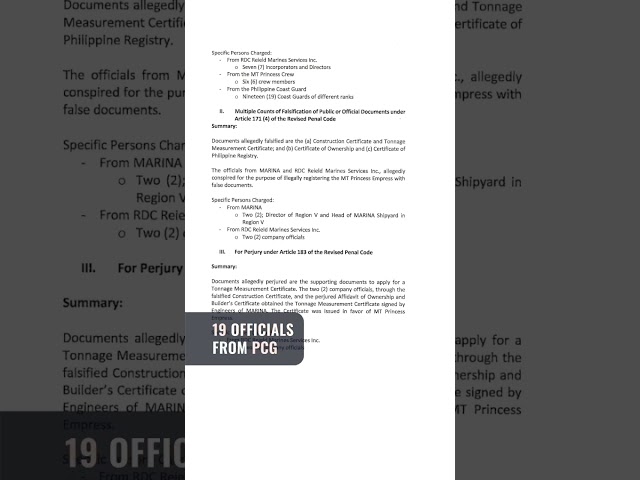 Seven incorporators and directors of RDC, including its president Reymundo Duldulao Cabial, face a complaint for falsification of public documents and perjury. RDC is a shipping company owned by the Cabial family.
The NBI filed a complaint for use of falsified documents against 19 Philippine Coast Guard (PCG) personnel, two officials of the regulatory agency Maritime Industry Authority (MARINA), and six crew of MT Princess Empress.
The sinking of MT Princess Empress last February 28 caused an oil spill that authorities are still racing to contain as the ship is still 400 meters deep off the coast of Naujan, Oriental Mindoro.
Before it capsized, the ship sailed 18 times without an updated Certificate of Public Convenience (CPC). (READ: PH gov't to shoulder rehab costs as oil spill insurance, aid won't be enough – DOJ official)
Mico Clavano, spokesperson of the Department of Justice (DOJ), said in a media briefing on Tuesday that "RDC directors are presumed to be the authors of the falsified document as they were in possession of the same and made use of the document."
The captain of the vessel and crew are also held liable as they are considered agents of the shipowner, Clavano said.
PCG personnel are being held accountable as they were expected to conduct rigorous pre-departure inspections, including checking the validity of the CPC. High-ranking PCG officials have testified in Congress that their personnel who allowed the vessel to sail presumed that RDC's documents were valid.
Other documents falsified, according to the DOJ, are the construction certificate, tonnage measurement certificate, certificate of ownership, and certificate of Philippine registry.
"The officials from MARINA and RDC Reield Marine Services Inc. conspired for the purpose of illegally registering the MT Princess Empress with false documents," said Clavano.
He said there were inconsistencies in RDC's documents, which gave a false account of the vessel's condition prior to voyage.
Justice Undersecretary Raul Vasquez brought this issue up in a House inquiry last May 9. "It was made to appear that the construction was made in Bataan. In actuality, it was constructed in Navotas, but the documents were signed by a MARINA official from Bicol," he told lawmakers.
In response to the filing of the complaint, RDC maintained that the ship was in tip-top shape when it sailed.
"MT Princess Empress is a newly-built vessel that fully complies with all the requirements and procedures set by the Maritime Industry Authority and the vessel's classification society (ORS)," RDC said in a statement sent to media on Tuesday. "We will let the facts and our evidences (sic) speak for themselves in due time."
The DOJ is also looking at filing environmental crimes and graft and corruption charges in the coming weeks.
"'Yun po ang inaabangan natin and I think mas mabigat po ang parusa doon," Clavano said.
(That's what we're waiting for and I think the penalties for those are more severe.)
On the 90th day since the oil spill, Pola Mayor Jennifer Cruz aired her frustration over the shipowner's poor response, as well as the slow progress in cleaning up the oil spill in her town.
"Pagod na po kami sa aming bayan," she said during a House hearing conducted last May 29. (We're tired in our hometown.)
MT Princess Empress left the private port SL Harbor Terminal in Limay, Bataan with over 900,000 liters of industrial fuel oil or "black oil" bound for Iloilo on February 28. It encountered strong winds and rough waters along the way, and its engine gave way when seawater poured onto the ship. Fishing bans have hurt coastal communities' source of livelihood.
As of June 6, 42,487 families or 200,244 people in four provinces have been affected by the oil spill. The National Disaster Risk Reduction and Management Council said damage to agriculture (fisheries) has reached P4.9 billion. Environment Secretary Antonia Yulo-Loyzaga earlier estimated the damage to coral reefs, seagrass, mangroves and other natural resources at around P7 billion. – Rappler.com