(4th UPDATE) Metro Manila, Bulacan, Rizal, Laguna, and Cavite will now be under the less stringent MECQ, says the Philippine government
The Duterte government announced on Sunday, April 11, that it was lifting the strictest form of lockdown, called enhanced community quarantine (ECQ), that had been in place in Metro Manila and 4 surrounding provinces for the last two weeks.
The lockdown in the "NCR Plus" bubble covering Metro Manila and 4 neighboring provinces – Bulacan, Rizal, Laguna, and Cavite – will be eased to a modified enhanced community quarantine (MECQ) starting Monday, April 12, until April 30.
Santiago City in Isabela and the province of Quirino will remain under MECQ, while Abra was added to the list of areas under MECQ until the end of the month.
Meanwhile, Quezon province was added to the list of areas under GCQ until April 30 that the government already announced earlier this month:
Cordillera Administrative Region
Cagayan
Isabela
Nueva Vizcaya
Batangas
Quezon
Tacloban City
Iligan City
Davao City
Lanao del Sur
The rest of the country will remain under modified GCQ, which have the lightest restrictions.
The exact differences in the rules under ECQ and under MECQ will be discussed in Malacañang's regular briefing with the media on Monday, April 12, said Presidential Spokesperson Harry Roque.
Roque added that dedicated COVID-19 beds in isolation, quarantine and health facilities will increase in the "NCR Plus" bubble, after President Rodrigo Duterte ordered PhilHealth to pay hospitals with unpaid COVID-19 claims.
Many health facilities have committed a combined 1,321 more COVID-19 beds in NCR Plus as of Sunday. Along with other beds ready in 6 hospitals, Roque said the government has secured a total of 3,156 additional beds in NCR Plus while in ECQ.
"This is one of the critical bases of the IATF [Inter-Agency Task Force] to recommend to the President to loosen restrictions a bit and enforce MECQ in NCR Plus," he explained in Filipino.
Local government units in the bubble "are likewise enjoined to set-up their respective local telehealth triaging systems equipped with sufficient medical personnel available to provide immediate medical and patient referral advice," said Roque.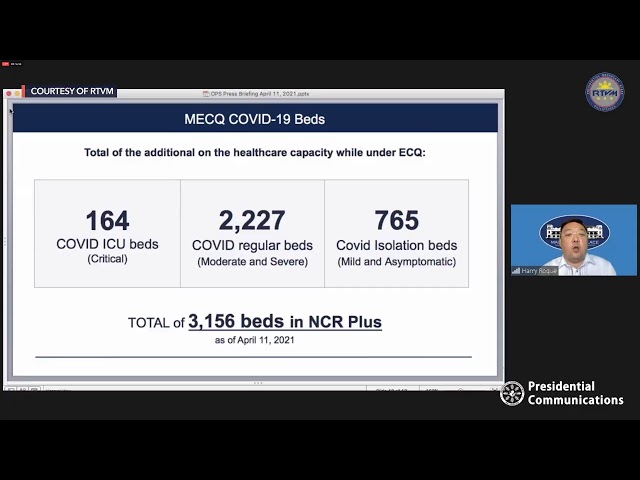 He also announced that the IATF has approved the use of automatic contact tracing through a "Smart Messaging System" to improve the use of the current StaySafe.PH system.
This will undergo an initial beta-test in Pasig City on May 1, along with the beta-testing in the contact tracing consortium of 4 cities – Pasig, Mandaluyong, Valenzuela, and Antipolo – with access to the government's COVID-19 Document Repository System or CDRS. These would ensure the interoperability of all contact tracing applications in the StaySafe.PH system, explained Roque.
A day before the announcement, on Saturday, April 10, the Philippines logged its highest number of active cases yet, at 190,245. It also saw the second-highest single-day tally of new cases, with 12,674.
In addition, intensive care unit (ICU) beds in hospitals in Metro Manila reached critical levels, at around 86% occupancy. It had been already in the high-risk level, or between 70% and 85% occupancy, for the past 3 weeks.
Later on Saturday, the Department of Health (DOH) reported 382 new cases of 4 different variants of COVID-19, and most of these were from local cases rather than from returning Filipinos.
The president's spokesperson himself made news on Saturday, after he announced his hospitalization in the Philippine General Hospital after he got infected with the virus for the second time in less than a month.
Metro Manila and the 4 provinces had first been placed inside the "NCR Plus" bubble on March 22 under a more restrictive form of GCQ. A week later, on March 29, the government enforced ECQ in these areas, which lasted until April 11 after an extension.
HPAAC: Address bottlenecks
Ahead of the lifting of ECQ in the "NCR Plus" areas, the Healthcare Professionals Alliance against COVID-19 (HPAAC) expressed alarm that critical bottlenecks to long-term solutions "have not been addressed," and needed changes to relevant systems and processes "have yet to be implemented."
In a statement, the HPAAC argued that while the ECQ may have slowed down the spread, "the numbers are still perilously high."
"We re-emphasize that this mobility restriction is but a short-term intervention, and yet it seems to have been wasted again. The government still has no clear plans and efforts to fix the root causes, and the nation continues to suffer because of this," they added.
They urged the government to put in place needed measures like an incident management team for "command and control" of health facilities in Metro Manila, and an enabling law that will compel data sharing through an integrated ICT infrastructure.
They also called for the recalibration of the country's vaccination program "to ramp up and achieve set targets without compromises in safety caused by inadvertent queues and crowding in vaccination areas."
The HPAAC argued that since August last year, they have outlined proposals that will allow the safe reopening of the economy.
"Should these demands continue to be ignored, we will remain in this vicious cycle. The sick will die unattended, the people will continue to face hunger, and our economy will plummet into further recession," said the group. – Rappler.com