Metro Manila and 4 adjacent provinces will be under GCQ 'with heightened restrictions' until the end of May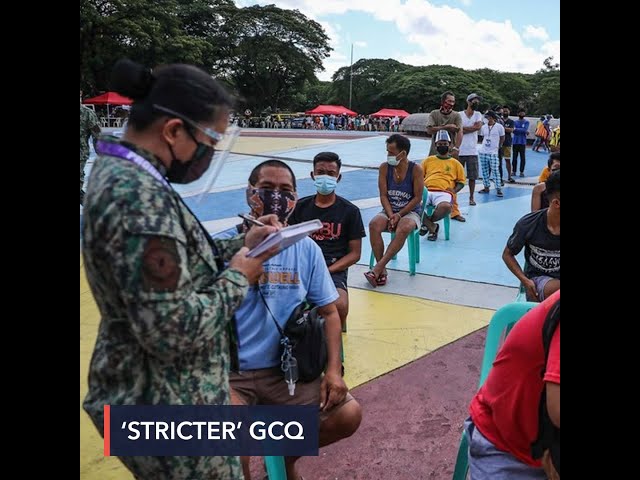 After more than a month under the country's two strictest quarantine classifications, Metro Manila and 4 adjacent provinces Cavite, Rizal, Laguna, and Bulacan, will shift to a "stricter" version of general community quarantine (GCQ) on Saturday, May 15.
This was announced by Presidential Spokesman Harry Roque on Thursday, May 13, during a meeting with President Rodrigo Duterte.
Still, certain areas in the country will be under modified enhanced community quarantine due to the rate of transmissions and state of healthcare system in those areas.
Below are the quarantine classifications announced by Malacañang, valid from May 15 to 31:
MECQ
Santiago City
Quirino
Ifugao
Zamboanga City
GCQ 'with heightened restrictions'
Metro Manila
Cavite
Rizal
Bulacan
Laguna
GCQ
Apayao
Benguet
Kalinga
Mountain Province
Abra
Baguio
Cagayan
Isabela
Nueva Vizcaya
Batangas province
Quezon
Puerto Princesa
Iligan City
Davao City
Lanao del Sur
What does 'heightened restrictions' mean?
In a statement sent to media as the meeting was being aired, Roque explained what the government means by "heightened restrictions" in the GCQ that will be imposed in "NCR Plus" until May 31.
18 to 65-year-old persons can leave their homes
Only essential travel in and out of NCR Plus allowed
20% capacity for indoor dine-in in restaurants, 50% capacity for outdoor or al fresco dine-in dine-in
30% capacity for outdoor tourist sites
10% capacity for religious gatherings, gatherings for necrological services, wakes, inurnment, funerals
Outdoor non-contact sports, games, scrimmages outdoors
30% capacity for personal care services which do not require the removal of masks, like salons, parlors, and beauty clinics
Metro Manila mayors wanted GCQ
The Metro Manila Council, composed of the region's 17 mayors and Metro Manila Development Authority, had proposed GCQ for the megacity, basing the recommendation on hospital capacity, arrival of vaccines, decrease in new COVID-19 cases, and economic conditions.
The over a month imposition of various forms of "lockdown" was a bid to lower the number of COVID-19 transmissions detected since March, when new daily cases started soaring past the 5,000 mark. Weeks later, on April 2, the country logged its highest ever daily count – 15,310 cases.
Since then, the number of new cases reported per day has been gradually decreasing. It has stayed below 5,000 for the past two days.
Malacañang has attributed this decrease to the imposition of stricter quarantine classifications starting March 22.
Metro Manila and the four provinces that share borders with it, an area called "NCR Plus," have been under modified enhanced community quarantine (MECQ) since April 12 or for four weeks.
Before that, it had been under the strict lockdown or enhanced community quarantine from March 29 to April 11. This followed the government's move to impose a stricter form of GCQ in a newly-created "NCR Plus" bubble concept on March 22. – Rappler.com