Data from the province shows 78 deaths over the last five days, more than the 71 deaths recorded in the first two weeks of September
COVID-19 cases in Negros Occidental doubled over the last two weeks, the Department of Health in Western Visayas (Region 6) said as it placed the province under Alert Level 4. 
Bacolod's case growth rate was lower, at 80%. But officials called an emergency meeting on Sunday, September 19, due to the alarming rise in its average daily attack rate (ADAR) – the number of new cases in a city or province over a two-week period, divided by the population of the city or province. 
The city's 17.18 ADAR more than doubled since September 4, when it was only 8.16%. That early, the head of the province's biggest COVID-19 center already warned of a powder keg on the brink of explosion. The city's ADAR had climbed to 10.81 on September 13. The higher the ADAR of a place, the higher the risk of getting COVID-19 if you are there.
"We are expanding testing and intensifying contact tracing," city administrator Em Ang told Rappler on September 20. 
"Other than that, we are working with hospitals to increase Covid bed allocation. We also requested DOH [Department of Health] to provide additional ventilators and  personnel."
Ang said the city opened 200 more isolation beds in two schools.
Mayor Evelio Leonardia is set to expand granular lockdowns and tighten the city watch on mass gatherings, including church activities.
"There is one church that recently had an anniversary celebration," Ang told Rappler. "Right after, pastors, church workers and several members, many of whom are hospital workers, tested positive for Covid. Two other churches are on our radar because of clusters of cases."
Alarming deaths
The city had 128 new cases on September 19 and 1,903 active cases, according to DOH data shared by the Corazon Locsin Montelibano Memorial Hospital (CLMMRH).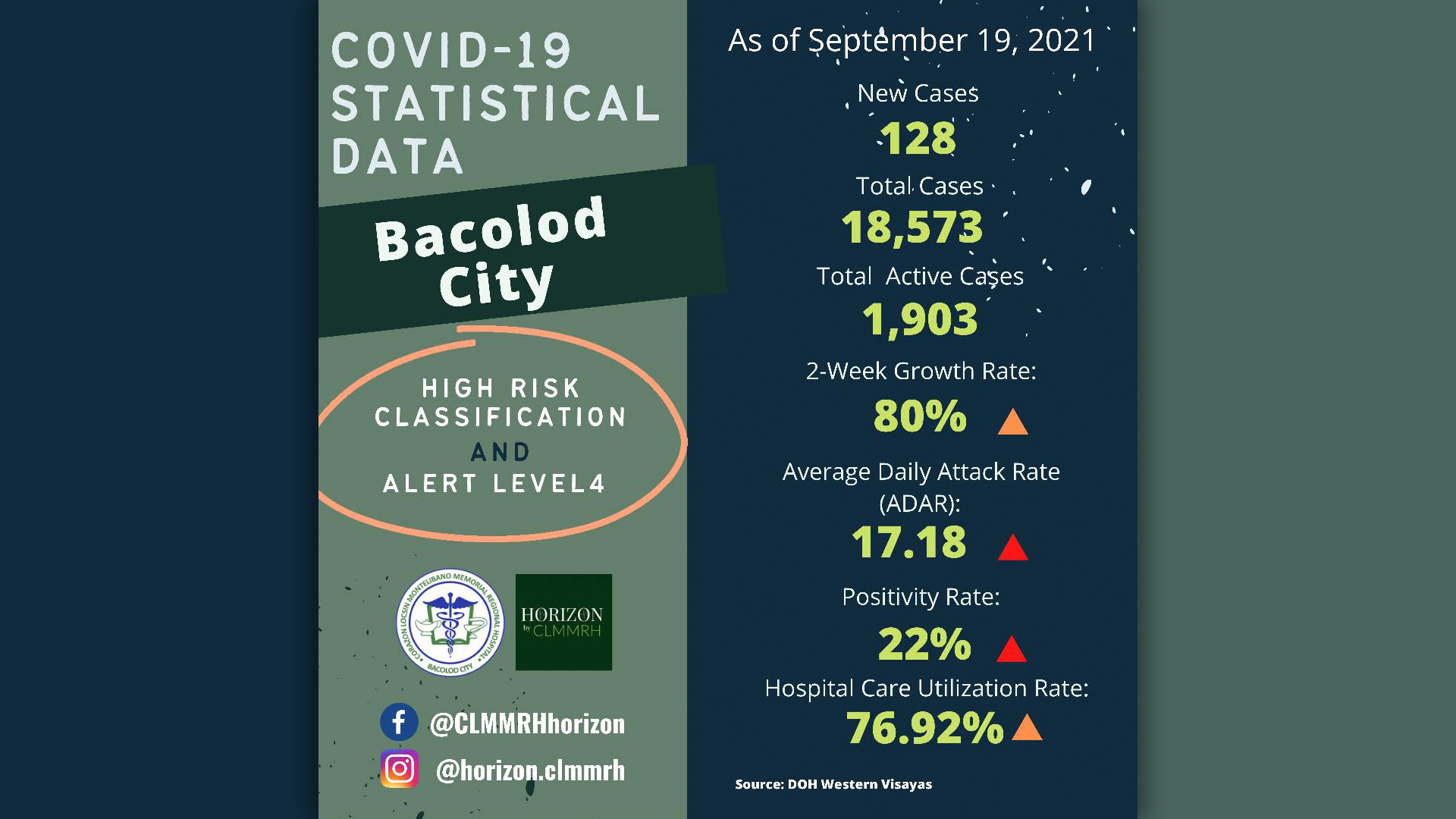 Negros Occidental had a lower ADAR rate of 5.86 but the spike in deaths has alarmed officials, with two days in the last week tieing for the highest daily death rates since the start of the pandemic.
Data from the province shows 78 deaths over the last five days, more than the 71 deaths recorded in the first two weeks of September.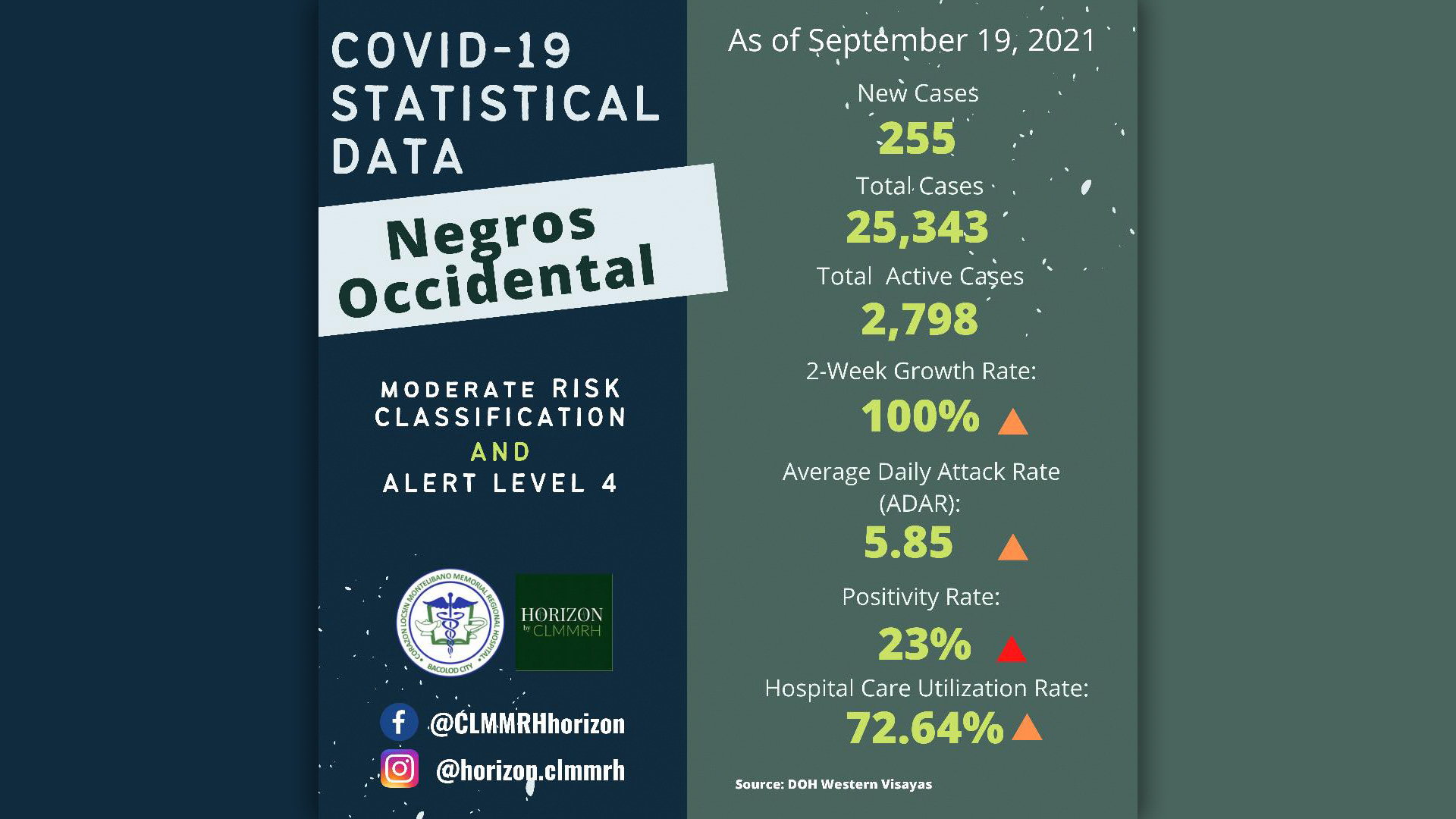 In Bacolod, 61 COVID-19 patients died from September 1-16, higher than the combined deaths in the entire month of June, which has the second highest death rate in 2021.
The city epidemiology and surveillance unit report from September 13 to 19 shows a 27.9% positivity rate, showing more than one in four tested positive for the deadly virus.
Majority of hospital admissions and more than 90% of all deaths are unvaccinated residents.
CLMMRH head, Dr. Julius Drilon, urged the city government to double its testing.
Citing the CESU report showing 391 positive results in 1,400 cases over the last week, Drilon said, "that's still too low."
"We're not even hitting 300 a day in samples," the doctor said, adding that only 100 were tested on September 19 by city teams.
"All contacts of positive cases should immediately be tested, whether or not they show symptoms," he told Rappler. "It is not true that asymptomatic individuals are less likely to infect people. The Delta variant has skewed all our metrics and when we're still chasing to meet our vaccine targets, there is no option but to test more."
Personnel crunch
Private hospitals fear the city is running out of time.
While there are still available beds in the city, the personnel crunch is at critical levels due to a combination of COVID-19 infecting staff and health professionals already angered by what they see as inequitable distribution of the government's promised special risk allowance (SRA). 
In an emailed response to Rappler's questions, the Doctor's Hospital said delays in the payment of PhilHealth claims also hampers the ability of hospitals to respond to the needs of the city.
"Just over this weekend, for example, we received a lot of immediate resignations from nurses as they opt to be employed in government hospitals which have been offering higher compensation – something that private hospitals can't possibly match in the current situation," the hospital said.
"We also factor in the big blow in our financial liquidity as PhilHealth fails to compensate us on time and we still have a huge number of receivables from them especially for COVID cases," said The Doctors' Hospital.
"Please take note that most of our COVID patients are PhilHealth-dependent and with the lag in reimbursements, the dent it places on the Hospital's financial stability is staggering."
Drilon also cited staffing woes as a major concern even for his hospital.
He warned on Friday, September 17, that the city's health system was "crashing."
He also agreed that delays in PhilHealth payment affect capacities across all hospitals.
The government health insurance corporation, he said, owes CLMMRH more than P300 million.
The city had 126 new cases on September 9 and 1,903 active cases, according to DOH data shared by the CLMMRH. – Rappler.com