Filipinos online criticize the President's priorities as he attacked opposition leaders, telecommunications companies, and so-called 'oligarchs' instead of discussing plans to contain COVID-19
Filipinos online were quick to express their confusion and dismay after President Rodrigo Duterte delivered his fifth State of the Nation Address (SONA) on Monday, July 27.
As of writing, #SONA2020, #SONAgKAISA, and Duterte landed the top 3 spots on Twitter's trending topics in the Philippines.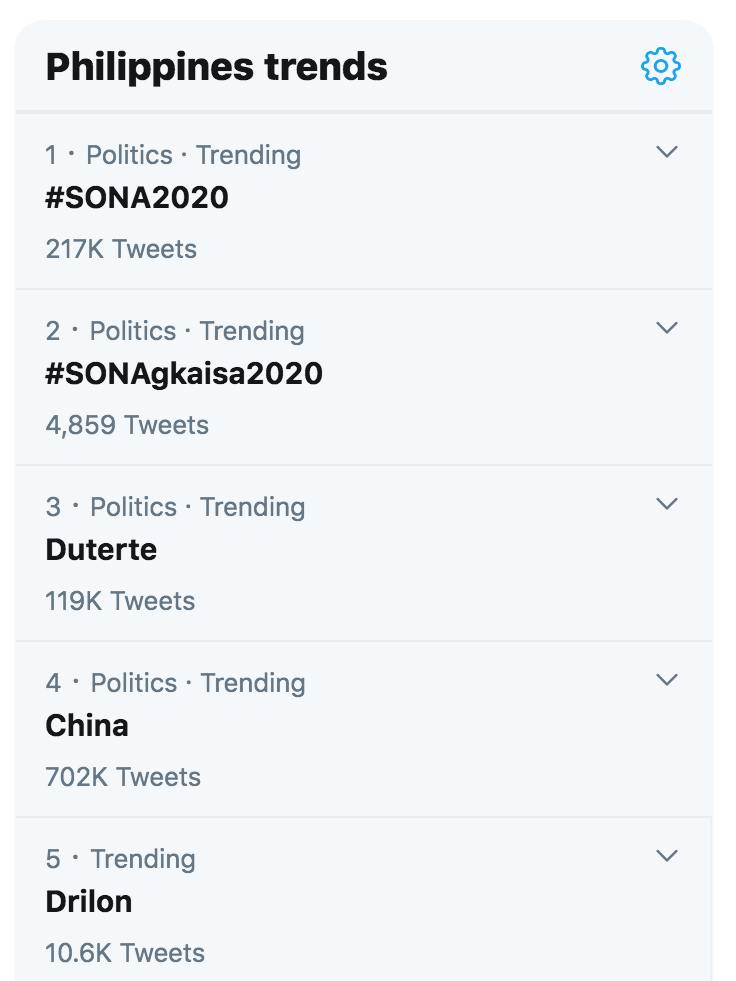 Franklin Drilon also trended on Twitter, as Duterte opened and closed his address attacking the opposition senator. Some people lambasted Duterte for putting Drilon, as well as ABS-CBN and the Lopez family, in the spotlight of his SONA, instead of advising the country on his plans for the rest of his term.
Many Filipinos were also shocked by how easily President Duterte failed to assert the country's sovereign rights over the West Philippine Sea.
Netizens also took a jab at Duterte's remark on Bethlehem and Jesus Christ after he said he would call the latter to improve the services provided by telecommunications companies Globe and Smart.
A number of Filipinos also called out the President for his "buhay muna bago lahat" (life before anything else) remark. In the same address, Duterte also called for the reinstatement of the death penalty by lethal injection for drug criminals. (READ: Duterte says he will 'fight for human rights' after years of killings, threats vs defenders)
Other users juxtaposed his recent remark with his infamous "shoot them dead" order back in April.
Netizens were also appalled at how the President barely had any concrete plans to combat the coronavirus, even as he delivered his address in the middle of a raging pandemic. Duterte only briefly mentioned he asked Chinese President Xi Jinping to prioritize the Philippines when providing a coronavirus vaccine.
Here's what other Filipinos had to say about the SONA:
What are your thoughts on Duterte's fifth SONA? – with reports from Matthew G. Yuching/Rappler.com