Members and allies of the LGBTQ+ community on social media slam Isla Reta Beach Resort for refusing to accommodate transgender guests due to 'lack of facilities'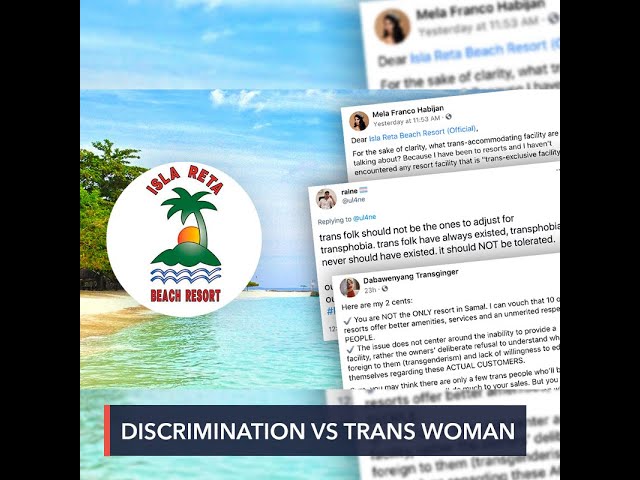 Trigger warning: This story contains mentions of rape.
A Davao del Norte resort came under fire on social media for refusing to accommodate transgender guests as it lacked facilities for them.
Isla Reta Beach Resort blocked transgender woman Shannon Remotigue Gonzaga from using their women's bathroom during her stay at the resort. In a Facebook post on Monday, May 10, Gonzaga said one of the resort's employees asked for proof she had undergone sex reassignment surgery before allowing her to use the bathroom of her choice.
Gonzaga's Facebook post has since gone viral, with over 11,000 reactions and 12,000 shares as of writing.
On Wednesday morning, May 12, Isla Reta Beach Resort responded to the incident and said it had "no facility for [transgender guests] to avoid issues of discrimination."
Later that night, the resort issued a statement, explaining that other female guests have previously said that they were uncomfortable sharing shower rooms with trans women.
"Since then, it has become the management's policy not to allow [transgender guests] to use the female shower room. The management has no facility yet to cater to [transgender guests'] demand for a separate shower room," the resort said.
The resort's management also denied they were homophobic or transphobic, and said they "employ several members of the LGBTQ+ community."
Members and allies of the LGBTQ+ community slammed Isla Reta Beach Resort for its policy that discriminated against transgender guests, with some Filipinos calling to sanction and boycott the resort. Miss Trans Global 2020 Mela Franco Habijan said the mere refusal to accommodate transgender guests is in itself an act of discrimination.
"Why do [we] have to constantly fight for spaces that cisgender people enjoy?" she wrote on social media.
Trans man Raine said the transgender community "should not be the ones to adjust for transphobia." Raine said transgender people have always existed, and therefore transphobia should have never been tolerated.
"Our existence should not be based on what's in between our legs," he wrote on Twitter.
Trans woman Ralz San Pedro said the issue is not about the resort's "inability to provide a facility," but rather the "lack of willingness to educate themselves."
"To my trans sisters, flaunt your bikinis in other beach resorts and spend your money elsewhere – don't even try begging for any establishment's approval. Not today. Never," she said.
In an interview on GMA's One Mindanao, resort owner Mario Reta clarified that the policy was meant to protect women from possibly getting raped. He argued that transgender women who have not undergone sex reassignment surgery can still impregnate cisgender women. However, cisgender men cannot get pregnant if they are raped.
Metro Manila Pride trustee Thysz Estrada criticized Reta for his reckless statement and said the resort was not a safe space for anyone – not just the transgender community.
Habijan said it was evident Reta's "discriminatory attitude" is deeply rooted in "his toxic [masculinity] and ignorant mindset."
Twitter user @takitwtt also said Reta's defense of the policy implied that it was okay for men to get raped solely because cisgender men can't get pregnant.
The controversy also revived calls to pass the anti-discrimination bill or the sexual orientation and gender identity and expression (SOGIE) bill. A total of 34 organizations signed a joint statement and urged Isla Reta Beach Resort to work with the LGBTQ+ community to make their policies more inclusive.
The statement also cited the Safe Spaces Act, which covers victims of gender-based sexual harassment in certain public places.
"Instead of creating a safe space, Isla Reta Resort assisted this incident of harassment," the statement read.
Twitter user @medgiobobo said the Isla Reta controversy is not an isolated case, and that without a more holistic understanding of SOGIE in the country, there will only be "more Isla Retas to come."
Here's what other people have to say about the issue:
– Rappler.com