'The powderkeg has exploded'
The head of Negros Occidental's biggest COVID-19 referral center on Wednesday, October 6, said Bacolod City and Negros Occidental have a combined daily average of 700 new cases, "and there are no signs of the surge slowing."
Dr. Julius Drilon, head of the Corazon Locsin Montelibano Memorial Hospital told Rappler in a telephone interview that poor health fundamentals, including a languishing hospital bed to population ratio, and lack of testing, are major factors for the runaway growth of COVID-19 cases. 
Drilon cited the latest report by the OCTA group, which said Bacolod, (population 583,045) had a daily average of 158 new cases from September 26 to October 2.
Negros Occidental (populaltion 2,591,346) had a daily average of 531 new cases, with key cities the most badly hit.
The worst indicators, Drilon said, citing the CLMMRH's own data, were the combined rise of the positivity rate, or the percentage of positive results among those tested for COVID-19, and the average daily attack rate (ADAR), or the number of new cases over the past 14 days per 100,000 population.
Bacolod's ADAR was 9.18 on September 11, 17.63 on September 21, and 22.7 on October 5. The last figure is three times the Department of Health's critical threshold of 7. 
The city's positivity rate had also climbed from 18% to 30% over the same period, according to daily data released by CLMMRH analysts and statisticians.
For Negros Occidental, the ADAR grew from 3.86 on September 11, to 6.56 on September 21, and 8.94 on October 5.
The province's positivity rate rose from 16% on September 11 to 23% on September 21 and 32% on October 5.
Overwhelmed
Rising cases and the swift progression of the disease among the unvaccinated have overwhelmed hospitals in Bacolod, where there are only 33 intensive care unit beds.
National and local officials barely mention that crucial aspect of health care, Drilon said.
"Our bed to population ratio is dismal, even outside of the ICU," Drilon told Rappler.
In the National Capital Region, there are 13.5 hospital beds per 10,000 population, according to the World Health Organization 2020 report.
"When you get to the regions, like Western Visayas, and the islands of Negros and Panay, the figure drops to 5.56 per 10,000 and in some areas, to only 2," Drilon said.
Bacolod City has no hospital of its own and relies on the regional hospital. Around 70% of patients at the CLMMRH are city residents, according to Emergency Operations Center head Em Ang.
Four of the city's hospitals stopped admitting COVID-19 patients last month, citing a dearth in manpower and problems with medical oxygen supplies.
In the province, two COVID-19 designated hospitals in Valladolid and Cadiz are also full. A third one, designated only two weeks ago, is also near the critical point. 
"Marupok ang health care system natin (Our healthcare system can easily break)," Drilon stressed. "So when something like COVID-19 comes in, especially with the Delta variant that is as infectious as measles but more deadly, then you have the perfect storm."
CLMMRH on September 25 stopped admitting all but the most severe COVID19 cases, so it could expand its critical care units to other wards. 
But Drilon said the growth in severe cases eats up  manpower across all hospitals in the city.
"A health frontliner can only attend to two severe cases," he told Rappler. "If we allow 1:4 that increases the odds of patients dying."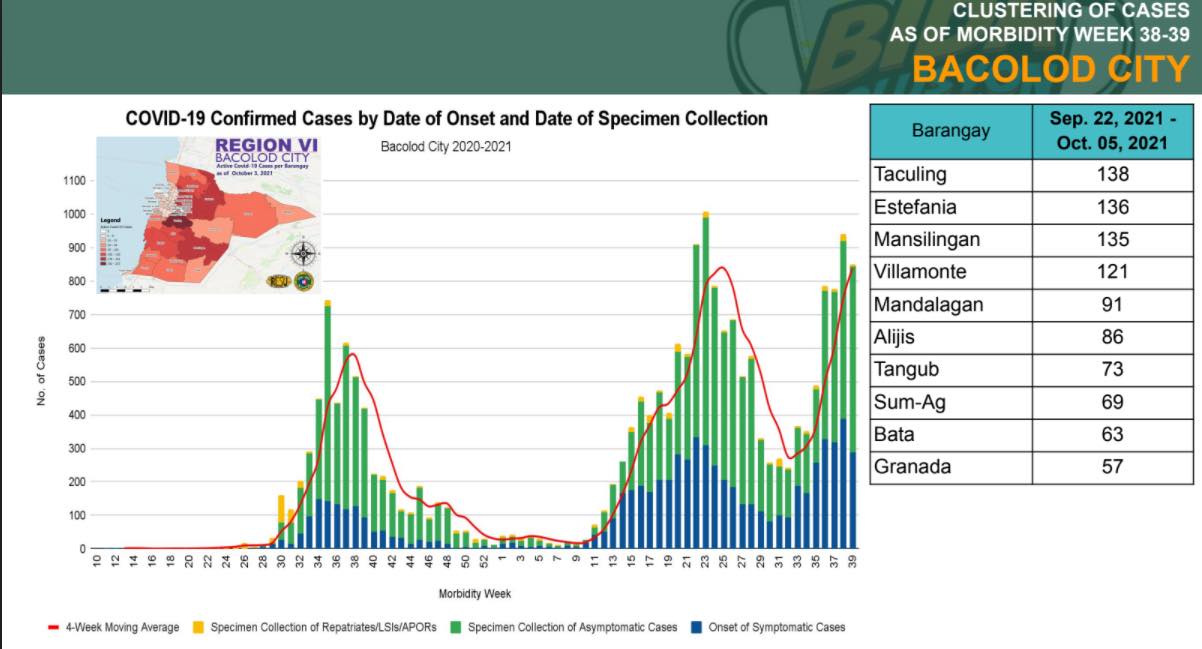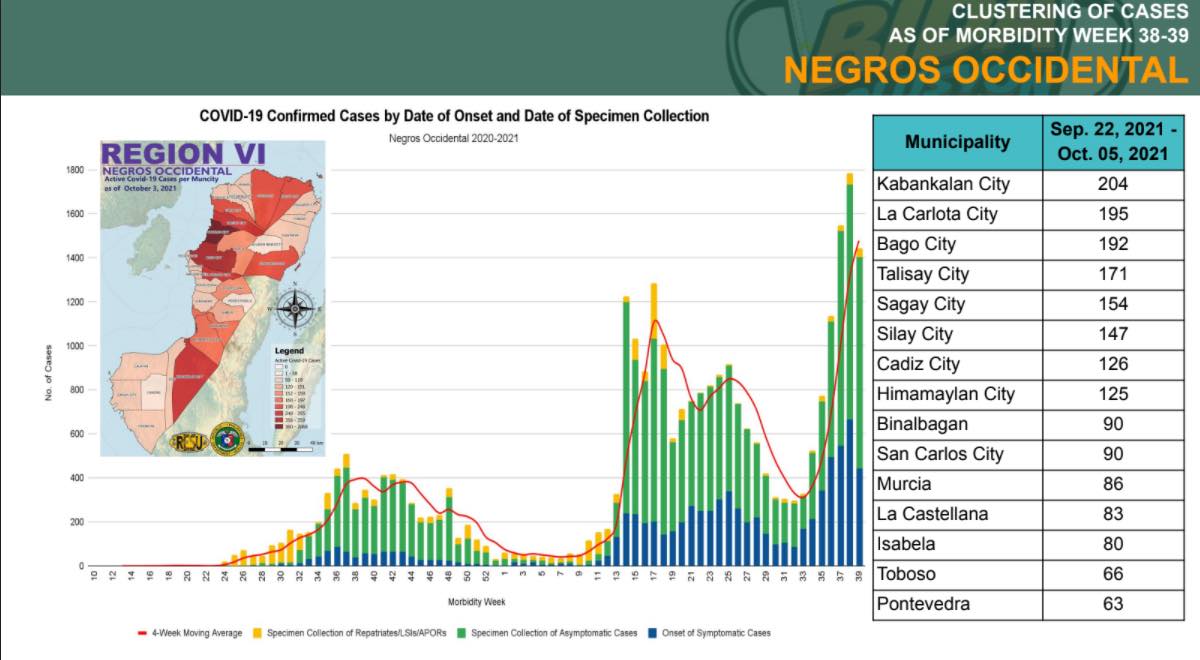 Local officials, he added, continue to stick to "old formulas that clearly are not working" including in testing.
The DOH focus on testing only symptomatic individuals allows the many who are asymptomatic to slip between the cracks and continue infecting others.
Ang said Bacolod immediately tests close contacts of positive cases, "whether or not they show symptoms."
"But many do not declare close contacts," she told Rappler, "so that can be problematic."
The city uses antigen tests for surveillance testing, when clusters come up in neighborhoods and workplaces.
"Pag may nag (If someone is) positive, we still confirm it thru RT PCR," she said.
Drilon said the number of tests daily, which always fall below 300, lags behind the ideal figure.
For every positive case, you must test at least five to 10 people, he pointed out.
If the city's September average was 119, tests should have reached at least 595. The CLMMRH, he said, has a molecular lab that can test 1,000 samples daily.
Since contact tracing starts with a positive result, lack of testing means you do not catch potential spreaders of the virus, Drilon said.
The province released on October 2 a new policy on antigen testing of close contacts of positive cases. Asymptomatic contacts that test negative need to undergo a new test within 48 to 72 hours of the first. 
The order said 10 local health units will be given  10 antigen kits d for every positive case. – Rappler.com