Red-tagging is the tool most used against lawyers, according to the data of the National Union of Peoples' Lawyers
There is a surge of all forms of attacks against lawyers under the term of President Rodrigo Duterte – with the year 2019 having the most number at 39, new data by the National Union of Peoples' Lawyers (NUPL) showed.
In a report released Monday, April 26, the NUPL said "a steady increase in the number of (work-related) attacks has been observed since 2016."
"The highest number of incidents was documented in 2019, with at least 39 prima facie profession or work-related attacks," said the NUPL in the report also submitted to the Supreme Court.
It was in 2019 when Malacañang published an alleged matrix linking lawyers, journalists, and other Filipinos to communists, even without basis or an explanation of how it was vetted.
The two tables below that show the attacks are illustrated two ways: one where each attack, regardless of the number of lawyers involved, is categorized as one incident, and second where each attack is counted per person.
The Supreme Court has called for a month-long reporting of all attacks, intimidation, and killings of lawyers for a 10-year period. The report-gathering ends April. It was prompted by mounting pressures from lawyers amid an alarming increase of lawyers killed, which had reached 61 under Duterte.
NUPL chairperson Neri Colmenares said the increased attacks under Duterte could be attributed to a presidency that "is the most intolerant of dissent."
"President Duterte is most intolerant of dissent, he really doesn't want anyone to criticize or disagree with him," said Colmenares.
NUPL secretary-general Rey Cortez added: "Other presidents have a pretense of democracy. Duterte took out all pretense and unmasked the true character of government. This gave military the heads-up to do what they do."
Red-tagging
Using the 10-year timeframe, or from 2011 to 2021 covering mainly the presidencies of Benigno "Noynoy" Aquino III and Duterte, the tool most used against lawyers is red-tagging.
The NUPL recorded 176 attacks, including killings, since 2011. Killings totaled 73 while other forms of attacks stood at 104.
Red-tagging accounted for 50 of the 104.
"Forty-nine (49) out of the 50 vilification and red-tagging incidents involved public interest/human rights lawyers. These lawyers are members of law organizations, mostly from the NUPL, its affiliates Union of Peoples' Lawyers in Mindanao (UPLM) and Public Interest Law Center (PILC), and the Free Legal Assistance Group (FLAG)," said the NUPL.
Of the 176 attacks, the NUPL said 53% were human rights-related incidents, meaning done to lawyers who handle human rights cases, including activists. That's 93 out of the 176 attacks, 49 of which involved state agents.
The 15% of the 176 were related to drugs, said the NUPL.
Among the red-tagged lawyers is NUPL's Angelo Karlo "AK" Guillen, who was stabbed in the head in March. Guillen survived the attack. He had been red-tagged thrice since 2018.
Guillen couldn't join the NUPL's streamed event on Monday "due to security reasons," according to NUPL Assistant Secretary General Josa Deinla.
"The consequences of red tagging have not only been harassment and surveillance, but loss of life and loss of employment," said Suzanne Adely of the International Association of Democratic Lawyers (IADL).
In calling for reporting, the Supreme Court committed that it would assess the submitted information and see whether institutional changes can be made.
The Court will also automatically convert some reports into petitions for amparo or habeas corpus, which are extraordinary protective writs usually availed of acitivists and other red-tagged human rights defenders.
Experts say this could be seen as a signal that the Supreme Court wants to strengthen the writs, even if it comes only after a decade of groups such as NUPL pointing out their weaknesses.
NUPL's Catherine Salucon is the last known lawyer to win a writ of amparo petition, but she said on Monday that she continued to be red-tagged and received the same threats since then. Salucon called state agents "incorrigible."
61 lawyers killed under Duterte
NUPL's report added more names of lawyers killed, increasing the previous number under former presidents Aquino and Gloria Macapagal Arroyo. The number under Duterte is still the highest.
The data below was compiled by Rappler using its own count, the newest report of the NUPL, an earlier list from the Free Legal Assistance Group (FLAG), and separate lists obtained from the Department of Justice (DOJ) and the Supreme Court (SC).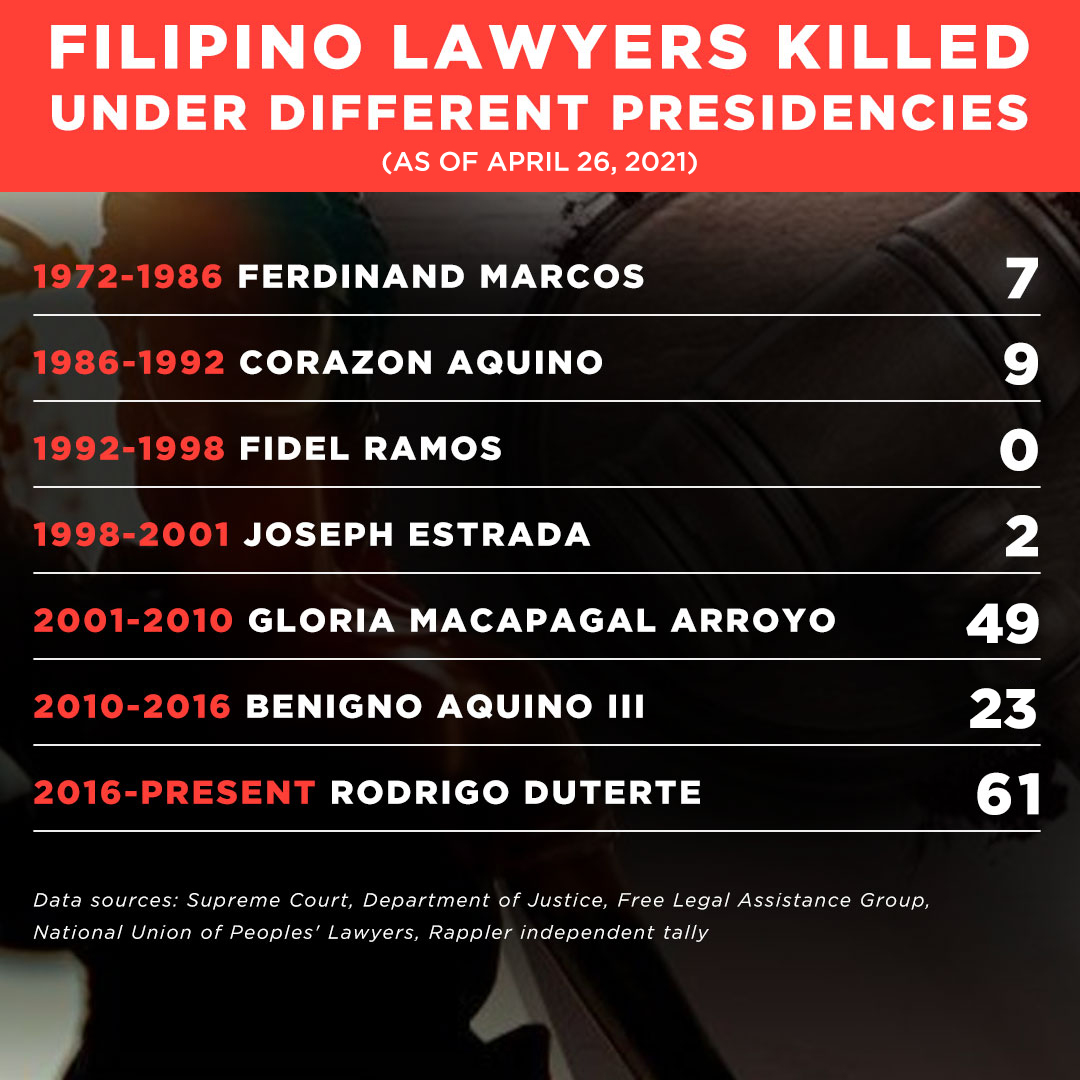 It shows there were 49 lawyers reported killed in the 9 years of Arroyo; 23 lawyers killed under Noynoy Aquino; 9 killed during Corazon Aquino's term; 7 during Martial Law under late dictator Ferdinand Marcos; two under Joseph Estrada; and none under Fidel V. Ramos.
NUPL's Melanie Pinlac admitted difficulty in tracking down the status of the cases of killings, but she said that of the available information, it is only in 15 cases – out of the 73 documented killings since 2011 – where there have been movements in the process such as a complaint, investigation, or the arrest of suspects. There has only been one documented court conviction in relation to these killings.
"Lack of political will, or maybe they don't want to solve it?" said Pinlac.
"We have a president who doesn't really care about making expressed statements of killings, and encouraging agents to kill. And that has emboldened law enforcers all over the country to do as they wish," said human rights lawyer Evalyn Ursua. – Rappler.com