(2nd UPDATE) There is no law that criminalizes refusing vaccines, or even a law that makes COVID-19 vaccines mandatory
There is no legal basis for President Rodrigo Duterte's threat to arrest Filipinos who refuse to get vaccinated against COVID-19. This much, his justice secretary said.
In his meeting with pandemic response officials, aired late evening of Monday, June 21, Duterte made a threat: "Magpabakuna kayo or ipakulong ko kayo sa selda (Get yourselves vaccinated or I will put you behind bars)."
Yet, there is no Philippine law that criminalizes refusing vaccines, or even a law that makes COVID-19 vaccines mandatory.
"I believe that the President merely used strong words to drive home the need for us to get vaccinated and reach herd immunity as soon as possible," Justice Secretary Menardo Guevarra said on Tuesday, June 22, when reporters sought his opinion.
"As a lawyer, he knows that not getting vaccinated is a legal choice; there is no law as yet that compels vaccination against COVID-19, much less criminalizes not getting vaccinated," he added.
Making COVID-19 vaccines mandatory is a tricky subject as it needs to balance the State's police power with individuals' rights to health and privacy.
Even Duterte's spokesperson, lawyer Harry Roque, conceded that it would need a law. Roque said the President's words were just meant "to emphasize what the State can do."
"Of course, alam naman ni Presidente at sinabi naman niya na kailangang pag-aralan ang option na ito at kailangan ng batas na maipasa ng Kongreso," said Roque during his press briefing Tuesday.
(Of course, the President knows and he said it also that we need to study this option and Congress needs to pass a law.)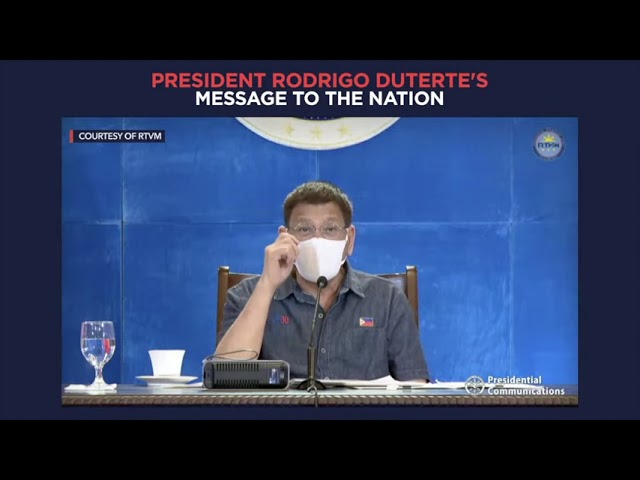 Assistant Secretary Odilon Pasaraba, acting spokesperson of the Department of the Interior and Local Government (DILG), said there was no directive to the policemen to make arrests.
"Knowing the President, [given] his style, his leadership language, there is no such thing as DILG directive to the Philippine National Police because we see it as a very good, constant reminder to the Philippine people to get vaccinated," said Pasaraba.
The Department of Health said there was no change in policy that vaccination needed the person's consent.
Health Undersecretary Myrna Cabotaje said during the Laging Handa briefing Tuesday that Duterte's directive had been "borne out of passion and need…to emphasize the point that we need to get vaccinated to protect one another."
Another legal pronouncement
Duterte's threat to those who refuse vaccination is yet another legal pronouncement from the President made in his late night speeches. The last one, a threat to arrest barangay officials who fail to stop super-spreader events, prompted the Department of Justice (DOJ) to do a turnaround on its earlier no-arrest policy for health protocols violations.
Following the line of the President, the DOJ had to craft a guideline with the Department of the Interior and Local Government (DILG) to avoid jail overcrowding, but the only new feature of the guideline was the setting up of holding areas for those arrested.
Asked if Duterte consults him before making legal pronouncements, Guevarra said, "He seeks my legal opinion only when he finds it really necessary."
National Union of Peoples' Lawyers (NUPL) president Edre Olalia earlier commented on officials' attempts at coming up with legal covers for the President's pronouncements.
"Parang ginagawan ng paraan para hindi mapahiya ang kanilang principal," he said. (It's like they're looking for a way so their principal does not lose face). – with reports from Pia Ranada, Dwight de Leon, and Sofia Tomacruz/Rappler.com