The Department of Health needs some P50.4 billion to fund health workers' special risk allowance, hazard pay, and allowances for meals, accommodations, and transportation in 2022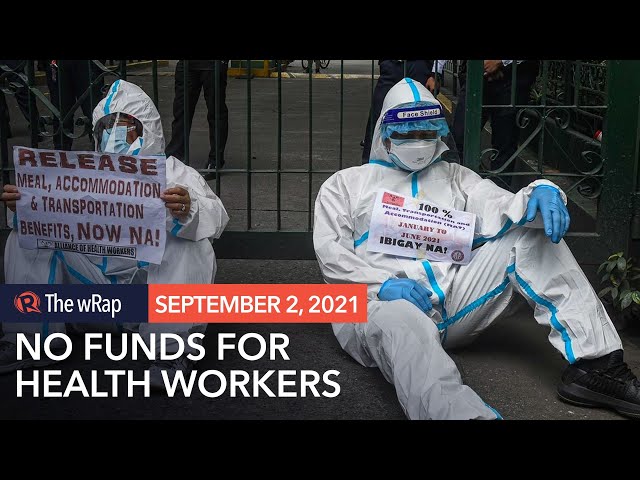 As thousands of health workers continue to press the government for their long-overdue COVID-19 benefits, budget deliberations at the House of Representatives bared that funds have not been allocated for health workers' allowances in 2022.
Health Secretary Francisco Duque III told lawmakers on Thursday, September 2, that the health department had requested for funding of health workers' special risk allowance (SRA), hazard pay, and allowances for meals, accommodations, and transportation (MAT) in the coming year, but the Department of Budget and Management (DBM) excluded this from the agency's proposed budget.
"Tama po kayo. Next year wala po (You're correct. Next year there is none)," Duque said.
Duque was responding to Marikina 2nd District Representative Stella Quimbo who pointed out that the P19.6 billion for COVID-19 response currently part of the DOH's proposed P242.2-billion budget may not be enough to fully cover the needs of the public and the health sector.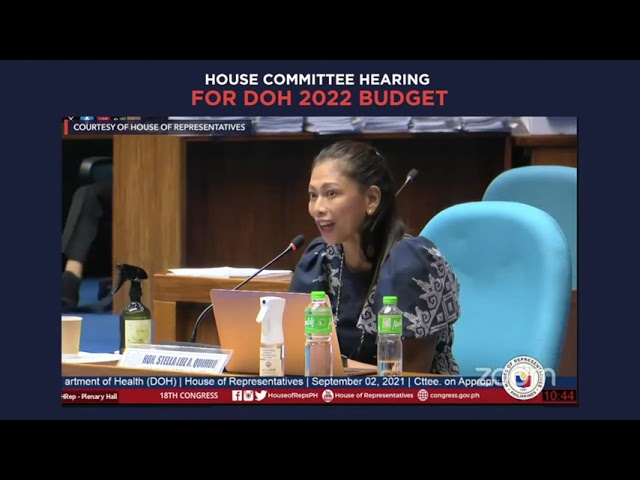 Quimbo cited figures from a DBM report that showed about P160.97 billion had been released to the Department of Health (DOH) as of June 30, 2021. On average, this would mean about P11.4 billion was given to the agency each month for the past 14 months of the pandemic so far.
"Hindi kaya masyadong maliit ;yung P19.68 bilyon na ina-allot ninyo para sa buong 2022 considering na magtatagal 'yung pandemya (Isn't the P19.68 billon you're allotting for the entire 2022 too small considering the prolonged pandemic?" she asked the health chief.
Duque agreed with Quimbo, saying that the DOH had originally requested the DBM for about P73.9 billion for COVID-19 response measures under the agency, though this was not approved entirely. The proposed fund would cover the following:
P50.4 billion – SRA, hazard pay, MAT allowances, life insurance for health workers
P9.9 billion – support to hospitals
P6.6 billion – hiring of more vaccinators
P1.3 billion – hiring of diseases surveillance officers
P4.4 billon – oxygen needs
P1.5 billion – others
Duque said the DOH was also banking on the passage of Bayanihan 3 to fund health workers' benefits in 2022, though Quimbo pointed out that even if the measure were enacted into law, there was no itemized appropriation for the benefits of health workers.
Asked if the DOH had pushed for amendments to its proposed 2022 budget, Duque listed the P50.4 billon needed for health workers' benefits, but added that more may be needed to also cover the promised compensation for workers who may experience mild, moderate, or severe COVID-19; or may die due to the disease.
Aside from Quimbo, Deputy Speaker Rufus Rodriguez expressed support for increasing the DOH budget to cover health workers' benefits. The hearing is still ongoing as of posting.
How much will health workers get?
During the hearing, Quimbo had also asked Duque to explain the basis for health workers' allowances after reports showed that some received just a few hundred pesos for their service in high-risk areas like hospitals.
Duque said workers were entitled to a maximum of P5,000 per month for the SRA and P3,000 for active hazard duty. He also cited DOH's efforts to secure room for a more "liberal" interpretation in determining which workers will be entitled to benefits, especially since the virus is airborne and has evolved to become more transmissible.
In previous hearings, Duque said the move was proposed by Commission on Audit Chairperson Michael Aguinaldo and that the DOH was following up with the Department of Justice on its legal opinion on the matter. Aside from these efforts, however, Duque repeated that crafting a law for such would be the "best way" to settle the matter.
"Inaayos po natin ito (We are fixing this) as much as we can but legislation, I think, will be the best way to resolve the issue," he said.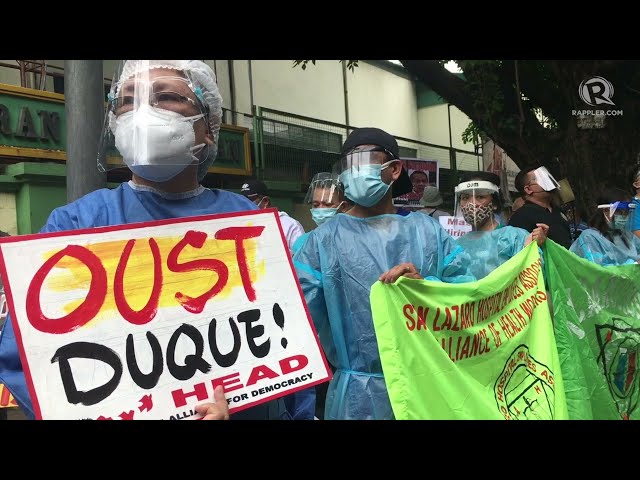 After over a year of catering to COVID-19 patients in high risk spaces, health workers have demanded that the government give what is due them as thousands have yet to receive benefits promised by the government.
Frustrated by the slow government response, health workers staged protests on August 30, National Heroes Day, and observed a "walk out" on Wednesday, September 1, a day after the deadline it gave government to release benefits.
Duque said that P311 million has been released to fund the allowances of over 20,000 health workers, while the DOH had requested another P210 million from the DBM for 17,000 more health workers. Another P13.2 billion was also requested for MAT allowances in 2021. – Rappler.com