The seafarers are also trying to repatriate the remains of colleagues who died at sea
After months of being stranded at sea, repatriated seafarers are embroiled with manning agencies over unpaid wages and the return of the remains of colleagues who passed away on board.
Last July 23, about 90 seafarers for various Fu Yuan Yu fishing vessels were repatriated after being stranded on board for months due to COVID-19 lockdown restrictions. Border control measures had prevented a change crew, a process where new crew members were meant to relieve them.
After undergoing mandatory COVID-19 testing and quarantine, more than a dozen seafarers, led by Harold Fuentes and Jesus Gaboni, headed to Global Maritime Crew, Inc in Pasay on Monday, August 10, to demand for their unpaid salaries and other benefits, like their seaman's certificate and overtime pay.
According to Fuentes, despite their contracts having been completed, the men were made to continue working because of the change crew crisis and the lockdown. Their work days fishing for squid off the waters of Chile, Argentina, and Peru ran for 12 hours or more. They claim that they have not been paid for work rendered during March, April, and May.
The men also asked for a copy of their payslips to cross-check deductions that were made, but Global Maritime did not provide them with copies.
"Kasi krisis din ngayon, kailangan na ng pamilya namin, mahirap din maghanap ng trabaho. Kaya nga 'yung hinihiling ko ngayon sana makuha namin kung tutulungan talaga ng gobyerno na ibigay 'yung para sa amin. Kasi buhay po namin 'yung kapalit doon sa pinagtrabahuan namin eh," said Fuentes, who has been at sea since March 16, 2019.
(In this crisis, our families really need the money. Plus, it is difficult to find a job now. That's why I'm asking that the government help us get what is ours. Because we put our lives at risk for our work.)
"Sana kung hindi niya ibigay 'yung sahod namin, dapat pina-stop niyo kami magtrabaho sa kanila, pinull out mo kami at pauwiin," Fuentes added. (If they weren't going to pay us, they should have told us to stop working, pulled us out, and made us go home.)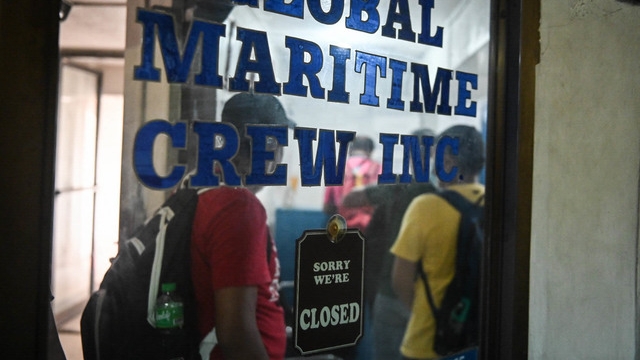 Jean Javellana, president of Global Maritime Crew, Inc, met with the seafarers but declined to give comment.
A copy of their contract secured by Rappler showed that the men were promised $250 monthly, $130 in overtime pay, and other bonuses like vacation leave with pay.
Oppressive fishing industry
"The fishing industry is particularly oppressive and exploitative," said Luis Manuel Corral, vice-president of the Trade Union Congress of the Philippines (TUCP).
According to Corral, the manning agency and the ship owner have a joint and shared responsibility to pay their seafarers their proper wages.
"They (manning agency) cannot simply say that they can't pay. They have insurance to cover for seafarer wages up to 4 months. The POEA (Philippine Overseas Employment Agency) must pressure and compel payment by Global Maritime."
The Protection and Indemnity Club (P & I) Club, a cooperative of marine insurance providers whose members are ship owners, operators, and seafarers under the member companies, provides insurance coverage for "open-ended risks" that may not fall under the mandate of usual maritime insurers like war, environmental risks like oil spills, and pollution.
Corral added both the manning agency and shipping line could be charged with violation of contracts and non-payment of wages, which could result in the cancellation of their license to operate.
In a statement released through Corral, Congressman and TUCP Representative Raymond Mendoza said the seafarers's concerns were elevated to the Overseas Workers Welfare Association (OWWA) which committed to immediately act on them.
Bring home the dead
The seafarers are also trying to repatriate the remains of their colleagues, Raul Calopez and Stanley Jungo, who both died at sea.
Raul Calopez fell sick on the 7874 Fu Yuan Yu Ang Chinese fishing vessel while they were somewhere in Peru. In a letter written by an unnamed crew member, Calopez did not get any medical attention. He was later transferred to a boat and the crew heard after a few hours that he had died.
In an incident report written by a crew member, Stanley Jungco met an accident on another ship when a steel bar hit his thigh on April 17. He died on June 6, 2020.
"Sana po matulungan po natin yung kasama kong namatay. Si Raul Calopez saka si Stanley. Si Stanley namatay dito sa China talaga pero 'yung kasama ko si Raul namatay sa Peru. 'Yung bangkay niya, ako mismo 'yung nagpasok doon sa freezer. Nananawagan po ulit ako sa inyo, 6 na buwan na 'yun, tumatawag po 'yung asawa niya sa akin na pakitulungan daw siya," said Gaboni.
(I hope we can help our colleagues who died, Raul Calopez and Stanley. Stanley died in China but Raul died when we were sailing in Peru. I put his body in the freezer myself. I'm again asking for help. It's been 6 months already. His wife always calls me asking for help.)
"The handling and repatriation of remains are dependent on the protocols of the host country and port of call. This has been complicated by the COVID-19 crisis where more stringent protocols are now in place," said Noli Partido, head of the Associated Marine Officers and Seaman's Union of the Philippines' legal unit.
Meanwhile, another 17 Filipino seafarers stranded in Uruguay made a video pleading to go home. One of their colleagues, Rodel Catinoy, also passed away at sea.
100,000 stranded
The Philippines is the biggest supplier of seafarers, with Filipinos making up approximately 25%. About 100,000 of these Filipinos seafarers are currently stranded, said Edwin dela Cruz, president of the International Seafarers Action Center (ISAC).
According to the Philippine Coast Guard, as of August 9, the government has repatriated only 18,414 of them.
Some are not able to seek assistance from embassies or seaport authorities because there is no signal in the middle of the ocean where they are. Others are reportedly not allowed to make calls.
"We acknowledge that the government is doing its best, but seafarers are among our country's heroes. There also has to be a heroic budget to bring them back home. This is not business as usual," said Corral.
In 2018, Filipino sailors sent home a record $6.1BN in remittances. – with reports from Leika Golez/Rappler.com