It was too soon, too sudden because just like that, PNoy is gone
"We would have wanted so much more for our brother," said Kris Aquino, the youngest and most famous of the Aquino legacy clan, 7:15 pm, Thursday, June 24, at The Heritage Park in Taguig. The tranquility of the place is disturbed by the comings and goings of VIPs on a day that jolted the Philippines.
It had been almost 13 hours since her brother, former president Benigno "Noynoy" Aquino III "passed away in his sleep." A Philippine media still adjusting to covering a pandemic is suddenly roused by the news, converging at the the driveway of the Capitol Medical Center in Quezon City all asking – is PNoy dead?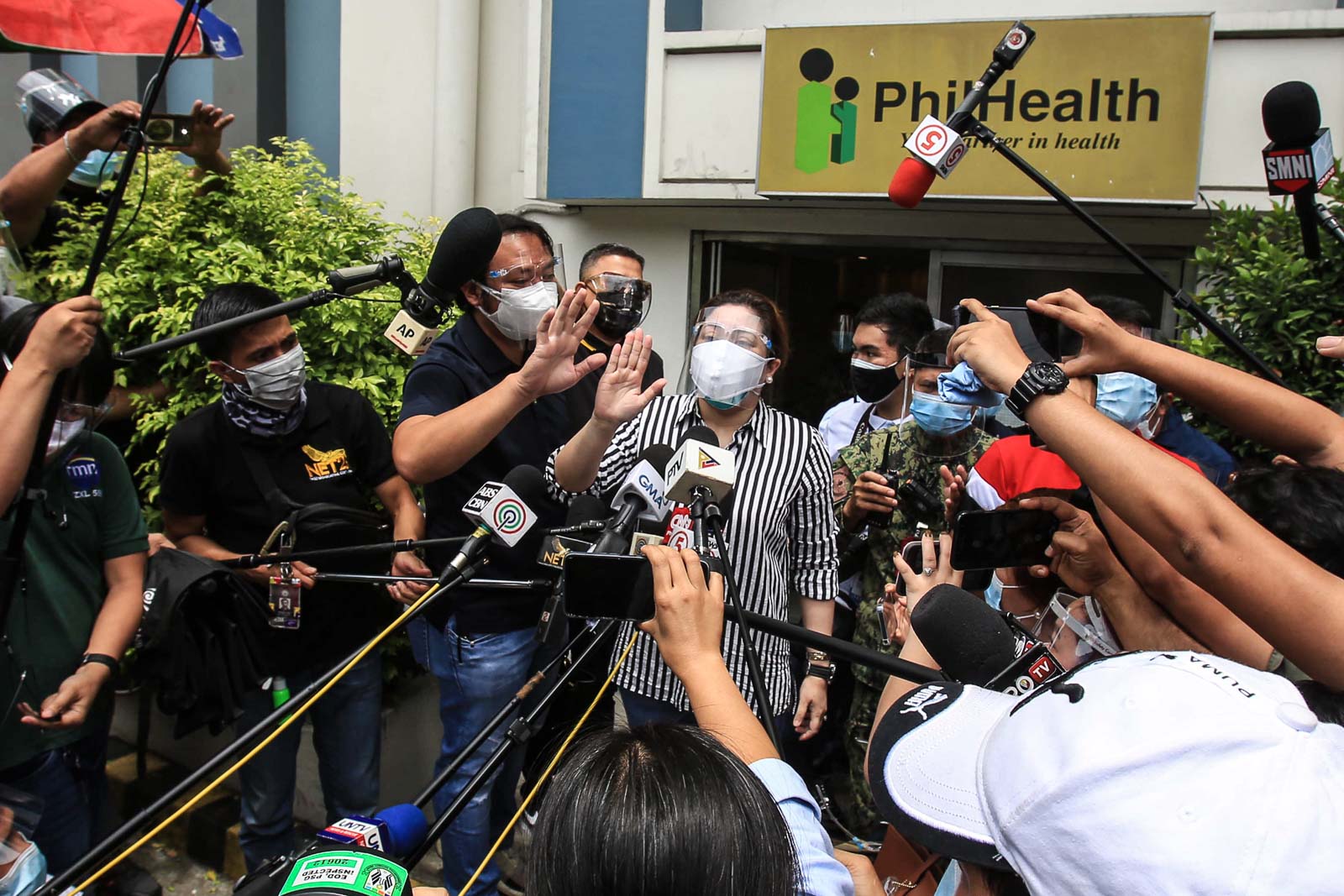 PNoy was short for "President Noynoy," or how the former president was called during his term from 2010 to 2016.
Even before a confirmation from the Aquino family, the news was all over the airwaves and websites before 10 am, citing multiple sources that indeed, the former president had died, at 61.
"We did not think it would happen this soon," said Kris, by her lonesome in front of the press that Thursday evening, trying to explain that "hindi namin pinagdadamot si Noy (it's not like we don't want to share him.)" (READ: Kris on Noynoy Aquino: 'God blessed me because we made our peace')
"Noy served in Congress and in the Senate, he could have been lying in state in Malacañang but nirerespeto na hindi pa lahat ng tao sa Pilipinas ay nababakunahan (we respect the fact that not everyone has been vaccinated)," said Kris, adding that "we are just trying our best for this not to become a super spreader event."
Except for a moment of privacy to pay respects around 8 pm, journalists were allowed only at the lobby of The Chapels. From there, reporters and media crew waited and noted those arriving and leaving.
Earlier, the Aquino sisters – Pinky, Viel, Ballsy, and Kris – were in that same lobby confirming the news: Their brother died 6:30 am Thursday, June 24, due to renal disease secondary to diabetes.
"No words can express how broken our hearts are and how long it will take for us to accept the reality that he is gone," said Pinky Aquino-Abellada in a statement she read to the press.
After this, only Kris and Aquino's former Malacañang spokesperson Abi Valte came out to give updates.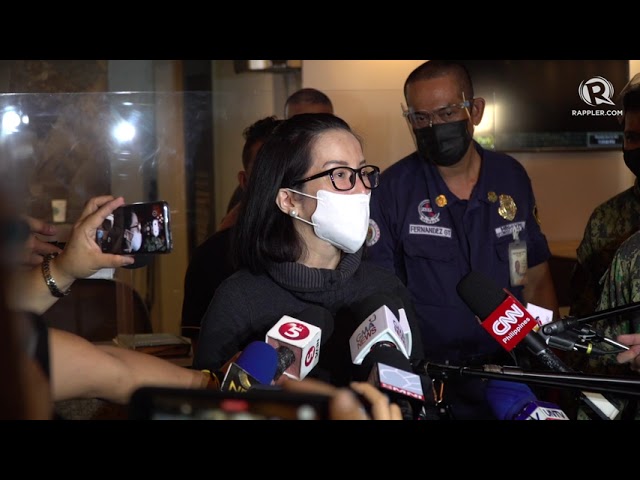 'I never knew it was something like this'
From his death that morning, the former president was first put in a brown casket so his family and friends could get their final glances.
"He looked good – lost weight, but looks good," said Supreme Court Justice Benjamin Caguioa, Aquino's chief presidential legal counsel and justice secretary, who was among the first to get to The Heritage on Thursday.
When we offered our condolences to Caguioa, who described himself as "lucky to call Noy my friend," the justice said: "Condolences to us all."
By evening, Aquino had been cremated. His ashes were put in a silver urn that was set on a bed of white and yellow flowers. There were also honor guards around befitting a former head of state.
Aquino's cousin, former senator Bam Aquino, said he talked to Noynoy last Sunday. Near tears, Bam said of his kuya (older brother): "Sabi niya sana mabisita ko siya, pero hindi na umabot ang pagbisita ko (He said I should visit him, but I didn't make it.)"
Aquino's cousin, Malabon Mayor Lenlen Oreta, said "my family kind of knew about it, but it was still too sudden."
The Malabon mayor's mother, the former senator Tessie Aquino-Oreta, is the sister of former senator and martyr Ninoy Aquino, Noynoy's father.
"We felt everything was under control, but it's good to know he died in his sleep, he died peacefully," said Oreta.
Liberal Party stalwart, former House Speaker Sonny Belmonte, braved going outside just for Noynoy, he said.
"Unang una nga naiiyak ako kanina noong malaman ko kanina (first of all I cried when I found about it earlier), I couldn't believe it," said Belmonte.
"I knew he had a condition but I never thought it was something like this that's why…I don't usually go out, but I just felt that I should come here," Belmonte added.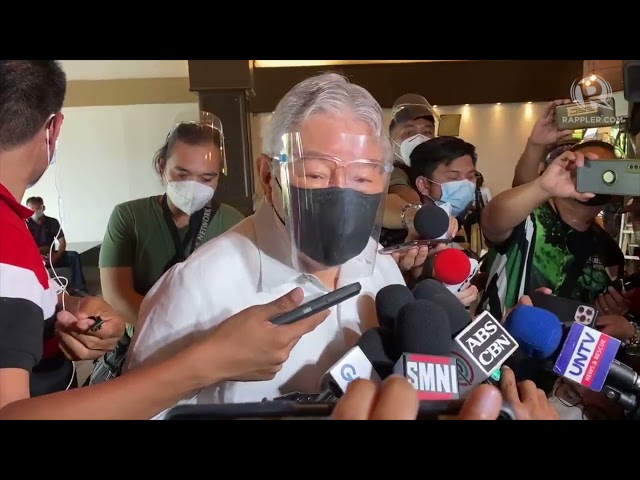 Malacañang 'offered everything we wanted'
President Rodrigo Duterte did not visit on the first night at The Heritage, but Kris said they felt "the sincerity of his condolences."
"Thank you to Executive Secretary (Salvador) Medialdea because he offered us everything we wanted," said Kris, although she didn't elaborate what those were, just that the pandemic forces them to keep the wake simple.
There would be a public viewing at the Church of Gesu inside the Ateneo de Manila University in Quezon City, Aquino's alma mater, from 10 am to 10 pm on Friday, June 25. He would be buried on Saturday at the Manila Memorial Park beside his parents, Philippine democracy icons Ninoy and Cory Aquino.
Aquino's passing comes at a very tense political time. With the 2022 national elections less than a year away, his Liberal Party is bidding to regain top position in what it hopes would be a post-Duterte country.
Although everybody tried not to talk politics, it was a matter so deeply attached to this day.
LP's favored bet, Vice President Leni Robredo, arrived at The Heritage very early but gave no interviews. She also quietly left, away from the cameras.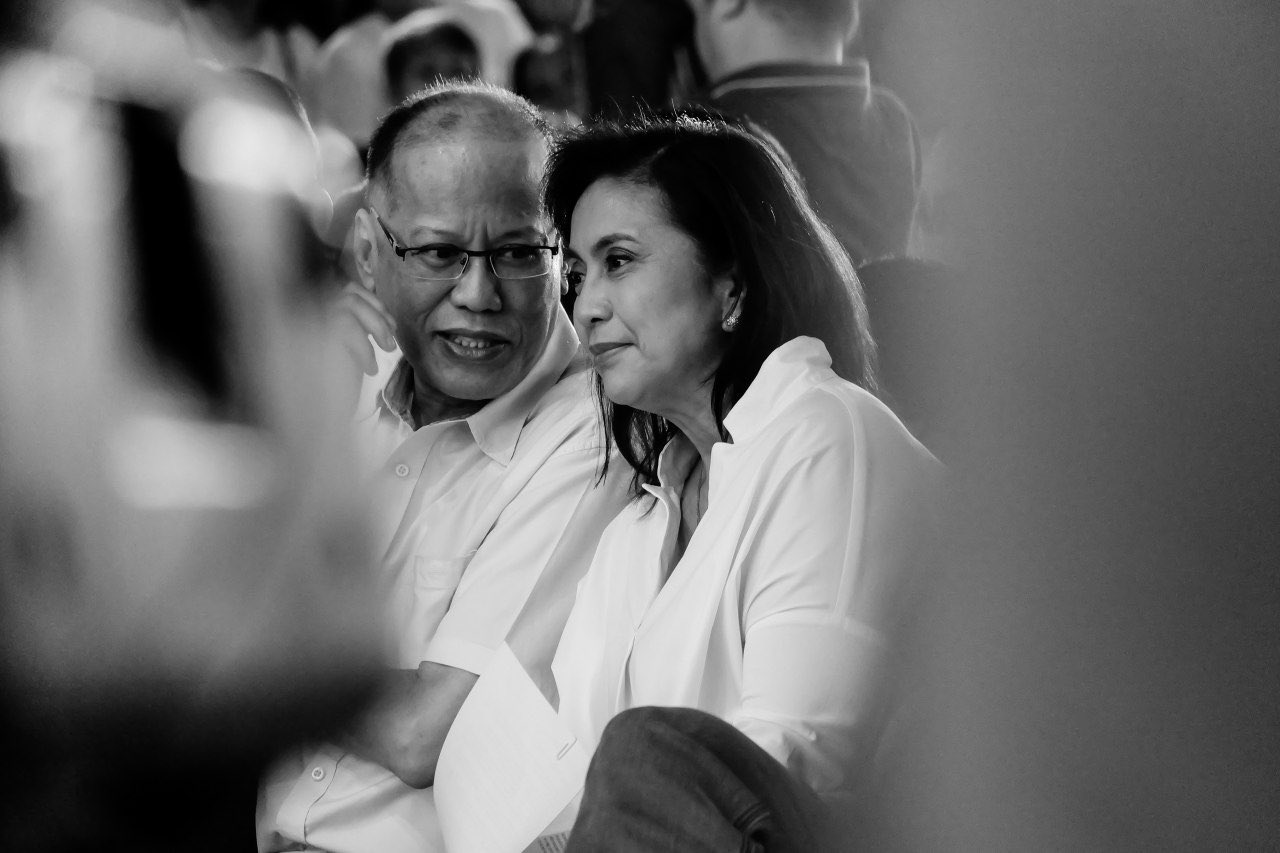 Remember he gave his all
Talking about politics, the dirty side of it, made Bam "quite emotional."
"Sa totoo lang, nananahimik na nga 'yung tao, binabatikos pa rin. I just hope ngayong araw maalala natin siya, and remember him in a good way," said Bam.
(He was living a quiet life, but still he's being criticized, I just hope that today we remember him, and we remember him in a good way.)
Aquino's passing invited criticisms from the opposite political fences, highlighting mainly the controversies which hounded his government, like the 2015 Mamasapano bloodbath where 44 elite policemen died in what was described to be a bungled operation.
But remember he gave it his all, said Bam.
"Binigay niya lahat ng makakaya niya sa ating bayan. May mga nagsasabi ngayon sa pagkakamali, pero wala namang perfect sa ating mundo. Si PNoy, alam ko ginawa niya ang lahat para sa bayan natin. And I hope today ang maaalala ng tao ay 'yung binigay niya para sa ating lahat," said Bam.
(He gave it his all, and others will point out mistakes, but there is no one perfect in this world. I know that PNoy did his best for our country, and I hope today that's what the people remember – that he gave us everything he can.)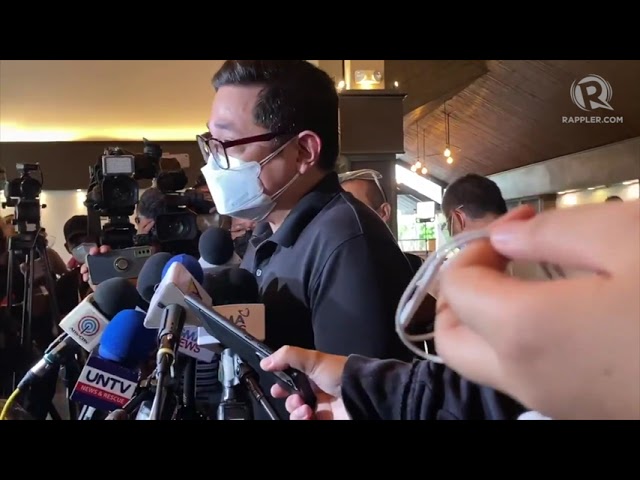 An unassuming neighbor
Aquino was also an unassuming neighbor according to Nenette Alba, who lives in a house just across Aquino's home in Times Street, Quezon City.
"Lagi ko siya dati nakikita nakatayo lang diyan. Naka-shorts, parang simpleng tao. 'Di mo siya aakalaing dating senador, nakatayo lang siya," said Alba.
(I used to him a lot outside. He was wearing shorts, like a simple person. You wouldn't realize he used to be a senator as he stood there.)
When Aquino ran for president in 2010, Alba had volunteered to campaign for him. Her cover photo on Facebook includes a photo of her posing with the late president, both of them wearing the signature yellow color of the Aquinos.
The first time Alba saw Aquino, she did not even realize she was already talking to the only son of Ninoy and Cory.
"'Yun lang ang ma-miss ko sa kanya the best, 'yung humingi ako ng malunggay, kasi may malunggay sila diyan. Hindi ko po siya masyadong nakilala o naka-focus na siya pala si Sir Aquino, Noynoy. Nung nakita ko na ang picture nya, doon ko natandaan: si sir pala' yung nakatayo," said Alba.
(That's really one of the things I'll miss about him the most. One time I asked if I could get malunggay leaves from their house. I didn't realize it was him at the time, that I was already talking to Noynoy Aquino. It's only when I saw his photo when I realized it was him.)
Alba said Aquino also loved buying dirty ice cream and would usually offer food to his neighbors.
"Minsan kasi, 'yung mga PSG diyan, siyempre naging friend ko na. Minsan 'pag lumabas ako, nagulat ako. Sabi nila 'Day, kuha ka diyan ng lalagyan!' 'Bakit?' 'Si sir, manlilibre ng ice cream' Kasi 'yun ang paborito niya, yung nagso-sorbetero. Yun ang mami-miss ko kay sir," said Alba.
(I became friends with members of his Presidential Security Group. One time, I went out and I was surprised because they told me, "Get a container!" "Why?" I asked. "Sir will give you ice cream," they said. Dirty ice cream is his favorite. That's what I will miss about sir.)
Several supporters of Aquino left flowers for him outside his home. Some just left their bouquets of flowers at the corner of Times Street. An animal welfare group even printed out a tarpaulin honoring the late president.
Their cards bear the same message: Thank you very much and goodbye, PNoy.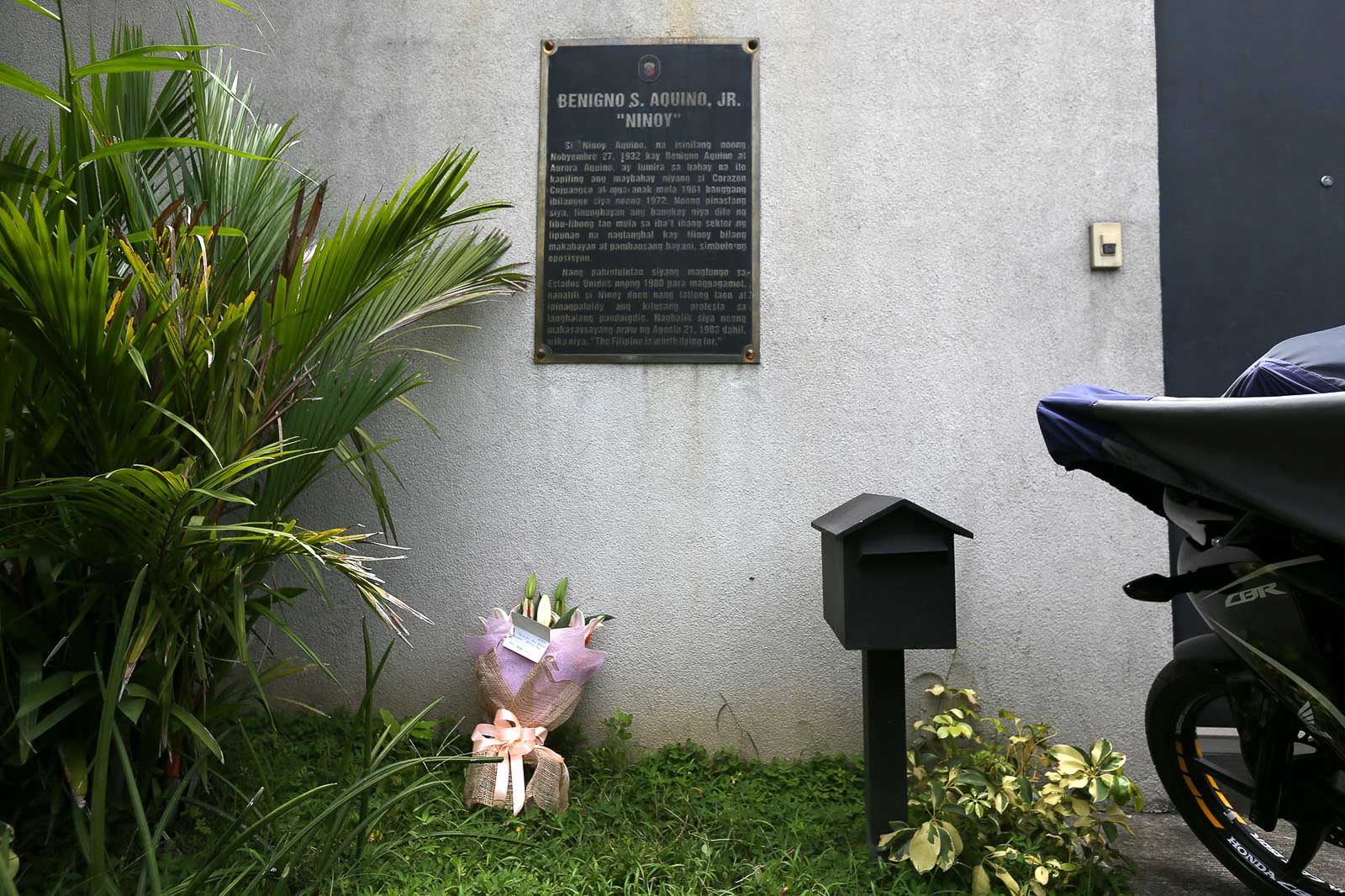 By 9:23 pm, Miguel Abellada, son of Noynoy's sister Pinky, went out unannounced of the chapel and suddenly cameras swarmed. He was carrying the silver urn.
Abellada walked quickly to an ordinary white van, and just like that they were gone.
Noynoy was gone. So suddenly. So quietly. In his death still the same as when he was alive.
– Rappler.com