Presidential Spokesperson Harry Roque invites telcos to report on how they improved their services. Will this convince President Rodrigo Duterte not to make good on his threat to shut them down?
National Telecommunications Commission (NTC) chief Gamaliel Cordoba told Malacañang that the country's telecommunication companies have managed to improve their services since President Rodrigo Duterte's threat to close them down last July.
"So far po, based on third-party audit at tsaka 'yung pag-test sa kanila, gumanda naman po ang kanilang serbisyo. Nagkaroon naman po ng improvement," said Cordoba during a virtual press briefing presided over by Presidential Spokesperson Harry Roque.
(So far, based on a third-party audit and the tests conducted, their services are better. There was improvement.)
The press briefing included representatives from telco players – Ernest Cu for Globe Telecom, Al Panlilio for Smart Communications, Adel Tamano for Dito Telecommunity, and Jesus Romero for Converge ICT Solutions. They were invited by Roque, who last week said the firms must report what they've done since Duterte's 2020 State of the Nation Address (SONA).
Cordoba's basis for saying there was improvement were the findings of Ookla Speedtest Global Index and the 100 million tests it conducted in the Philippines since the start of 2020.
The NTC chief said that, as of November, or a month before Duterte's deadline for telcos, the fixed download speed in the country was at 28.69 Mbps, up from 25.07 Mbps last July.
The November fixed download speed is a 262.7% improvement from the 7.91 Mbps in July 2016 or the start of the Duterte administration.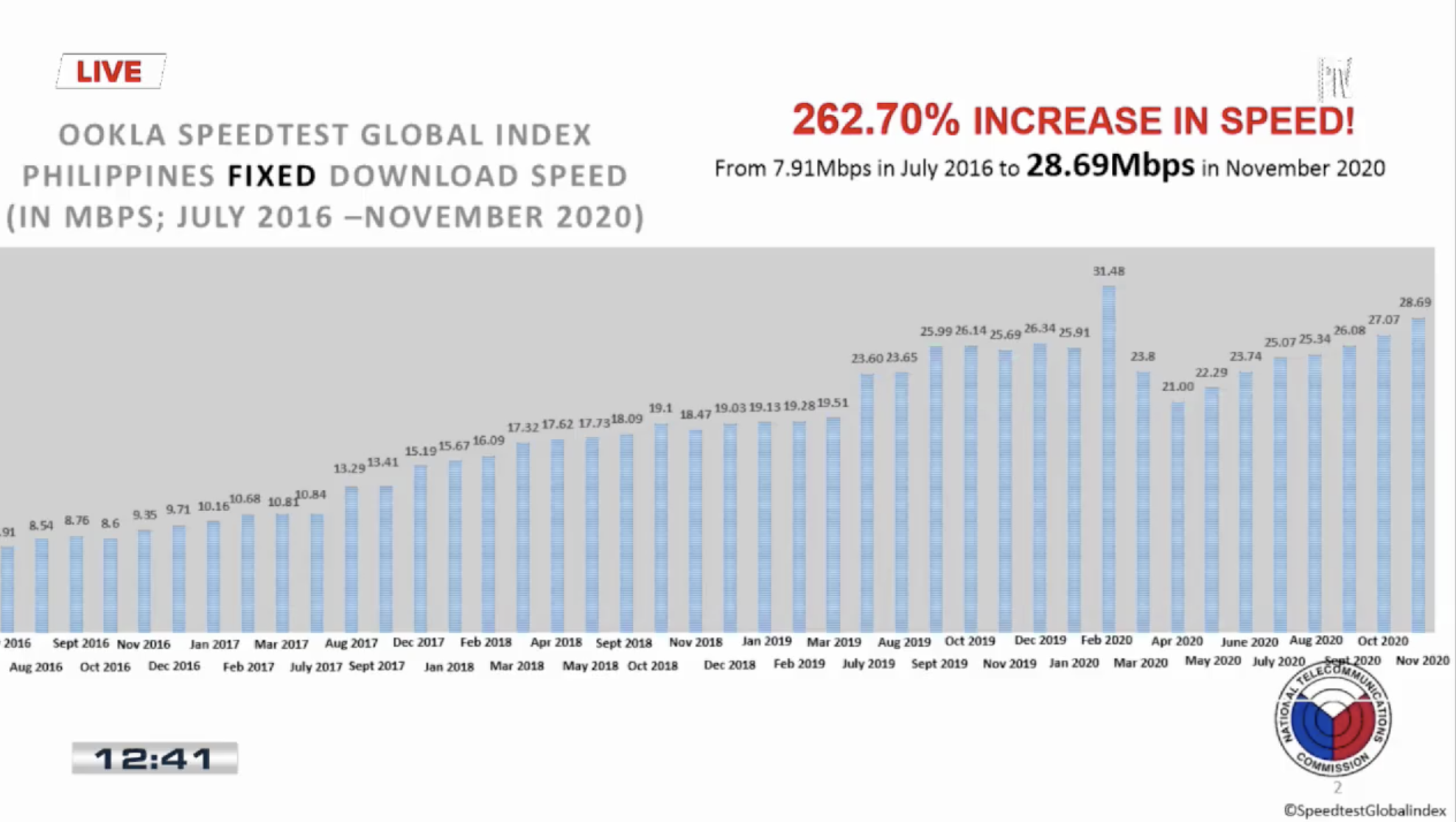 The mobile download speed was at 18.49 Mbps as of November, a bit faster than the 16.85 Mbps last July, the month when Duterte made his threat against telcos.
The November speed is a 148.52% increase from the 7.44 Mbps speed over 3 years ago, said Cordoba, again citing the Ookla Speedtest Global Index.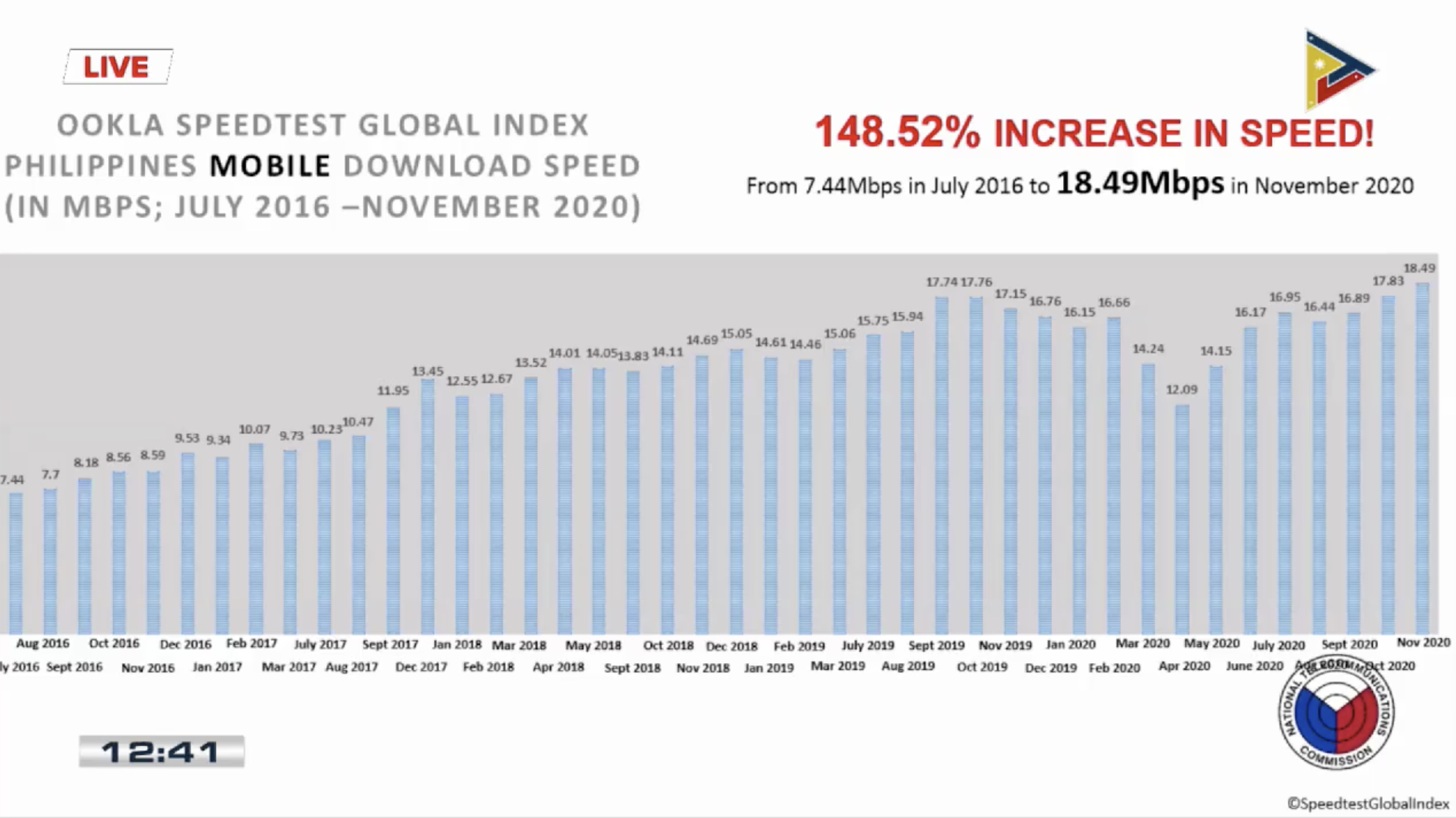 But Cordoba admitted that the mobile download speed slowed down in the months before Duterte delivered his SONA, the speech where he threatened the telcos. The deterioration in service may have been the reason for the Chief Executive's displeasure.
Cordoba said speeds slowed down in March because of the pandemic lockdowns which forced people to work or study from home, leading to a "500% surge in demand" that telcos were unable to keep up with.
Speeds began to pick up in May when lockdowns eased, allowing telco personnel to step outside and conduct maintenance and repairs of their infrastructure.
Apart from the lockdowns, successive tropical cyclones this year also affected mobile and internet speeds, said Cordoba.
Meanwhile, Cu of Globe also attributed bad customer service to lockdowns closing down their call centers. All telco providers admitted there remains room for improvement and gave assurances they were doing all they can to address concerns of consumers.
More towers, construction
Globe, Smart, and Dito also reported getting a higher number of construction permits issued and bigger rollout of equipment necessary to improving their services.
Cordoba said the number of construction permits issued to Globe monthly, on average, since Duterte's threat, rose by 590% – from 63 in 2019 to 371 a month from July to November this year.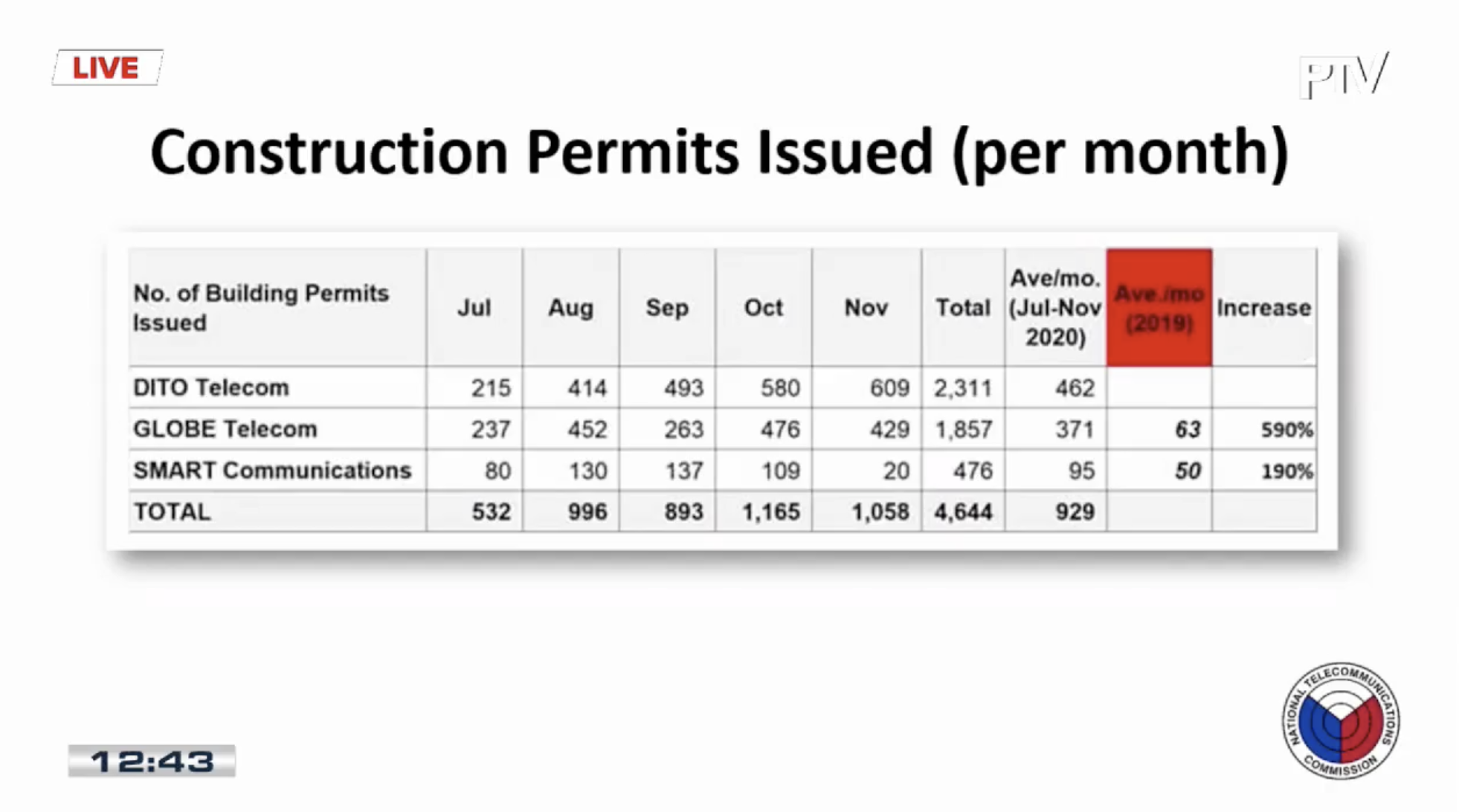 For Smart, it rose by 190% – from a 50 monthly average in 2019 to 95 a month from July to November.
Meanwhile, for new player Dito, it clocked in an average of 462 construction permits monthly from July to November.
Globe built 132 towers from July to November, a 44% increase from its monthly average of new towers last year. For that period, Dito put up 307 towers while Smart built 63 towers.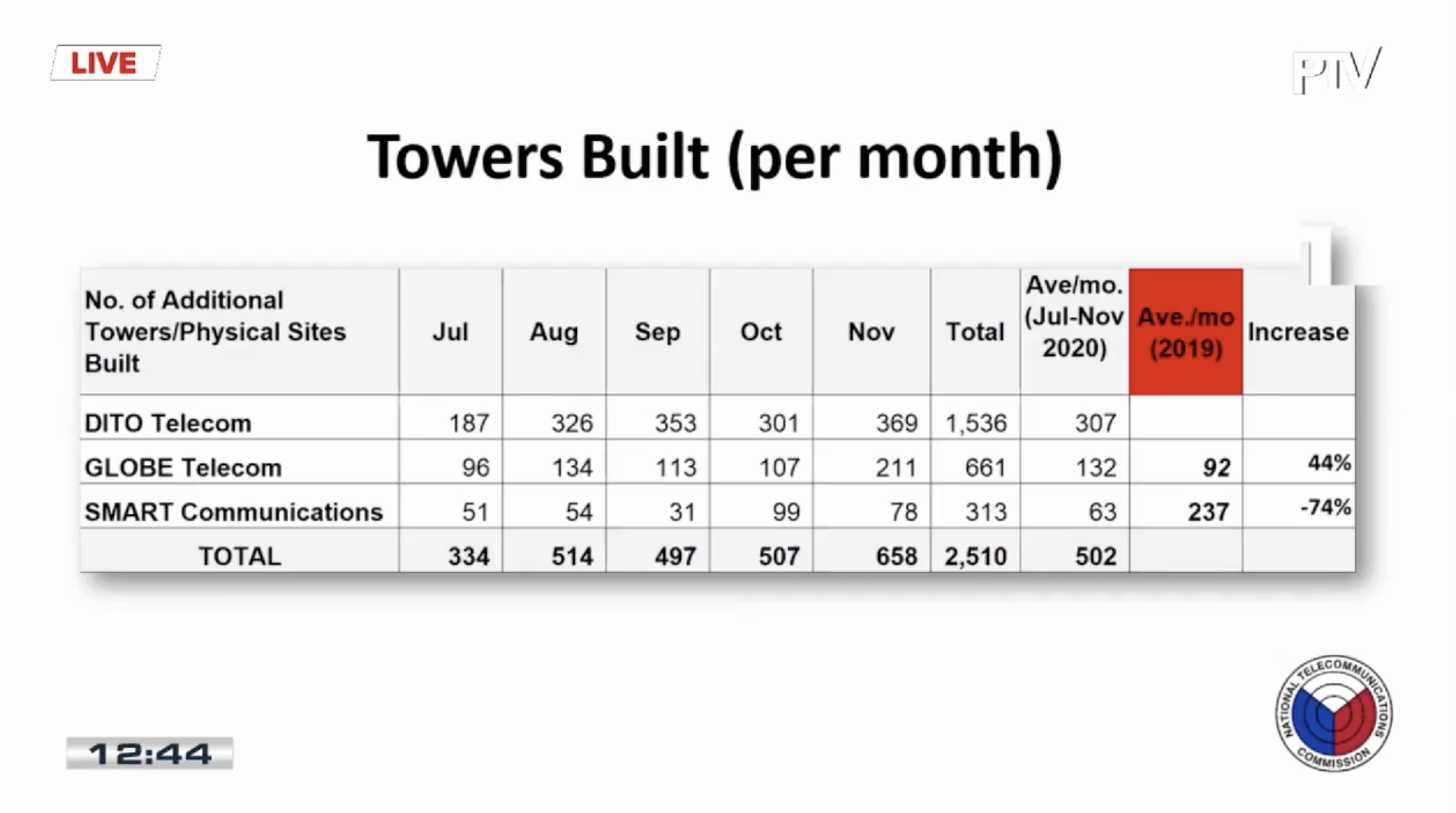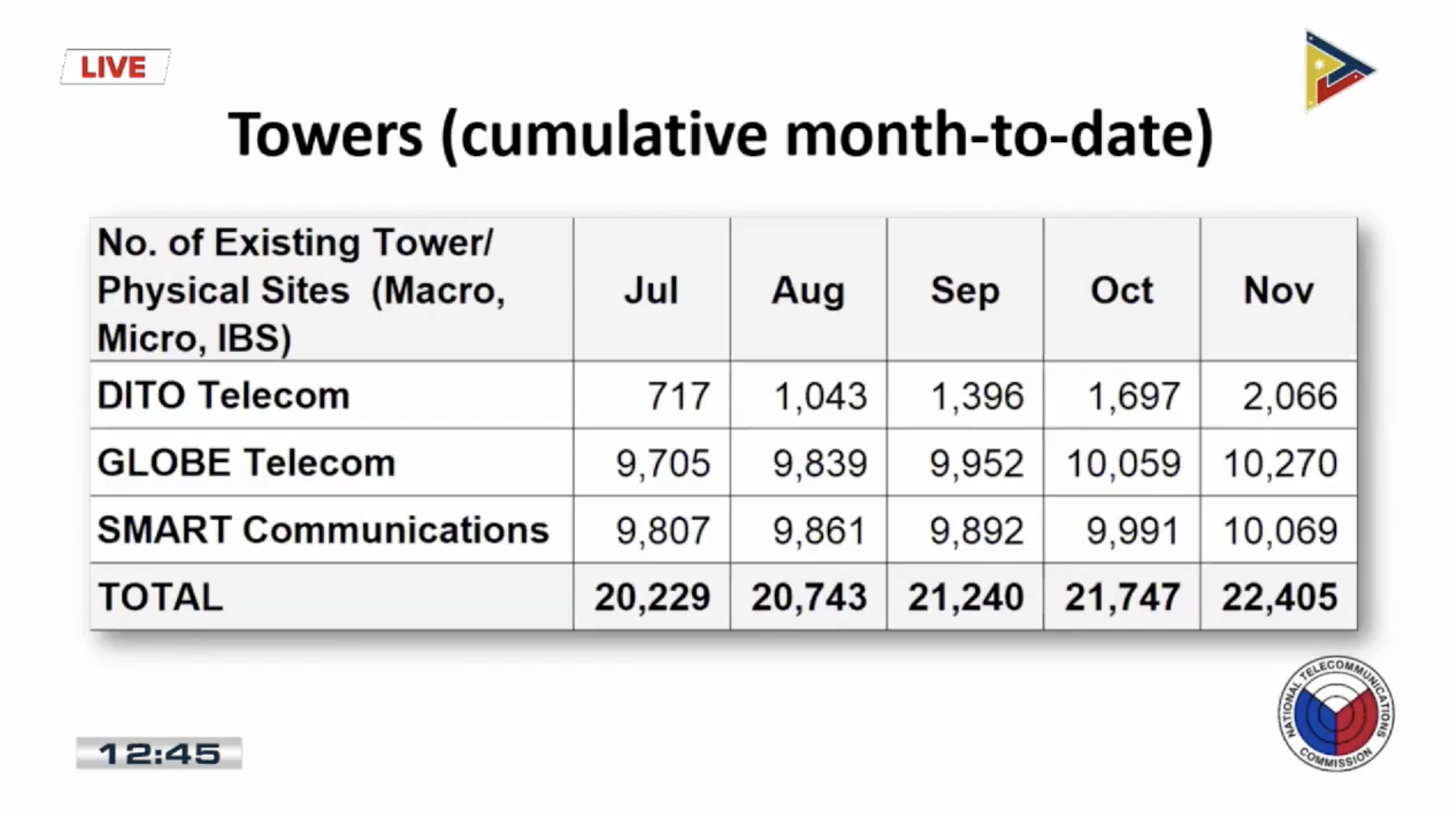 While Smart didn't build as much towers this year, Cordoba said PLDT, of which Smart is a subsidiary, rolled out almost 100,000 cable kilometers of fiber optic cables for high-speed internet.
Globe put out nearly 13,000 cable kilometers, Converge rolled out over 19,000 cable kilometers, while Dito set up over 13,000 cable kilometers.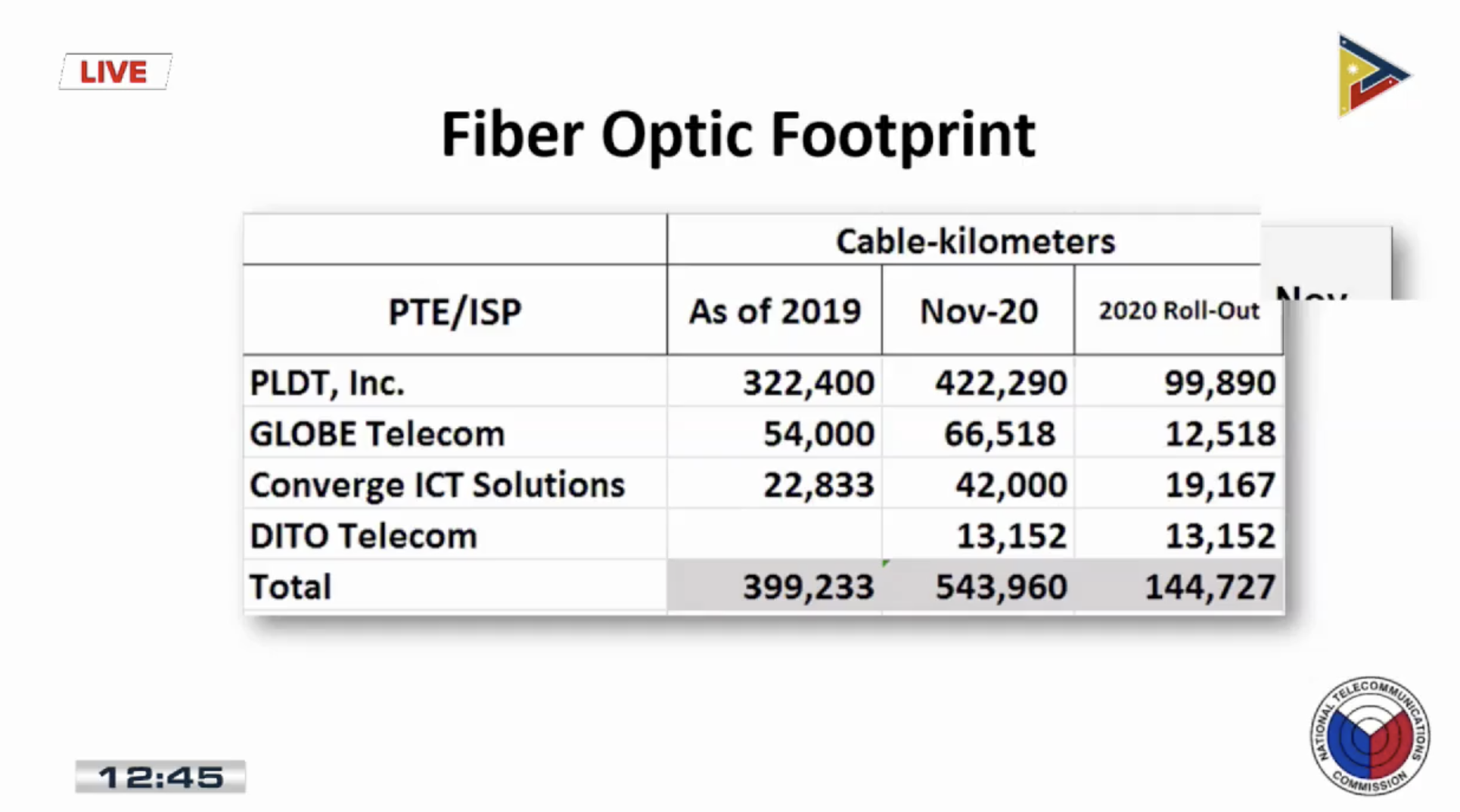 Palace reacts
It's not yet clear if Cordoba's assessment means Duterte won't order a government takeover of telcos after all.
But the President's spokesman didn't sound too threatening after the presentations of Cordoba and the telco representatives.
Roque thanked the firms for their accomplishments in the past few months, but said the country still has a long way to go to reach the internet speeds of countries like South Korea and Taiwan.
"Our countrymen are not hoping for just improvement. The countrymen want what Globe and Smart want, to be world-class. No. 34 in Asia, I don't think we're world-class," said Roque.
He was referring to a list showed by Cordoba where the Philippines placed 34th out of 50 countries ranked according to mobile broadband speeds. The Philippines' speed of 18.83 Mbps is a far cry from list topnotcher South Korea with 145 Mbps.
The Philippines was outperformed by its Southeast Asian neighbors with comparative economies. Thailand and Vietnam, which ranked 16th and 18th respectively, clocked in mobile broadband speeds of over 30 Mbps.
Cordoba and the telco representatives said many more reforms and investments are necessary to bring the Philippines to the level of other countries.
These include greater investment in infrastructure spending by the government and higher penalties for telcos which violate their deals with the government.
But Cordoba said the prospect of Dito becoming commercially operational in March 2021 would push all telco players to outdo each other in providing better services to the public. – Rappler.com