This is AI generated summarization, which may have errors. For context, always refer to the full article.
Davao City and Davao Region get a lion's share of the billions
The Barangay Development Fund of the National Task Force to End Local Armed Conflict (NTF-ELCAC) amounting to P16.24 billion (around $321 million) was already released to at least 812 barangays, according to the Department of the Interior and Local Government (DILG).
The fund is part of the NTF-ELCAC and DILG's Barangay Development Program (BDP), which seeks to give incentives to barangays supposedly cleared of communist terrorist groups. The BDP aims to target 822 barangays in the country.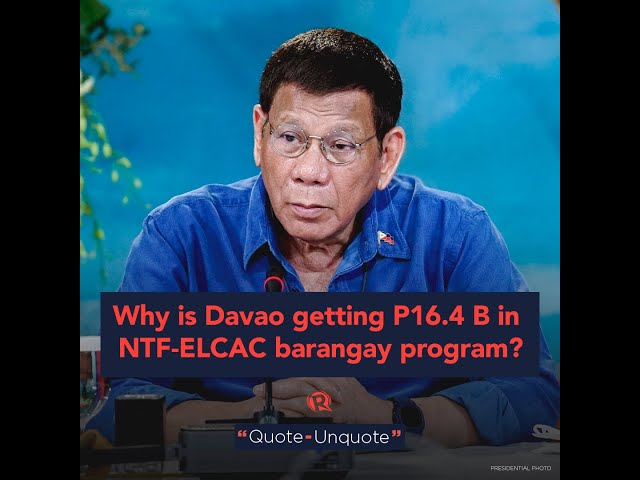 A total of P16.4 billion (around $324 million) was allocated by the national government for the said program. Since P16.24 billion was already distributed, this means that 99% of the total funds had already been released by the concerned agencies as of July 2021.
According to Interior Secretary Eduardo Año, the budget will finance 2,276 projects. The projects include 926 farm-to-market roads, 516 water and sanitation projects, 156 health stations, and 135 school buildings.
The breakdown of the P16.24-billion budget is as follows:
P11.611 billion (around $230 million) for farm-to-market road projects
P2.386 billion (around $47 million) for water and sanitation systems
P569 million (around $11 million) for school buildings
P491 million (around $9.7 million) for health stations
P482 million (around $9.5 million) for rural electrification
P328 million (around $6.5 million) for agricultural, livelihood, and technical vocational projects
P125.8 million (around $2.4 million) for other infrastructure projects
P110 million (around $2 million) for cost of assistance to indigent individuals and families
P87 million (around $1.7 million) for cost of reconstruction, rehabilitation, repair, and other similar projects
P22.4 million (around $444,000) for housing
P22.5 million (around $446,000) for COVID-19-related projects
Davao gets lion's share
Both the Davao Region and Davao City, home of President Rodrigo Duterte and a number of his cabinet members, got a lion's share of the billions.
Davao Region was allotted P4.3 billion, while Davao City was allocated P1.64 billion. Davao City received the largest amount among the 197 local government units chosen for the funds.
Joining Davao in the regions receiving the biggest chunks of the budget are Western Visayas, Northern Mindanao, SOCCSKSARGEN, and Caraga.
These funds were earlier criticized by budget experts and some lawmakers as being akin to the pork barrel since it was the NTF-ELCAC that chose the barangay beneficiaries. – with reports from Rambo Talabong/ Rappler.com