This is AI generated summarization, which may have errors. For context, always refer to the full article.
(2nd UPDATE) DOH-Nueva Ecija says the National Vaccination Operations Center mandates the province should administer 26,038 doses of COVID-19 vaccine daily, but can only manage an average of 8,000 to 10,000 doses daily
Local cases of COVID-19 continue to rise in the province but the government is not vaccinating enough, the Department of Health – Nueva Ecija said on Thursday, September 2.
In an exclusive interview with Rappler, Provincial Department of Health (PDOH) spokesperson Dr. Edwin Santiago said that based on the National Vaccination Operations Center (NVOC) mandates, the province should administer 26,038 doses of COVID-19 vaccine daily to fully vaccinate the entire population by year end.
However, Santiago said the province can only manage an average of 8,000 to 10,000 doses daily. The highest it administered in a day was 19,000 doses.
"One main reason for this is the lack of supplies of vaccine, because bulk of this comes from those procured by the national Department of Health," he said.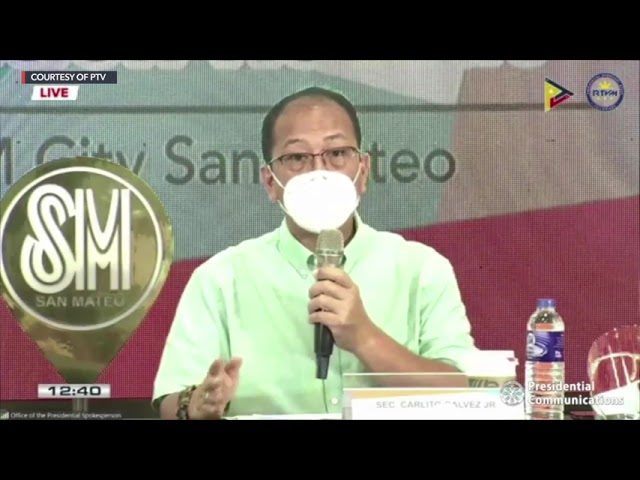 Santiago also pointed out that problems arise "when healthcare workers and Rural Health Units (RHUs) in charge of the vaccination are exposed to COVID-19."
As of August 31, Nueva Ecija has fully vaccinated 207,330, with a total of 440,849 shots administered.
This accounts to 12.34% of the target population to be vaccinated, or 8.64% of the total population in the province. PDOH said it aimed to inoculate 1,679,475 or 70% of its total population of 2,399,250.
According to Santiago, the province has already received a total of 612,877 doses from the Department of Health and the national government. It has administered 71% or 437,722 of these doses as of August 31. There were also 2,269 doses of vaccines procured by the private sector, with 100% distribution.
Meanwhile, provincial health office chief Dr. Josefina Garcia said the province has so far procured and received 27,720 doses of Astrazeneca vaccines, good for 13,800 Novo Ecijanos. Around 2,000 individuals have already received these shots, she added.
Santiago is hoping that more supplies will come, now that a bigger population in the NCR and other priority areas have already been vaccinated.
"We are hoping that when more supplies come, we can challenge the local government units to also raise their vaccine accomplishment," said Santiago.
"Ang hamon ay maka-20,000 doses man lang daily, pero pipilitin pa rin habulin ang 26,038 daily na directive ng NVOC (The challenge is to administer 20,000 doses daily, but we will strive to meet the 26,038 doses daily target as directed by the NVOC)," he added.
On Wednesday night, September 1, the province received 25,000 doses of Sinopharm from the national government, according to Santiago. 
A report from state media Philippine News Agency last January said that Governor Aurelio Umali ordered at least 300,000 doses of AstraZeneca. The same article reported that Umali said, more or less 900,000 doses of COVID-19 vaccines would be supplied by the national government.
On August 25, Philippine vaccine czar Carlito Galvez said in a Senate hearing that Metro Manila and select areas experiencing COVID-19 surges were indeed prioritized for vaccine supplies, as part of the government's "focus and expand" strategy. Galvez however said that regions could now expect bigger allocations for the rest of the year 2021.
"The majority of the volume in millions will be equitably distributed to the different areas. With this allocation we are assuring that all provinces and all the regions will be given their share," Galvez said.
As of August 30, DOH Nueva Ecija recorded 2,185 active cases in the province. Of these, 319 are in hospitals, 225 in quarantine facilities, and 1,641 in home quarantine. – Rappler.com
Paul Soriano is a Luzon-based journalist and an awardee of the Aries Rufo Journalism Fellowship.