Octa Research says this may be due to the presence of highly-infectious variants of COVID-19, overwhelmed hospitals, or both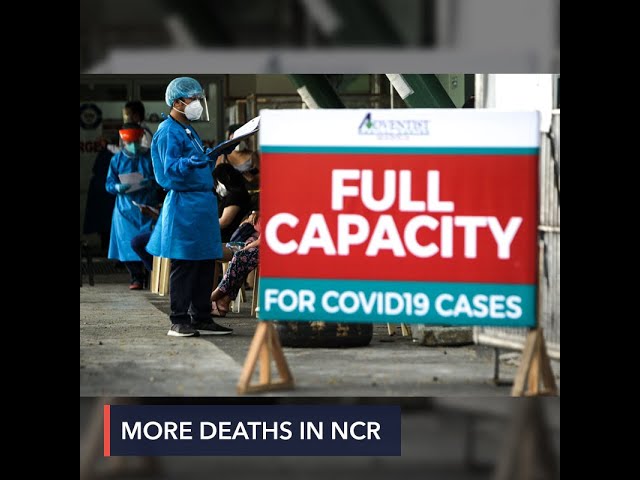 Experts studying the coronavirus pandemic in the country said that more people in virus epicenter Metro Manila are dying due to COVID-19.
In its special report released on Wednesday, April 14, the Octa Research group said that the case fatality rate (CFR) – the proportion of people who die from COVID-19 – in the capital region rose to 5.36% (March 28 to April 13) from 1.82% (March 1 to 27).
"While the more recent CFR is based on a smaller sample size of 284 deaths, and the CFR may still decrease as more data comes in, the possibility of an increase in CFR should not be ignored," the Octa team said.
The Octa team added that high death rate in Metro Manila could be due to overwhelmed hospitals and the presence of the highly-contagious variants of COVID-19 in the capital.
"The reasons for the increase in CFR may be due to an overwhelmed hospital care system, the presence of the SARS-CoV-2 variants, which may be more lethal, or both," the experts said.
In March, the Department of Health (DOH) said that the more infectious variants of COVID-19 – B117 and B1351 – were present in all cities in Metro Manila.
On April 9, the Philippines reported a record daily tally of 401 deaths due to COVID-19. The health department, however, noted that high number of fatalities was due to late reporting. As of Tuesday, the country has 15,286 fatalities due to the disease.
In recent days, relatives of COVID-19 patients have turned to social media to seek help in finding available hospitals for admission, with some of them narrating how their loved ones died without proper treatment as there was no space left in hospitals.
A year into the pandemic, the Philippines is still struggling to contain the spread of the deadly disease, with 884,783 total confirmed cases as of Tuesday. For the past days, the country has been logging around 9,000 daily COVID-19 infections. On April 2, the country's daily caseload was at its highest with 15,310 infections.
High death rate among senior citizens
The Octa team noted that the large proportion of deaths are senior citizens.
"Comparing the CFR before and after March 28, 2021, there was an increase from 11.8% to 28.6% for the 65 and up age group, an increase from 5.7% to 16.4% for 60 to 64 age group, and an increase from 2.7% to 8.7% for the 50 to 59 age group," they added.
In light of this finding, the Octa Research team urged the government to prioritize the elderly's access to healthcare so they would receive timely interventions.
Senior citizens should also have themselves vaccinated against COVID-19. The government, however, faces another problem as vaccine hesitancy among Filipinos remain high – a poll conducted by Pulse Asia Research, Incorporated in late February showed that 6 in 10 Filipinos didn't want to get vaccinated. – Rappler.com