Vice President Leni Robredo says the pilot area is Malabon City, where free antigen testing is set to be offered from March 30 until April 6
Vice President Leni Robredo launched a mobile antigen testing program called "Swab Cab" in areas with high COVID-19 transmission rates in a bid to help local government units (LGUs) quell rising coronavirus cases.
In a tweet on Saturday, March 27, Robredo said the free mobile antigen swab center service will be conducted for a week starting Tuesday, March 30, until next Tuesday, April 6, in its pilot area Malabon City. 
Data from the health department said that as of Sunday, March 28, Malabon has logged a total of 9,752 cases of COVID-19, of which 1,559 are active.
"Existing RT-PCR tests usually are for those with symptoms or have been contact traced. We will do antigen testing to target those without symptoms and no known exposure to COVID-positive cases," said Robredo. 
"Hopefully this will prevent those asymptomatic and who have not yet been tested from further transmitting the virus," she added.
The Vice President said Swab Cab will be using antigen test kits that have been approved by the Food and Drug Administration and have registered a high efficacy rate.
The Office of the Vice President (OVP) was able to procure the first batch of tests from privately donated funds, but Robredo said they are ready to appropriate more "if urgently needed."
To make Swab Cab possible, the OVP partnered with the Kaya Natin! Movement and Ube Express Inc, the same bus line they worked with for their free shuttle service for frontliners.
Like RT-PCR tests, antigen tests use swab samples collected to test for COVID-19. The main advantage of antigen tests are its faster turnaround time and cheaper cost. Unlike RT-PCR tests that can take up to 3 days to process, results from antigen tests only take about an hour to be released.
RT-PCR tests, however, remain as the gold standard in determining the presence of coronavirus.
After Robredo's initial Swab Cab announcement, the Vice President said several doctors reached out to the OVP to provide "important suggestions" to make the mobile testing service more effective.
"Thanks to well-meaning experts for the recommendations. We're meeting with them, and will update once we've incorporated their suggestions," said Robredo on Sunday.
The OVP is launching Swab Cab on the same week the national government reimposed stricter quarantine measures within the bubble of COVID-19 hotspots Metro Manila, Bulacan, Rizal, Laguna, and Cavite.
Robredo urged President Rodrigo Duterte's government to distribute aid to residents and strengthen LGUs so they could better cope with the weeklong lockdown. 
Since the COVID-19 crisis struck the country, the Vice President has earned praise for initiating recovery programs that are quick, efficient, and inclusive despite her office's measly budget.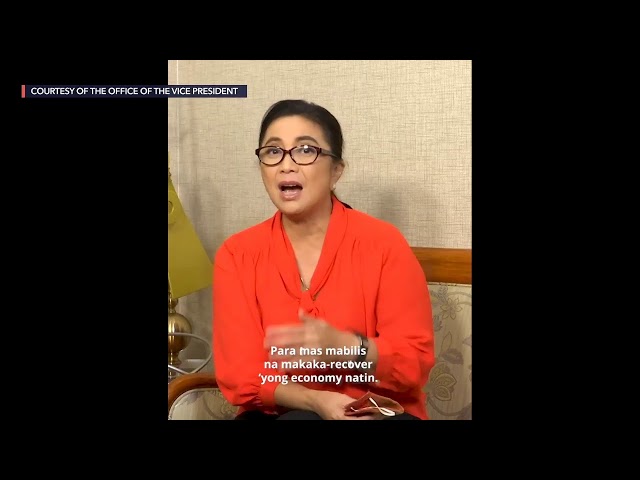 She has also delivered concise remarks that offer concrete solutions to the pandemic, though this has earned her the ire of Duterte, who has received widespread criticisms for mismanaging the country's pandemic response. – Rappler.com