The rogue police are all assigned at Sation 2 of the Olongapo City Police Office
Four members of the police force in Olongapo City were arrested here Friday morning, January 15, along with a civilian suspect, in connection with the discovery and dismantling of a clandestine laboratory used in the manufacture of illegal drugs.
A report from the Criminal Investigation and Detection Group of the Philippine National Police in the National Capitol Region (PNP CIDG-NCR) identified the cops as Lieutenant Reynato Basa Jr, Corporal Gino dela Cruz, Corporal Edesyr Victor Alipio, and Corporal Godfrey Duclayan Parentela. All were assigned at Station 2 of the Olongapo City Police Office.
The lone civilian arrested in the operation was Jericho Dabu, a resident of Olongapo, who tried to sell one kilo of methamphetamine hydrochloride or shabu to a poseur-buyer from the Philippine Drug Enforcement Agency (PDEA).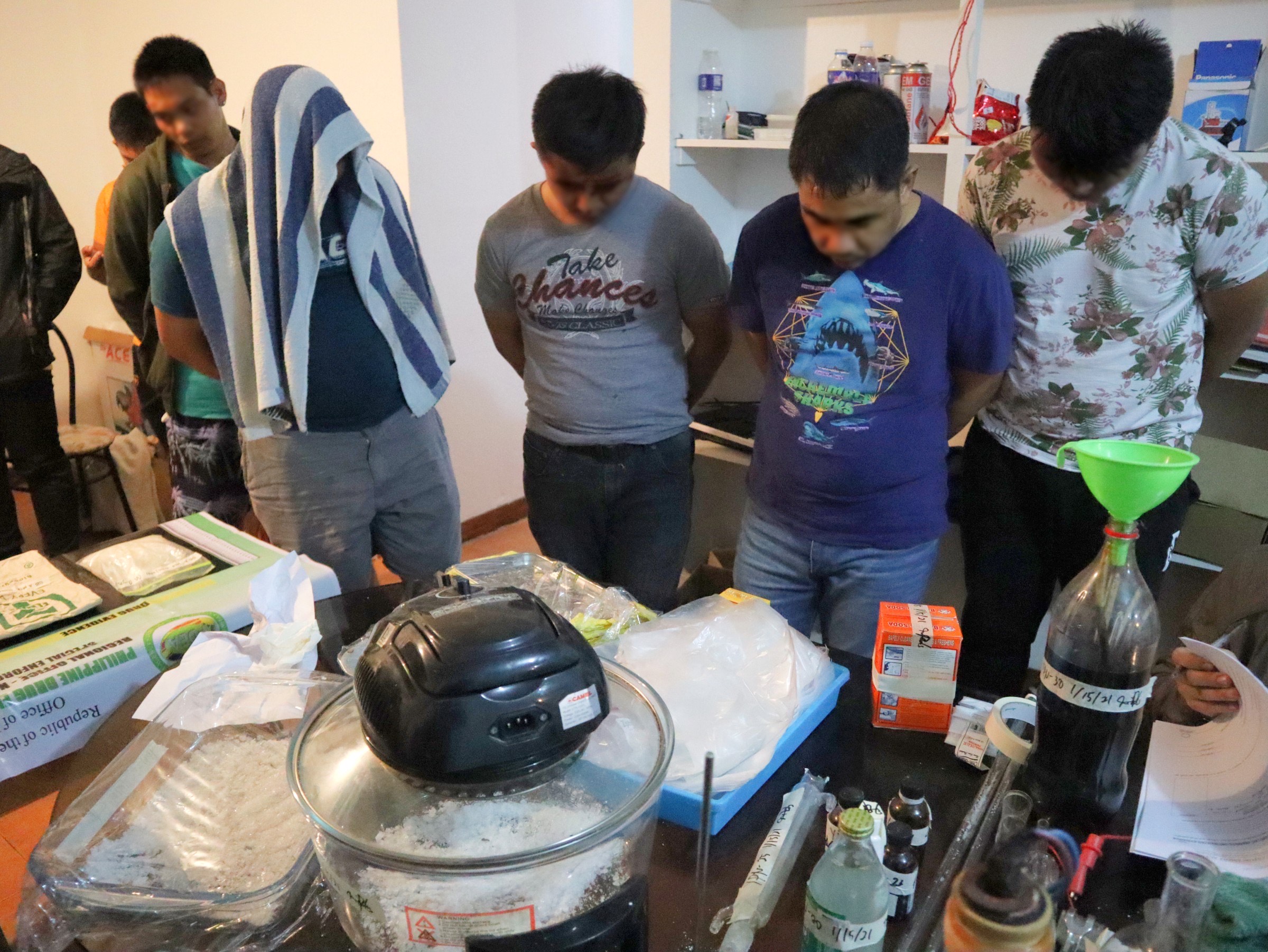 ROGUE COPS. Police operatives make an inventory of the evidence seized at the clandestine drug laboratory where 4 police officers and a civilian were arrested on January 15. SBMA Photo
The sting operation was carried out at 336-B Finback Street, Kalayaan, Subic Bay Freeport, by the PDEA NCR and Central Luzon (Region 3) offices, PNP-CIDG Northern Manila, PNP-CIDG Zambales, PNP Maritime Group, and the Subic Bay Metropolitan Authority's Intelligence and Investigation Office (SBMA-IIO).
The authorities confiscated from the suspects 300 grams of suspected shabu, various laboratory equipment and chemicals used in the manufacture of drugs, 4 Glock 17 9mm pistols, 5 cellular phones, a Honda Civic 1996 sedan with plate number UKM 779, and bundles of boodle money used in the sting operation.
According to the SBMA-IIO, the operation started at about 2 pm on Thursday, January 14, when operatives conducted surveillance in the area.
At past midnight, the authorities proceeded with the buy-bust which netted Dabu, who was caught receiving marked money in exchange for one kilo of shabu.
The arrest led to the discovery of the clandestine drug laboratory, which SBMA-IIO described as a "kitchen-type operation," as well as to the arrest of the alleged policemen-protectors inside the house where the laboratory was located.
Unconfirmed reports from the PNP indicated that the syndicate behind the illegal drugs operation was headed by a foreign national, who is now the subject of follow-up operations.
SBMA Chairman and Administrator Wilma T. Eisma meanwhile, commended the law enforcement units involved in the operation "for ferreting out this scourge that erodes the very ideals of the Subic Bay Freeport as an investment and economic growth center."
"The SBMA will always support our law enforcement agencies in ridding our society of elements that degrade our decent and lawful way of life," Eisma said.
The SBMA chief also called on residents and other stakeholders in the Freeport to be vigilant.
"Let us care for each other in this community. Let us know our neighbors and contribute all we can to keep Subic safe for everybody," she added. – Rappler.com