The Philippine College of Physicians also calls on all government officials to support 'call for the truth'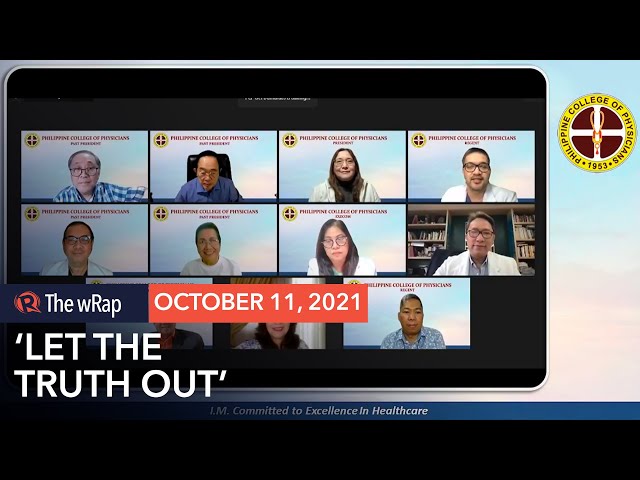 The Philippines' most prominent doctors expressed outrage over President Rodrigo Duterte's memorandum barring executive officials from appearing in the Senate's ongoing investigation into the alleged corruption in his administration's pandemic response.
In a show of force, the Philippine College of Physicians (PCP), along with several other medical societies, said on Monday, October 11, that it was "sickening" to hear people "may have exploited" the purchase of personal protective equipment (PPE) for health workers during the pandemic.
PCP President Dr. Maricar Limpin said members of the health sector felt like "victims" after hearing of alleged anomalies uncovered in Senate hearings that involve Pharmally, a company closely associated with Duterte's Chinese friend Michael Yang, and the budget department.
Among the stunning revelations in the hearings was the admission of a Pharmally executive that the company had swindled the government. Krizle Grace Mago has since recanted her testimony and is now under the custody of the President's allies in the House of Representatives.
Limpin said the reported anomalies put to shame the sacrifices not only of health workers but ordinary Filipinos who continue to cope with the health crisis that has been inadequately addressed by the government, making the country among the most poor performing in global recovery indexes.
"We all deserve to know the truth," Limpin said. "Aawayan ho namin ang anuman tangka na pigilan ng mga testimonya o cover-up ng tootong nangyayari. Kaya kami po ay naririto ngayon para manawagan for transparency, expediency, and accountability," Limpin said in a press conference.
(We will fight any effort to stifle testimonies or cover up what truly took place. We are here today to call for transparency, expediency, and accountability.)
The Senate blue ribbon committee's latest hearing last Tuesday, October 5, was the first to be conducted after a furious Duterte made good on his threat to limit the appearance of Cabinet officials and other key witnesses in the chamber's ongoing probe. The next hearing was scheduled on Tuesday, October 12, but this was canceled; it's not clear why.
Health Secretary Francisco Duque III, former Procurement Service-Department of Budget, Management (PS-DBM) chief Llloyd Christopher Lao, and current PS-DBM officer in charge Jasonmer Uayan were among those who heeded the order and snubbed the previous hearing. Officials from the Government Procurement Policy Board and the Department of Trade and Industry also snubbed the hearing, while tax chief Caesar Dulay, who was initially online, left the Zoom session.
A statement signed by PCP, five former health secretaries, several of its past presidents, and at least 44 other medical societies condemned this.
Duterte obstructing probe
The group urged the President as well as all other government officials to provide evidence and testimony to the Senate and called on Filipinos to support efforts to uncover the truth into alleged corruption in pandemic deals.
"We want him not to do that. We want him not to order the Cabinet Secretaries to not appear," former health secretary Dr. Esperanza Cabral said. "Just to be candid about it, I think the Philippine College of Physicians and past presidents and other people who have signed the statement think that the President is actually obstructing the investigation."
Former PCP president Dr. Norbert Uy said that efforts to safeguard public funds and keep them from being wasted should start from the Office of the President itself.
"Umaasa kami at nakikiusap sa aming Pangulo na suklian ang mga buhay na binuwis ng mga kasamahan namin sa propesyon, ang hirap at sakirpisyo ng ating mamamayan, at ang tiwalang ipinagkaloob natin sa kanya sa pamamagitan ng paghihikayat at pag-utos sa lahat ng kawani at sangay ng pamahalaan sa ilalim ng kanyang tanggapan, na ilahad at isiwalat ang lahat ng katotohanan," Uy said.
(We hope and appeal to our President to not let the lives of our fallen colleagues, the sacrifices and hardship of our fellow Filipinos, and our trust in him go to waste by directing his officials and agencies under him to reveal and disclose the truth.)
'Magkaroon ng konsensiya'
On Monday, the doctors issued these calls:
"We call on the President NOT to obstruct the testimony of material witnesses to any investigation;"
"We call on ALL government officials to support the call for truth, endure that the wheels of justice grind swiftly and surely, and provide testimony when sought;"
"We call on the Seante to complete the inquiry swiftly and with utmost diligence, to get to the truth behind alleged corruption, then file a case before the Department of Justice or Ombudsman at the soonest possible time;"
"We call on the Department of Justice to conduct and immediate impartial thorough investigation of the case; and"
"We call on the Ombudsman to file the appropriate cases against all those responsible for any corruption."
"Sana naman lahat kayo ay magkaroon ng konsensiya…. Hindi lang yung mga sa Gabinete, but we would like to call on all government officials na sana suportahan itong panawagan namin for truth," said past PCP president Dr. Vicentene Tanseco Jr.
(We hope you all have a conscience. Not only us, but all people in government – not only those in the Cabinet. We would like to call on all government officials to support our call for truth.)
Limpin said health workers want the Department of Health to continue its work smoothly, although she said this could only be done if government officials cooperated with Senate hearings.
"As long as hindi ho makita namin ng mamamayan na Pilipino kung ano ang totoo, palagi yan nakaweigh down sa ating pamahalan – yung idea na mayroon ngang nangyari na corruption," she said.
(As long as we Filipinos do not see the truth, that will always weigh down this government – the idea that corruption took place.)
The group appealed to all Filipinos to support efforts to uncover alleged corruption investigated by the Senate. Former PCP president Dr. Eugene Ramos said that while it seemed that Filipinos had grown used to corruption in government, doctors chose to speak out this time because the lives of Filipinos are at stake.
"Ngayon nandito kami mga doktor, nag ngingitngit na ngunit gusto pa rin tumulong kung may pag-asa pa. May pag-asa pa ba ang bayan natin kung kaming mga doktor mismo ay 'di pa rin makikialam? Kaya ngayon kami'y makikialam na," Ramos said.
(Now, we doctors are here, outraged, although we still want to help if there is hope. Does our country still have hope if we doctors do not involve ourselves? That is why we are now speaking up.)
"We cannot afford to leave the nation's health in the hands of politicians whose priorities are on something else," he added.
Marathon hearings have seen lawmakers at the Senate continue to uncover questionable processes that raised suspicions of conflict of interest and the failure of the government to apply due diligence in dealing with Pharmally Pharmaceutical Corporation, a small firm owned by a Singaporean wanted in Taiwan.
The PS-DBM's seeming preference for the firm came at the expense of shutting out local PPE producers who had difficulty accessing government pandemic deals and were forced to cut thousands of local jobs. – Rappler.com