The Filipino-American, who is a senior visual development artist at Marvel Studios, reveals his 3-year-old son inspired Baby Groot in 'Guardians of the Galaxy 2'
This story is published in partnership with SoJannelleTV, a magazine show about Filipinos in North America
Where do concept artists get the inspiration to create the imaginary beings and cultures that make cinematic experiences unforgettable?
For Anthony Francisco, the influences range from African tribal aesthetics to Samurai costumes, and even the outfits of the Igorot tribes of the Philippines. The Filipino-American artist has drawn from his many influences in his long career, which includes work for Marvel Studios for the past nine years on big budget productions like Guardians of the Galaxy and Black Panther.
In a sit-down interview with Filipino-American media pioneer Jannelle So-Perkins for her show So Jannelle, which airs on TFC, ANC, and local Southern CA channel KNET 25.5, Francisco shared that when director James Gunn turned to him to create the dancing tree creature that would be known as Baby Groot in Guardians of the Galaxy 2, Francisco didn't have to look any further than his own son for inspiration.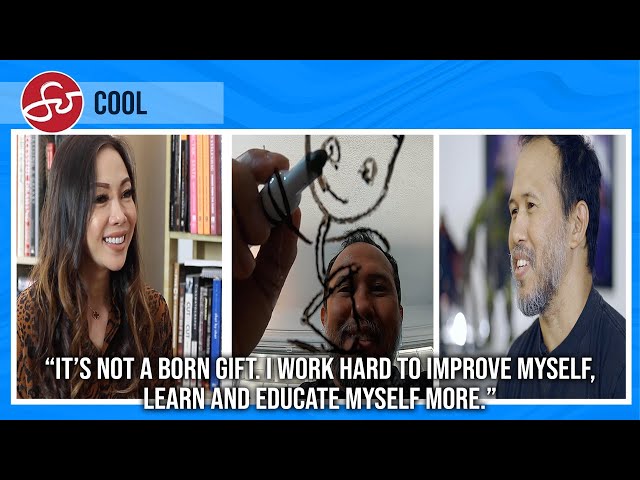 "I was looking for references but most of the references, if you type 'toddler' has a diaper on them and would move kind of awkwardly. But in the script, he dances in the opening scene. So I end up using my son's 3-year-old body type, because when he was 3, he was already doing interesting moves, and that's how it worked out," said Francisco, a senior visual development artist at Marvel Studios.
Francisco, who now lives in Los Angeles, grew up in the Cubao section of Quezon City and immigrated to the United States at age 17.  He told So-Perkins that his passion for art began at age 5, adding that he was a big fan of X-Men comic books as a child. After a short stint in the US Navy, Francisco began taking art classes to pursue what he really loved.
After 20 years as a concept artist, Francisco admitted that when he looks back at his early work, he isn't satisfied with them. He believes that what helped him stand out was that he never quit, and he was always hungry to improve.
"It's not a born gift, like people say," he said. "I worked hard to improve myself and learn and educate myself more. It is really hard work, but your work ethic becomes really strong when you love what you're doing."
Francisco realized he could turn his passion into a career after one of his art teachers, Mike Butkus, shared how much he made creating art.
"But then he did preface it with [how] it becomes that because you are fast and good and you do things within a certain amount of time. And of course you have to hone that skill as you get better," said Francisco.
Some of his popular creations include the Dora Milaje, who are the personal bodyguards of Black Panther, and Loki in Thor: Ragnarok. He also did other work on Marvel films like Avengers: Infinity War, Avengers: Endgame and Ant-Man.
One doesn't know how successful a movie or concept would turn out, Francisco said. While he had no idea that Baby Groot would become a breakout character, he knew he was on to something special while designing the Dora Milaje. It made him go into great detail while designing the outfit for the general character, Okoye.
"For some of the movies, little by little, we're realizing, 'Oh, this is really good,'" said Francisco, who expressed disbelief at Endgame earning $1 billion in about a week. "But the first time, my first movie, even Ant-Man or Dr. Strange, you don't know how big it could be."
The 20-year veteran also stressed that the creative process is about trying things out and seeing what works and what doesn't.
"Being a concept artist is not about getting the right design the first time. Even if you're not an artist, even if it's just something you want to do in your life, to understand that it's a journey and you will fail and you will succeed. Just keep your mind on your goal and I believe you will still succeed," said Francisco.
Francisco, who teaches an online art course, capped off the interview by guiding So Perkins through a drawing of Baby Groot.
"Everyone can draw, that's what I believe," said Francisco. "As long as you have the right direction and get the right habits." – Jannelle So Productions | Rappler.com
Rappler is partnering with Jannelle So Productions Inc (JSP), founded by Filipino-American pioneer and Los Angeles-based journalist Jannelle So, to publish video and written stories from SoJannelleTV about the journeys, successes, and challenges of Filipinos living in America.
Check out So Jannelle TV daily for stories that make you pause, reflect, and appreciate who we are and what we are as a people.
Fridays, 5 PM on KSCITV-LA18
Saturdays, 7:30 PM PT on ANC
Sundays, 3:55 PM PT / 6:55PM ET on TFC
Or any time on YouTube.com/SoJannelleTV