'I have this love, it's inside me. I cannot paint without music because I think it's the music that dictates what my hand should paint,' says the Filipino-American artist
This story is published in partnership with SoJannelleTV, a magazine show about Filipinos in North America
Painting and operatic singing are among the fine arts, but one doesn't immediately associate them together. 
The two art forms will come together for a collaboration event featuring the paintings of Filipina-American artist Lolita Valderrama Savage and opera companies Teatro Grattacielo and Camerata Bardi Vocal Academy for "Tableaux of Amico Fritz," which will take place at Teatro Latea in New York City in September with the aim to educate the youth about the beauty of the arts.
"I thought that one art form can serve the other art form," said Stefanos Koroneos, who will direct the filming event.
Both Savage and Koroneos sat down for a conversation with Filipino-American media pioneer Jannelle So Perkins for the latter's So Jannelle TV show to discuss how this pairing came to be.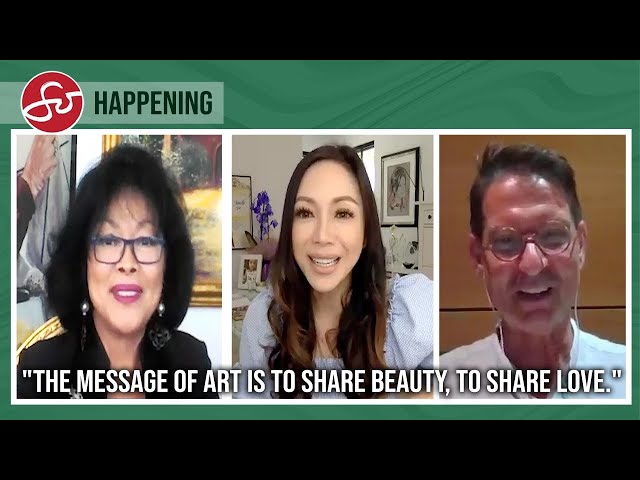 The Greek-born Koroneos said he set out during the pandemic lockdown to find paintings that he felt would complement the opera and was "floored" by Savage's work, which he said carries messages of love, happiness, and happy coexistence.
The Manila-born, Connecticut resident Savage told So Perkins the marriage of music and painting is natural to her creative process.
"I have this love, it's inside me. I cannot paint without music because I think it's the music that dictates what my hand should paint. And so whatever I hear transfers in my heart and my mind, and it's transferred to the canvas," she said.
The arts have been Savage's ticket to the world. Raised by a mother from Pangasinan and a father from Iloilo, she moved to Italy at the age of 20 after finishing her studies at the University of Santo Tomas.
She eventually moved to New York through a job with the United Nations' public relations office, where her language skills in English, Spanish, Swedish, and Tagalog were put to good use.
So Perkins posed a question to both Savage and Koroneos about the role that parents have in nurturing the artistic talents of children, particularly in cultures like the Philippines, where pursuing the arts is sometimes discouraged in favor of more lucrative careers in the sciences.
"If the parents notice that the children have a gift, they should encourage them to develop that gift because not everybody has it. And if you have it, you have to share it, because that's what art is. The message of art is to share, to share beauty, to share love," Savage said, adding: "It's almost like my responsibility to get it out there because it's a gift, it's precious. You cannot just throw it away."
Koroneos said there are similar attitudes among parents in Greece, where professions in the law and finance fields are more encouraged. He said his parents did not support his dream to become a singer, so he made it a point to never ask for their help in paying for his studies in Italy.
"I also want to say to everybody who's out there listening that being an artist, it's a job, it's not only a hobby. And if you have the right talent and passion and perseverance, it actually can turn out to be something incredibly fruitful and something incredibly good as much as any other job," he shared.
Savage said this event is special to her because of her family's musical background. Her father composed music and virtually all of her family members played instruments. She figured they wished she had become a singer, but she finds fulfillment in her art.
Her messages of love, happiness, and happy coexistence are not limited to the canvas. It's what she practices in her everyday life and influences her form of artistic expression.
"I think that we can learn from everybody and that's the one thing that the artists have is compassion," Savage said. "We learn from them and they become our inspiration in everything that we do in life. And what you do in life is not selfish anymore. The whole world has to be included in it." – Jannelle So Productions | Rappler.com
Rappler is partnering with Jannelle So Productions Inc (JSP), founded by Filipino-American pioneer and Los Angeles-based journalist Jannelle So, to publish video and written stories from SoJannelleTV about the journeys, successes, and challenges of Filipinos living in America.
Check out So Jannelle TV daily for stories that make you pause, reflect, and appreciate who we are and what we are as a people.
Fridays, 5 PM on KSCITV-LA18
Saturdays, 7:30 PM PT on ANC
Sundays, 3:55 PM PT / 6:55PM ET on TFC
Or any time on YouTube.com/SoJannelleTV