This is AI generated summarization, which may have errors. For context, always refer to the full article.
Filipino entrepreneurs in America share how they are able to reconnect with their homeland through food
This story is published in partnership with SoJannelleTV, a magazine show about Filipinos in North America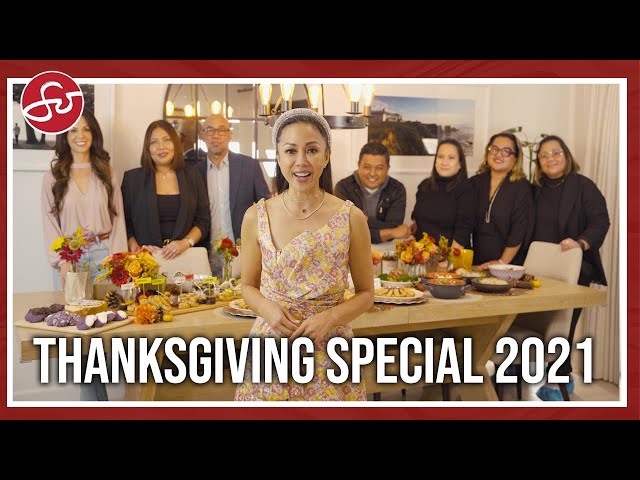 Thanksgiving may not be a holiday tradition celebrated in the Philippines, but the values of gratitude, family, and togetherness are universal.
That spirit is what brought several Filipino-American entrepreneurs to the home of Jannelle So Perkins for an early Thanksgiving celebration.
They shared their stories of how they got to where they are today, giving perspective to what they have to feel thankful for.
"Thanksgiving is about family. For us Filipinos, community is also family," said Filipino-American media pioneer So Perkins in the latest installment of her So Jannelle TV show.
For Yeng Lim of The Embotidos, a catering company that serves Filipino embutidos – meatloaf rolls filled with different ingredients – just being alive is reason enough to give thanks. Lim laments those who had died during the pandemic, but says the time under lockdown gave her time to dream up the company she now operates.
"It was something that veered away from all the stresses. It gave us hope that tomorrow would be a better day," said Lim.
The company started with a simple recipe of the classic pork embutido, handed down from her mother, but they soon expanded their menu to include chicken and four cheese embutidos, plus salted egg and the nori collection, which includes spicy nori and "crimp" nori, which is a combination of crab and shrimp.
It started with just 20 rolls, baked by order from Lim's coworkers, but the number of orders exploded after Olivia Quido-Co, an influential skin care specialist based out of Cerritos, California, posted about the rolls.
"Bang, it just grew. Complete strangers ordering from us," said Lim.
Abby Gosalvez had a similar experience. Gosalvez founded Wowa's Kitchenmade Love, a homemade food start-up in Duarte, California, amid the pandemic. Like Lim, Gosalvez found an escape from the stress and anxiety in her kitchen, and mixed traditional Filipino recipes for pork Shanghai rolls and champorado with her own recipes like lumpianisa, which is a longganisa sausage inside of an egg roll shell.
Both cooks hope to see their culture's food reach a wider audience and transcend the Filipino market.
I think we have started it, that Filipino food is becoming more diverse now. It's not specifically for Filipinos. Other nationalities or other people are already starting to enjoy it," said Gosalvez.
"So that's the main goal…we hope the world will get to taste how delicious our food is."
Sheela Bizarra, founder of Pares atbp, was inspired to start her business by her friends at The Embotidos, whom she has teamed up with to sell products with at caravans and pop-ups.
"I love cooking, that's my love language," Bizarra shared to So Perkins.
Why pares? Like many other Filipinos who settle in America, she also reconnects with her homeland through the kitchen.
"It's a typical roadside food in the Philippines. So every time I feel home sick, I cook that," said Bizarra.
Bizarra has been thankful for the success of her business, which now ships her packaged food nationwide. The pandemic has been challenging for all, but Bizarra has found opportunities in the difficulty.
"A lot of big businesses closed down, but for the small businesses, it gave us a lot of opportunities to grow," said Bizarra.
For Jason Lustina, owner of Brown Baked Desserts, he has longevity to be thankful for. His business, which takes traditional Filipino flavors like ube and translates them to cakes and cookies, will be celebrating its fifth anniversary.
Baking started as a hobby, but the demand for his baked goods on social media influenced him to take a shot at making it into a business one Thanksgiving.
"Everybody was like, 'Can I buy this?' And I was like, 'No you can't buy this,'" said Lustina.
It'd be hard to top his first order, which came from the granddaughter of Motown Records founder Berry Gordy Jr. Still, business has only gotten better through the pandemic.
"I think everybody wanted their sweets and their sugar as they were on lockdown. So the orders were just coming in. The past two years have been my biggest years with Brown Baked," said Lustina.
Kessiah Abaniel, a small business owner from Huntington Beach, California, has used her business as a way to show her gratitude all year round. Her company, a flower arrangement business called Petals and Prickly's, was founded as a creative outlet during the pandemic. For each product purchased, her company plants ten trees through Eden Reforestation Projects. The company has helped plant over 10,000 trees to date.
"That's what made it really special to me, was the ability to take something I love, flowers, and marry it with community give-back," said Abaniel.
So Perkins concluded the segment by expressing gratitude to the public, while surrounded by other Filipino entrepreneurs who have much to be grateful for despite the current difficulties in the world. – Jannelle So Productions | Rappler.com
Rappler is partnering with Jannelle So Productions Inc (JSP), founded by Filipino-American pioneer and Los Angeles-based journalist Jannelle So, to publish video and written stories from SoJannelleTV about the journeys, successes, and challenges of Filipinos living in America.
Check out So Jannelle TV daily for stories that make you pause, reflect, and appreciate who we are and what we are as a people.
Fridays, 5 PM on KSCITV-LA18
Saturdays, 7:30 PM PT on ANC
Sundays, 3:55 PM PT / 6:55PM ET on TFC
Or any time on YouTube.com/SoJannelleTV