Filipinos abroad, like always, have found ways not just to adapt and survive, but also to thrive during the coronavirus pandemic
The first few weeks of the coronavirus lockdown were a dark time for Andrea Martinez, a 44-year-old international PhD student in Psychology at King's College London.
Her mother back home in the Philippines had suffered a series of minor strokes but could not be taken to the hospital due to strict lockdown measures and the family's fears over COVID-19. Her teenage daughter and the rest of her family cared for her mother, while she settled for video calls that exacerbated her sense of helplessness. As a psychology student, Martinez recognized an onset of muscular dementia in her mother even through pixels.
"It was difficult on my part because I wanted to come home, be with her, and then I can't," Martinez told Rappler. "I can see how she's deteriorating whenever I would call her over the phone."
"She sometimes has these sort of delusions about living in some other place or not even remembering I'm in London," added Martinez, who was a teacher at the University of the Philippines (UP) Manila before she came to the UK to study.
Her mother's situation half a world away was compounded by her own in London – she's constantly worried about contracting the virus as she shares a flat with frontline nurses. The panic buying and empty shelves during the first few weeks of the lockdown also left her disoriented. Stuck in isolation, Martinez was consumed by thoughts swirling in her head, unable to get on with her research work.
"Everything was like in a slow motion. Lumilipas 'yung araw mo na, oh my god, wala akong ginawa maghapon (Days pass by and I realize that, oh my god, I did nothing all day)," said Martinez, who is on a full scholarship from UP.
"At the same time I felt, where is this going? What am I doing with my life?"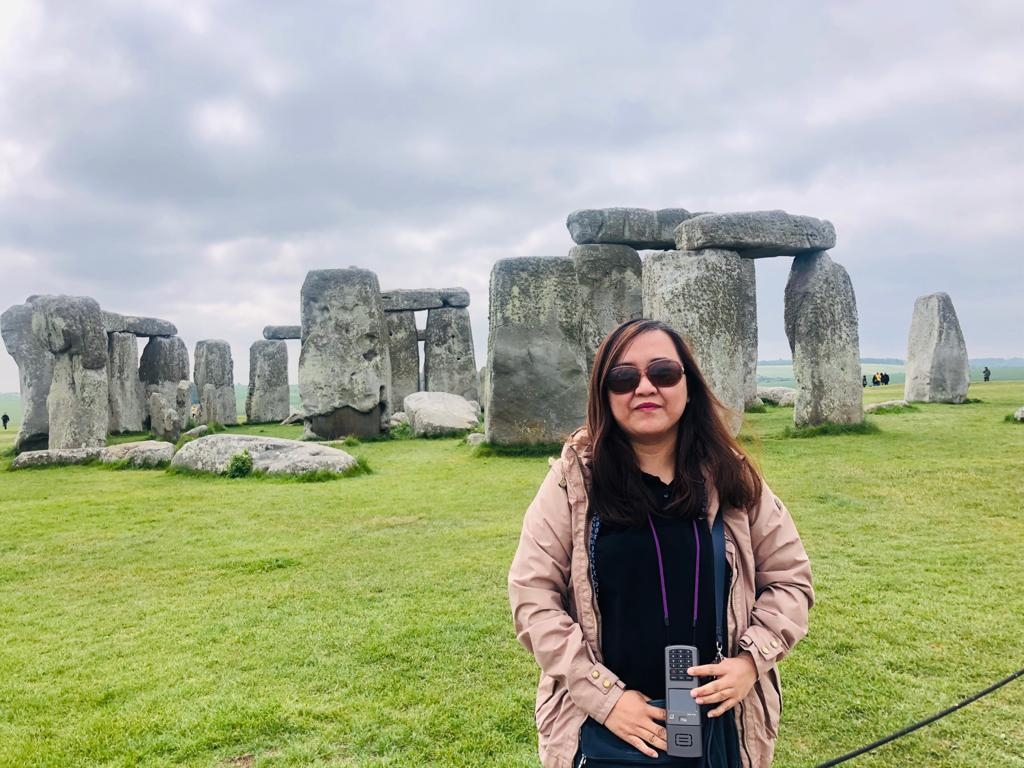 Martinez was not alone. Filipino international students in the UK have had to navigate the sudden and jarring disruption to a study abroad experience that was meant to be entirely exciting, joyful, and enriching. Instead, they've had to deal with anxiety, stress, uncertainties, and loneliness.
Each year, the UK welcomes hundreds of thousands of international students to its universities, with 485,645 foreign students in the academic year 2018-2019 – a significant economic boon for a country that charges a significantly higher tuition rate for foreign students compared to locals. Filipino students come here via a variety of avenues such as the Chevening Scholarship Programme, university scholarships, or other sources of funding; either through full or partial self-funding.
Throughout the UK's pandemic-induced lockdown that began in March, Filipino students have had to adjust on the fly as universities swiftly shifted to entirely online learning.
On top of course work, final projects, and dissertations, they've also had to manage their mental health, the uncertainty around the pandemic and the lockdown, and worrying about friends and family in the Philippines.
Some of them decided to fly back home early in the pandemic, no longer seeing the point of staying in lockdown in the UK when they could be with family while accomplishing their studies remotely from the Philippines. Others have tried to cope by finding ways to help Filipinos in their own limited capacities. Some chose to stay and ride it out.
The same nearly 11,000 kilometers between the Philippines and the UK that once seemed exciting and liberating now unexpectedly, and rather cruelly, turned into a source of distress.
Coping through action
Helplessness gnawed at Martinez every day, leaving her listless and paralyzed into inaction. So when she was approached by the Kanlungan Filipino Consortium to support a new initiative she was well-equipped for, she saw an opportunity to help and do something useful. Kanlungan is a registered charity comprised of several organizations that look after the rights and welfare of the UK's Filipino community.
Martinez has since led Kanlungan's first mental health program, bringing in 5 other volunteers with backgrounds in counseling and psychosocial support. At a very uncertain time, the program has proven very helpful for Filipinos in the UK, particularly those who are undocumented. since it launched in mid-May, it has continuously expanded, relative to the community's needs, and now includes individual counseling, group art therapy, sessions for pregnant women, and sessions for the elderly – all offered online for free.
Martinez said Filipino nurses, who comprise the third biggest group in the UK's health service staff after the British and Indians, preferred Kanlungan's programs regardless of similar offerings in their respective hospitals largely because of language accessibility. The mental health program conducts sessions not just in Filipino but also in Kapampangan, Bisaya, and Ilocano.
The entire program normalizes being honest about personal struggles and seeking help rather than suffering in silence to feign strength, a Filipino trait that Martinez is exploring in her PhD dissertation. In effect, the program is useful for her research. But crucially, Martinez finds that helping others is also helping her.
"This project, the whole of it, really helped me go through it," she said. "In the midst of it all I was also having my own personal dilemma and personal struggles but hearing how people are also struggling on their own, it helps me to have a reason to get up in the morning and do something."
Like Martinez, Rhiza Nery, a 34-year-old Chevening scholar who did an MA in Disasters Adaptation and Development at King's College London, wielded her expertise to help others.
With her background in contingency and continuity planning for national government agencies and local government units in the Philippines, Nery offered advice to Kanlungan in the early stages of the pandemic as the organization sought to convert itself into "response mode" for the crisis. Her recommendations included streamlining information dissemination, providing mental health and psychosocial support, as well as setting up a volunteering scheme to aid in the operational requirements of conducting Kanlungan's response to COVID-19.
She also used her part-time work hours to assist the team she left behind at the Philippine Disaster Resilience Foundation as they responded to the pandemic back home, particularly helping stakeholders in the micro, small, and medium enterprise space.
"It was hard for me to be in a different country while at the same time seeing my colleagues, my team back home in the Philippines also responding to major disaster events," said Nery. She has since flown home to the Philippines to make sure she's within more manageable proximity to offer her assistance while finishing her dissertation remotely.
"This is the reason why we're studying," Nery said. "We can't just stand there and not do anything."
Meanwhile, Arj Aguirre, who studied MSc in Comparative Politics at the London School of Economics and Political Science, also helped in his own small way. At his Central London residence hall in the early weeks of the lockdown, he accompanied East Asian students to the supermarket since, he said, they were being bullied or harassed on the streets "because they are being blamed for the spread of the virus in the city." He offered food to other students who were self-isolating and checked on anybody who needed someone to talk to.
Besides focusing on his school work and staying busy, doing something for others helped him cope.
"It's really no joke to be alone – figuratively and literally," said Aguirre, also a Chevening scholar. "Thankfully, my family back home are okay, that is why I can direct my attention and energy outward, helping others."
Stay or go home?
Mel Yan, 34, is among the 28 Filipinos who formed the 2019-2020 cohort of Chevening scholars, selected by the British Council via a rigorous application process. The program awards full scholarships for a UK post-graduate degree every year.
Yan, who took up MA Global Development and Education at the University of Leeds, was among those who opted to fly home in June and finish his degree online, cutting short his study abroad after a decade-long journey to get here.
Originally from Cebu before moving to Manila, Yan started looking into the Chevening program in 2010 but felt he was too inexperienced to apply then. After some time in the development sector and the social enterprise field and working with nongovernmental organizations, he attempted to apply in 2014 but quickly learned that his undergraduate degree in education from the University of San Carlos in Cebu was not enough to get him into a UK university. The requirement, he said, was a degree in one of the country's top 5 universities. So he took a masters in Public Management at the UP Open University before finally applying for the scholarship in 2018 for the 2019-2020 cohort.
Yan's experience with distance learning through the UP Open University helped him smoothly transition to online learning during the lockdown. He helped organize weekly calls with other Filipino Chevening scholars so they can support one another. But after 3 months of being cooped up in his flat, not once visiting the Leeds city center, and trying to cope through cooking, he could no longer endure the distance from his family.
"What really propelled me is of course the need to be here with my wife and my family," Yan told Rappler from his home in Manila. "The uncertainties of COVID-19, I think, affected us in terms of our well-being. It's really more of my wife getting anxious and I cannot be there physically to comfort her. My family needs me at this time to be here just to give them support."
When the British Council formally allowed Chevening scholars to head home soon after the lockdown was implemented, Yan jumped at the opportunity. After all, scholars would still receive their monthly stipend on the condition that they commit to finishing their degrees from home.
Six scholars, including Yan, flew home together in a flight that was canceled thrice throughout May and June before finally pushing through also in June. The prolonged anxiety from the cancellations was stressful enough that by the time Yan left, he had long stopped mourning over leaving early and was just happy to be done with it.
"If the first flight that was booked for us pushed through, I think I would really feel that separation anxiety," he said. "I would feel so bad that my trip was cut short and there were so many things I would have wanted to do in the UK."
Kyra Ballesteros, 30, was on that flight with Yan. Ballesteros, who used to work as a commissioning executive before pursuing an MA in Publishing at the University College London, was already self-isolating even before the official lockdown in March because someone from her university tested positive for COVID-19.
"I understood that in London we were much more capable of moving around freely, we were able to go out for walks, we had access to some public spaces, but it was so lonely," she said. "To be honest, the decision to go home was really motivated by the fact that my mother wanted me to come back, she was really anxious about one of her children being abroad."
As someone with Generalized Anxiety Disorder, the uncertain conditions of a pandemic could easily trigger her known tendencies to spiral. Although Ballesteros had access to a therapist from the Philippines and was aware of the necessary responses to anxiety attacks, she knew there was no substitute to being home.
"I needed to be home for my mom and I needed to be home because I wanted the company of my brother and my family. It's so lonely to be in a pandemic by yourself," Ballesteros said.
Staying sane
Pam Mejia, 30, was among the scholars who remained in the UK. But it wasn't easy. She availed of digital therapy sessions – care of her institution University of the Arts London – to try and stay sane during lockdown. That, while carrying on with the demands of her MA in Fashion Entrepreneurship and Innovation online.
"I was really sad that [the sessions] ended because I felt that it was a weekly checkup for my sanity," Mejia told Rappler.
Although she laments how the pandemic has curbed valuable opportunities she was looking forward to, such as school trips to factories and brands, Mejia has made the most of the situation. She participates in competitions for grants that benefit her own social enterprise startup called Phinix, which aims to collect textile waste such as old clothes and fabric scrap and transform them into bags and footwear. She works with artisans from Marikina and persons with disabilities.
After working with Kanlungan throughout the pandemic, Mejia hopes the organization can be a direct beneficiary of Phinix someday, with Filipinos in the UK who lost their jobs potentially working for the social enterprise.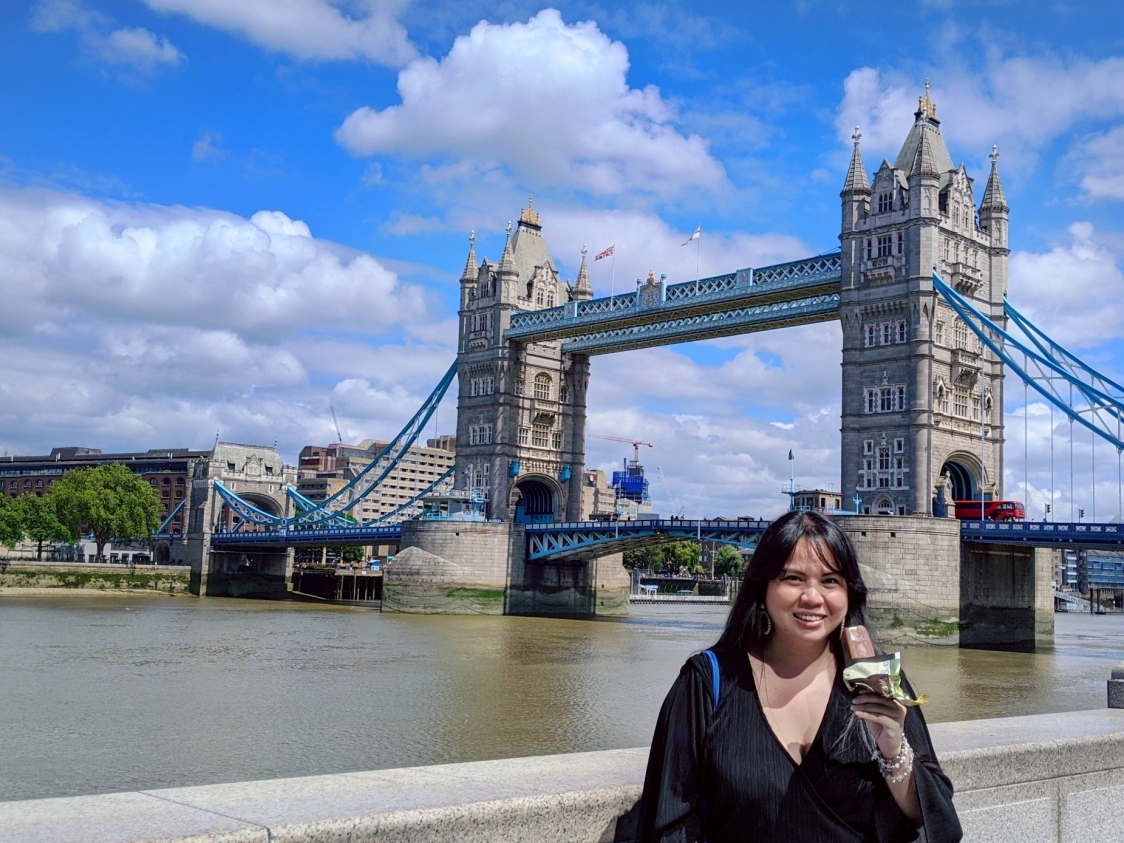 The lockdown was a different experience for Rowena Azada Palacios, 43, who is doing her PhD in Philosophy of Education at the University College London. Her husband and two kids are here with her, having moved temporarily for her studies. With schools shut down and her kids at home, it was a challenge to maintain her usual working hours and write her dissertation as deadlines loomed. Despite the disrupted rhythm and low productivity levels, Azada-Palacios is aware of her good fortune.
"In some ways, I'm still lucky because I do have fellow researchers who have it a little more difficult because they have income problems," she said. "Some of them have lost their jobs, their income stream is suddenly a lot lower. Some of them can't do their fieldwork."
Palacios and her family were supposed to have permanently moved back home by now since she's about to wrap up her degree. Instead, she's had to renew the lease on their London flat and withdraw her youngest son's enrollment from a school in the Philippines. When the UK began easing its lockdown measures in mid-July, her kids went back to school on a part-time schedule, giving her time to work on her research. The family will return home to the Philippines only when it's safe to do so.
"I've adopted a pretty stoic attitude about it in the sense that there are things beyond my control and things within my control, and I can really only act on those things within my control," she said. "Whatever is not within my control I just have to manage as best as possible."
Still grateful
Despite the foiled plans, missed opportunities, and all the trouble the pandemic has caused, there is still a sense of gratitude and satisfaction among Filipino students for the once-in-a-lifetime chance of studying abroad – even if it was significantly cut short for those on one-year masters programs.
"I would say I'm satisfied with my experience," Yan said. "I really got what I wanted, which is in the first place getting that insight in line with my field. And I'm happy with that."
As restrictions eased in parts of the UK, Mejia established a habit of traveling somewhere within the country every Monday to mark the final days of her masters degree. "That's what we took for granted pre-pandemic, thinking we still had a lot of time," she said in Filipino.
Finally, in her own little pocket in London, Martinez is finding joy in the small moments: in providing a safe space for the UK's Filipino community to acknowledge vulnerability and dismantle cultural stigma on mental health, and in the ways she is navigating this pandemic by helping isolated elderly Filipinos in retirement use Zoom for a group session.
"The funny thing was the first 40 minutes [of the session] was just for setting up the Zoom," she said, laughing.
"Actually, I'm more excited about this than my thesis," she said playfully in Filipino. "I use more of my time here than my own PhD!"
Filipinos abroad, like always, have found ways not just to adapt and survive, but also to thrive. – Rappler.com