The actress and poet tells her story of surviving and whistleblowing the sex trafficking cult NXIVM led by Keith Raniere
This story is published in partnership with SoJannelleTV, a magazine show about Filipinos in North America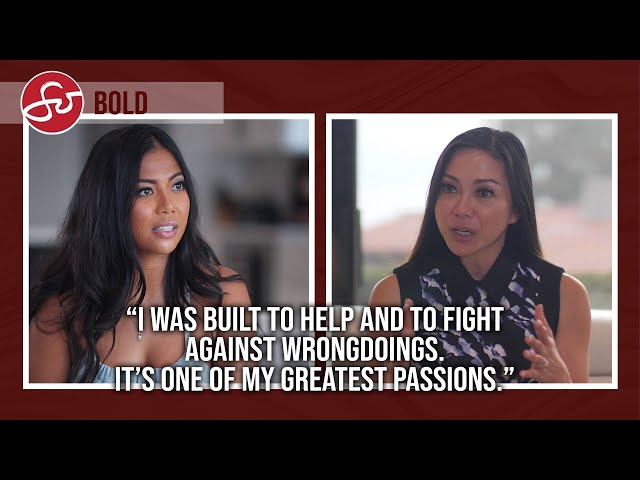 The question hanging over the room as Filipino-American media pioneer Jannelle So Perkins began her interview with Jessica Joan was: How?
How did a woman so articulate, who appears strong-minded and confident, get sucked into the manipulative sex trafficking cult NXIVM? The cult, which was based in a suburb of the New York capital of Albany, presented itself as a personal development company but was in actuality a front to procure sex slaves for its co-founder, Keith Raniere. 
Joan, an actress and poet from Hawaii, was identified in court documents only by the pseudonym "Jay" but has not hidden from the public eye. Instead, she has spoken out, sharing her experiences and words of strength for other vulnerable people.
"I am built to protect innocent people. I am built to help and to fight against wrongdoings, especially when people are being abused. That's one of my greatest passions," Joan told So Perkins during an interview for the latter's SoJannelleTV show.
Joan recalled joining the organization after attending a presentation. She said that what appealed to her was the potential to heal from her childhood traumas and to become the best version of herself. And these vulnerabilities are what cult leaders prey on.
Shortly after relocating to New York, Joan discovered that things weren't what they seemed. She noticed how odd it was that other members, both male and female, would kiss Raniere on the lips. Members would also have to submit nude photos to the leadership as a form of blackmail, which could be released if someone was insubordinate.
For Joan, the final straw was being assigned a "mission" to seduce Raniere and get Raniere to take a nude picture of her. The "mission" came from Allison Mack, the actress of Smallville fame, who promised her that she would be able to heal from her traumas if she went through with this act.
"For me, automatically, that just angered me. She wanted to hurt the little Jess inside of me," Joan told So Perkins, adding that from that point on, she went into "ninja mode," working as a "double agent" while plotting her escape. 
She pretended to go along with the plan and then made her move when she went on a family vacation to Mexico. 
She escaped, but she wasn't done with the organization. Instead of going into hiding, Joan began cooperating with federal prosecutors, helping secure the indictments against Raniere, which led to him being sentenced to 120 years in prison. 
Joan's resilience is reflected in the title of her soon-to-be-released memoir, The Untouchable Jessica Joan, where she shares her story of dealing with her childhood adversities, how she got mixed up with a cult, and how her difficulties prepared her to overcome that challenge. 
Joan has had to endure struggles that few can match. Her story is one that demonstrates the human spirit's ability to cope and overcome.
"These things made me stronger. So even though I'd be in a dark place, I always knew I could get out of it," she said. – Jannelle So Productions | Rappler.com
Rappler is partnering with Jannelle So Productions Inc (JSP), founded by Filipino-American pioneer and Los Angeles-based journalist Jannelle So, to publish video and written stories from SoJannelleTV about the journeys, successes, and challenges of Filipinos living in America.
Check out So Jannelle TV daily for stories that make you pause, reflect, and appreciate who we are and what we are as a people.
Fridays, 5 PM on KSCITV-LA18
Saturdays, 7:30 PM PT on ANC
Sundays, 3:55 PM PT / 6:55PM ET on TFC
Or any time on YouTube.com/SoJannelleTV