'If I had to choose between being an immigrant or transgender, I guess being an immigrant was more difficult,' says filmmaker Isabel Sandoval
This story is published in partnership with SoJannelleTV, a magazine show about Filipinos in North America
There are many layers to an individual, and they are rarely peeled by the person to reveal their core. Writer, director, and editor Isabel Sandoval tries to do that both on herself and the lead character when she made her third film, Lingua Franca, her first as a transgender woman, and set in the United States.
The first two films she made, Señorita and Aparisyon, were set in the Philippines and credited to Vincent Sandoval.

When Sandoval moved to the US to study, she was able to be her most authentic self and she said she feels very lucky for it. "I'm very privileged in the sense that, even though I'm a transgender woman, and an immigrant in the US, I live in a very progressive and liberal city like New York City," Sandoval said in an interview with Filipino-American media pioneer Jannelle So Perkins for the latter's So Jannelle TV show.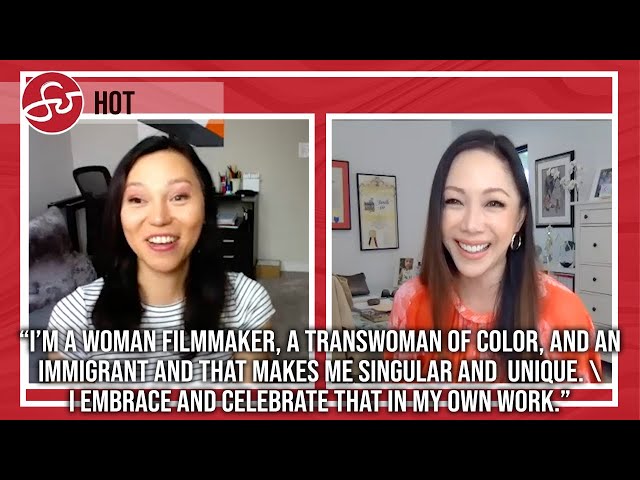 "If I had to choose between being an immigrant or transgender, I guess being an immigrant was more difficult. I'm lucky that I came to the US on a student visa to pursue my master's degree. But when you graduate, you have one year of optional practical training (OPT). So I was scrambling to find a marketing job because my background is in marketing. Luckily, I managed to land a job right before my OPT period expired. Not only was I able get a work visa, I was able to apply for an O-1 visa. That's how I also got a green card as an artist," she said as she recalled her immigrant journey in the same interview.
Sandoval's lead character, Olivia, wasn't as lucky. She thinks the only way for her to find permanent status in the US is to marry someone – for love or money. At first, she finds one who need the money to pretend to be in a committed relationship. Later, he bails out and Olivia is left to search anew. This leads her to Alex, the grandson of her employer, an old Russian lady at the onset of dementia.
The IndieWire said Lingua Franca "illustrates the woefully untapped potential of marginalized storytellers." For The Hollywood Reporter, Lingua Franca is a "heartfelt personal statement rooted in timely, gripping issues that obviously resonate deeply with its author, notably trans rights and immigration anxieties."

In a Hollywood where cisgender white men are the majority, Isabel calls herself a super minority, "I'm a woman filmmaker, I'm a transwoman, I'm a transwoman of color, and I'm an immigrant. From the perspective of Hollywood that would make someone like me very niche," she said. "On the other hand, that also makes me truly singular, unique, and different. And because I embraced that and celebrated that in my own work, that distinguished me as a storyteller."
This is among the reasons why Lingua Franca was acquired for North America by Ava DuVernay's distribution collective Array.
Produced by 7107 Productions, Sandoval visualized the film and her future. "I think I'm at my most effective as an artist when I'm not necessarily thinking of what other people are going to think – like what a certain festival will think of this creative decision. I wanted to make a film that satisfied my own wants and expectations as an audience member. That's why the story doesn't feel like 'Transgender 101' or 'Transgender for Dummies.' I don't explain certain details about being an immigrant or being a transperson. I allow the audience to fill in the details about that," she said, adding that she also feels vindicated and relieved that through the challenging process of producing and finding funding for the film, she was able to make sure to maintain creative vision from start to finish.
Sandoval shared that when they got word from the Venice International Film Festival "that they wanted the film for its world premiere, I really felt elated and exhilarated! Venice Film Festival is one of the top three major film festivals in the world, and to get their stamp of approval is such a validation for an artist."
Now represented by CAA (Creative Artists Agency), the same agent that represents Tom Cruise, George Clooney and Julia Roberts, Sandoval is currently working on a TV series for FX, it's a crime drama. And I'm also developing a memoir by another Filipina writer, Meredith Talusan, for a potential TV series called "Fairest."
When asked what else is on the horizon for her, Sandoval shared her ultimate goal: "I'm going to be making a film that no other contemporary American filmmaker is gonna make, and it will leave an impact on people. Because I condition myself that way, I found myself making decisions creatively, logistically, and professionally, that led me to where I am now."
Sandoval's dreams, aspirations and hard work took her to where she is now – personally, professionally, and authentically. – Jannelle So Productions | Rappler.com
Check out So Jannelle TV daily for stories that make you pause, reflect, and appreciate who we are and what we are as a people.
Fridays, 5 pm on KSCITV-LA18
Saturdays, 7:30 pm PT on ANC
Sundays, 4:30 pm PT / 7:30 pm ET
on TFC or the IWantTFC App
or any time on
YouTube.com/SoJannelleTV