This is AI generated summarization, which may have errors. For context, always refer to the full article.
In response to Senator Raffy Tulfo's suggestion, Migrant Workers Undersecretary Anthonette Allones points out that when Secretary Toots Ople was alive, she was against confidential funds in the department
MANILA, Philippines – Senator Raffy Tulfo on Monday, September 11, proposed allocating confidential funds of at least P25 million to P50 million in the 2024 budget of the Department of Migrant Workers (DMW) to crack down on illegal recruitment.
"Hindi ako pumapalag na 'yung iba't ibang ahensya ng ating gobyerno, nabibigyan ng confidential fund. Kung mapapansin ninyo, hindi ako umimik diyan. Pero para sa akin, Mr. Chair, siguro, panahon na para mabigyan din ng confidential fund itong DMW. Why? Napakaraming mga illegal recruiter diyan," said Tulfo in the Senate finance committee's hearing on the DMW's proposed 2024 budget.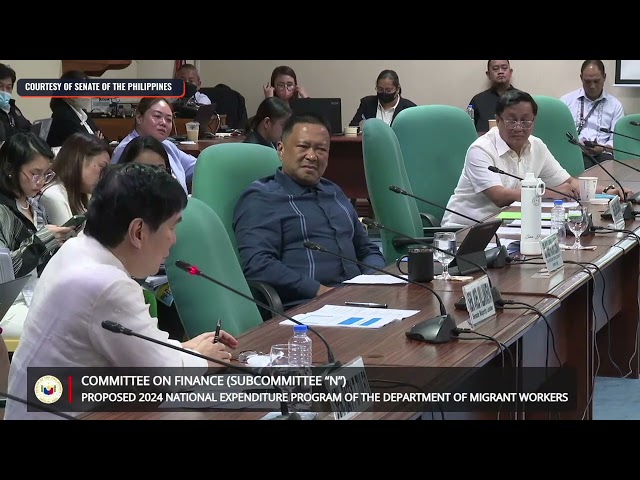 (I have been indifferent to government agencies that are being given confidential funds. If you noticed, I did not comment on those. But for me, Mr. Chair, it is time that the DMW is given confidential funds. Why? Because there are so many illegal recruiters.)
Tulfo, chair of the Senate's migrant workers committee, pointed to agencies conducting illegal recruitment, and the various scams that overseas Filipino workers (OFWs) fall prey to.
"We need intel information. DMW [needs] intel information to go after these people…illegal recruiters, scammers…. So that's why I believe they should have a confidential fund," said Tulfo in a mix of English and Filipino.
"Other government agencies are given intelligence funds [and] confidential funds. I don't have a problem with that. Why not DMW, right, Mr. Chair? They need confidential funds more," he added.
Tulfo said lawmakers could "start small," with P25 million to P50 million for the DMW.
"['Yung] iba nga diyan, daan-daang milyon, 'di ako kumikibo. Kailangan siguro para maging patas tayo sa lahat, bigyan din natin 'tong DMW," he said. (Others ask for hundreds of millions, and I haven't said a thing. To be fair to everyone, we should also allocate some to the DMW.)
The DMW currently conducts surveillance and closure operations of reported illegal recruiters through its Migrant Workers Protection Bureau, which was granted P6 billion for 2023.
Senate Minority Leader Aquilino Pimentel III asked the department representatives if these operations would be more effective if they were given additional budget for the bureau, and not necessarily confidential funds. Cacdac and fellow undersecretary Bernard Olalia responded positively.
Senator Joseph Victor Ejercito also subscribed to the idea of providing more funds to the DMW's bureau in charge of surveilling illegal recruitment instead of using confidential funds.
"We should be an example that civilian departments do not need this. We should leave it to…those departments or agencies that are concerned with national security," said Ejercito.
DMW Undersecretary for Finance and Internal Affairs Anthonette Allones also raised that the late migrant workers secretary Toots Ople would have also opposed confidential funds in her department.
"I will be bereft of my personal honoring of Sec. Toots if I don't put this on record – that when she was alive, she was against, also, taking in confidential funds for the DMW, because she believed…if we worked with law enforcement agencies, we will be able to do this mandate in accordance with the law," said Allones.
In the General Appropriations Act, the DMW and its attached agency, the Overseas Workers Welfare Administration (OWWA), have a line item called "Confidential, Intelligence and Extraordinary Expenses, Extraordinary and Miscellaneous Expenses."
But OWWA Administrator Arnell Ignacio told the Senate panel that these were considered mere miscellaneous expenses that covered personnel food allowance, for example. Senator Francis Tolentino recommended the amendment of the line item so the DMW could avoid being flagged by the Commission on Audit.
The DMW sought P29.49 billion from the Department of Budget and Management for its 2024 budget, but it has so far been given a proposed P15.54-billion budget in the National Expenditure Program, lower than its P15.8-billion allocation for 2023.
The DMW reported that in the past year, the department handled 132 illegal recruitment cases and assisted 163 illegal recruitment victims.
Underspending in 2023
Tulfo noted that the DMW "needs more room for improvement" following its performance in its first year as a fully established department.
He lamented the DMW's underspending of its P15.8-billion budget for 2023, despite the various challenges that plagued the department in its first year, such as the evacuation of OFWs from conflict-ridden Sudan, Kuwait's ban on new entry visas for Filipinos, and the continuing deluge of complaints from distressed OFWs, among others.
According to the DMW's report on Monday, OFWs who received legal and financial assistance from the department's Agarang Kalinga at Saklolo para sa mga OFW na Nangangailangan (AKSYON) fund are at 5,263 from February to present. Meanwhile, the department handled 16,659 legal assistance cases, labor-related cases, welfare cases, death cases, and shipments of remains in Assistance to Nationals (ATN) cases, a function passed on to them from the Department of Foreign Affairs (DFA) starting July 1.
The department has a 27% utilization rate as of August 31, which accounts for the utilization rates of the Office of the Secretary, as well as its attached agency, OWWA.
"Sa kabila ng mga pangyayaring ito, napansin ko na halos hindi nagalaw ang budget ng departamento. Saan napunta ang perang nakalaan para sa inyo noong nakaraang taon? Bakit sa dami ng mga problema't pangyayaring naganap kung saan kayo dapat ang magbibigay ng tulong, bakit halos wala kayong ginastos?" said Tulfo.
(Despite all these events, I noticed that the budget of the department was barely touched. What happened to the money allotted for you in the past year? How come, with all of these problems where you were supposed to help, you barely spent anything?)
Cacdac admitted that the department needed to "catch up" in spending its AKSYON Fund, which was pegged at P1.2 billion for 2023. He said they only began disbursing money from the AKSYON Fund around April to May, and the DFA's turnover of the ATN program for OFWs was only in July, with the disbursement for the 16,659 cases still ongoing.
Cacdac mentioned the following as part of their "catch-up plan": expanding and improving migrant workers offices, more financial assistance for OFWs, repatriation of OFWs not covered by OWWA, engagement of health workers to handle health concerns of OFWs in shelters, and more.
Allones added that the utilization rate was brought down by OWWA's emergency repatriation fund, which is not used if there are no repatriations in emergency situations.
"But rest assured…that between now and the end of the year, we will be able to fully utilize the remaining budget with our catch-up plans," said Allones.
The Senate finance panel will still hold another hearing for the DMW's proposed 2024 budget. – Rappler.com