The DFA apologizes and asks for understanding as they prioritize repatriation for those who urgently need to go home, like those with medical concerns
As much as the Department of Foreign Affairs (DFA) would want to mount more repatriation flights for distressed overseas Filipino workers (OFWs), there is a shortage of quarantine facilities that would house them once they get home.
"The reason we can't increase, or hindi namin ma-todo, is kulang…. Before we mount a flight, we have to [ensure] na mayroong sasalo na hotel," said Undersecretary Sarah Arriola in a virtual press conference on Friday, July 30.
(The reason we can't increase [flights], or we can't maximize them, is because [quarantine facilites] are inadequate. Before we mount a flight, we have to ensure that are hotel available.)
"As long as there are more [hotels], [and] we can find more, we will mount more flights. 'Yun lang ang assurance namin sa inyo (This is the only assurance we can give you)," she added.
From June to July 2021, the DFA has repatriated 2,069 OFWs from the United Arab Emirates (UAE).
Philippine Ambassador the the UAE Hjayceelyn Quintana said it was "impossible" to give a complete figure for how many were seeking repatriation from across the country, but Consul General Raymund Cortes said the consulate in Dubai alone was processing around 5,000 repatriation applications as of Thursday, July 29.
Repatriation flights carry only a few hundreds at a time.
Since May 15, the Philippines has been banning travel from several countries, including the UAE, which is host to around 650,000 Filipinos, according to the embassy's data. 
OFWs can only go home from travel-banned countries through repatriations initiated by the government or manning agencies, or on special commercial flights. There are at least 14 DFA-chartered flights worldwide scheduled for August 2021.
Figures from the Department of Labor and Employment (DOLE) show that almost 50,000 OFWs worldwide are waiting to be repatriated, as of July 2021.
Factors considered
Arriola said the ability to mount flights depends on the absorptive capacity of the Philippine government. These include the limited quarantine facilities and the government's current 2,000 cap on international arrivals per day.
Apart from the UAE, other countries facing travel bans are India, Pakistan, Nepal, Sri Lanka, Bangladesh, Oman, Indonesia, Malaysia, and Thailand.
When allowed, travelers from these countries are required to undergo a 14-day quarantine. The national government's Inter-Agency Task Force for Emerging Infectious Diseases (IATF) sets this quarantine period for countries of origin that are not on its "green list."
Arriola said hotels often reach capacity since the quarantine period is this long. "It may not be as fast as most people want it to be, but we are doing the best we can," he said.
The DFA asked OFWs to understand that the government is prioritizing those who urgently need to go home, like pregnant women, and those in need of medical assistance.
Of the 2,069 repatriates from the UAE, almost half, or 47%, were Filipinos who had cancelled visas or contracts, or were overstaying.
The repatriates also included families with minor children and Filipinos who were imprisoned and had completed their sentences.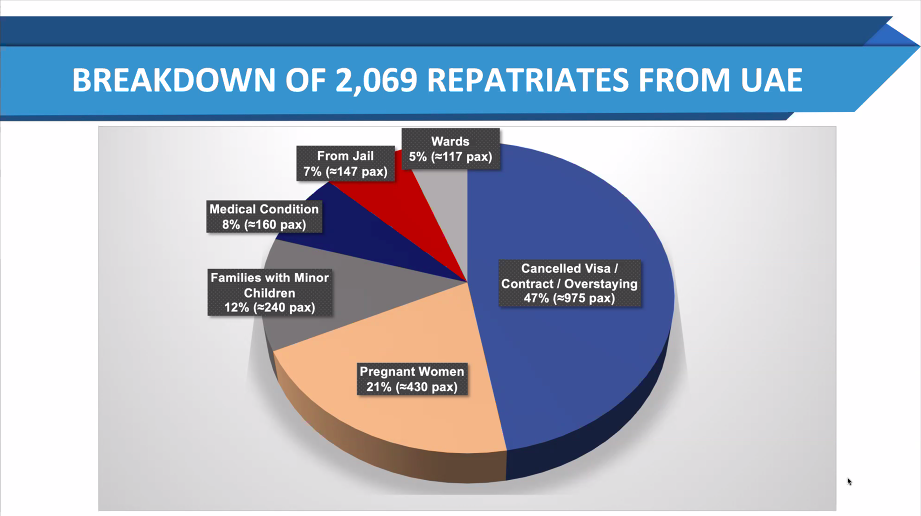 "We apologize for the inconvenience, but we're all in this together, and we will bring everyone home," said Arriola.
The DFA has repatriated 405,769 OFWs as of Wednesday, July 28. The DOLE, meanwhile, has repatriated at least 630,171. – Rappler.com