The senator eyes filing a cyber libel complaint against those involved, including Apollo Quiboloy
Senator Manny Pacquiao asked the Philippine National Police (PNP) to investigate and identify the perpetrators behind the supposed false information accusing him of misusing billions in government funds allotted for a sports training center in his hometown of Sarangani.
In an August 2 letter to PNP chief General Guillermo Eleazar, Pacquiao's legal team provided a list of supposed Facebook posts, YouTube videos, and articles linking the senator to an alleged questionable P3.5-billion project for the ​​Sarangani Sports Training Center (SSTC).
Among these links were a YouTube video of Pastor Apollo Quiboloy posted by SMNI News, and a Facebook post shared by pro-Duterte blogger Sass Sasot. Like Sasot, Quiboloy is also closely associated with President Rodrigo Duterte.
The senator's legal team denied the allegations on the said social media posts. They asked the PNP to help identify the individuals spreading the 27 cases of supposed false posts against him.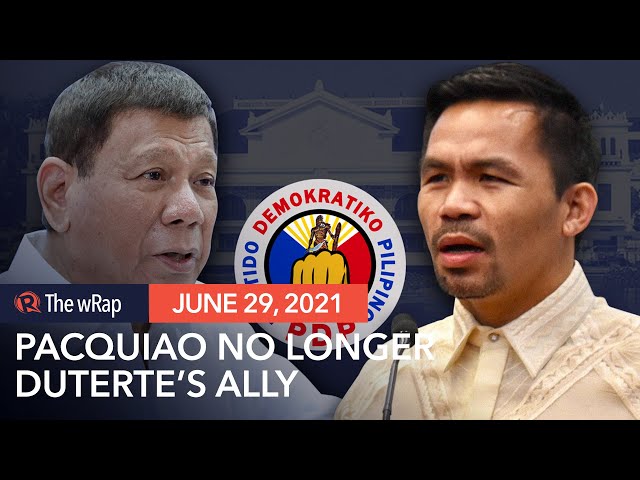 Pacquiao's camp said the senator sponsored only two laws that authorized the creation of sports training centers – Republic Act (RA) 11214, which appropriated P3.5 billion for the Philippine Sports Training Center, and RA 11224, which stated that the P300-million construction of SSTC in Alabel would be funded by the municipal and provincial government.
"After the proposal of the bill (RA 11224) and its signing into law by the President, Senator Pacquiao has no direct dealings with the project," said lawyer Pelagio Lawrence Cuison.
His lawyers are considering filing cyber libel complaints against those behind the posts.
"Senator Pacquiao is also preparing to file the appropriate civil, criminal, and administrative case/s against Apollo C. Quiboloy and the 26 other personalities for their remarks that tarnished and caused undue anxiety and damage to our client," Cuison said.
This is not the first time Pacquiao fell victim to fake news. In 2018, the senator confronted Presidential Communications Operations Office Undersecretary Lorraine Badoy after she claimed one of his campaign vehicles was parked outside the house of his alleged mistress.
A former staunch administration ally, Pacquiao has now caught the ire of President Rodrigo Duterte and his supporters over the in-fighting in PDP-Laban ahead of the 2022 presidential election. – with reports from Gaby Baizas/Rappler.com