President Rodrigo Duterte's chief legal counsel again departs from the legal opinions of other lawyers in the Cabinet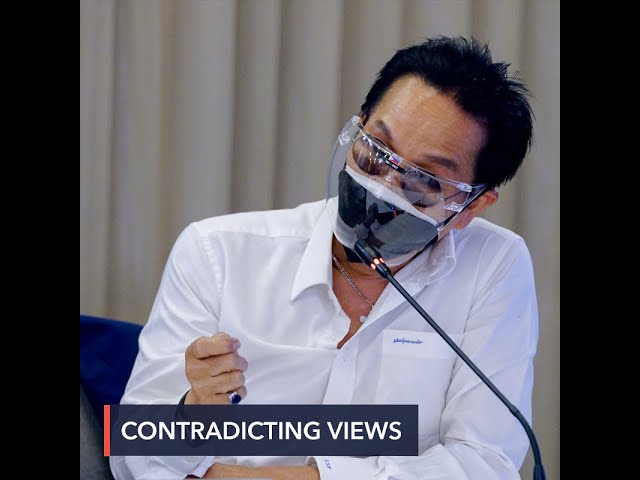 Chief Presidential Legal Counsel Salvador Panelo again departed from the views of other lawyers advising President Rodrigo Duterte, this time saying that no new law is required to arrest of persons refusing COVID-19 vaccination.
"Constitutional provisions on public health, by themselves, are operative and need no subsequent legislation for their enforcement," Panelo said in a statement on Wednesday, June 23.
He then cited parts of the 1987 Constitution as supposed legal basis for criminalizing vaccine refusal. But the provisions he cited are catch-all phrases that don't say refusing vaccines is a crime or that vaccination should be mandatory.
Panelo cited general phrases like, "The prime duty of the government is to serve and protect the people (Article II, Section 4)" and Section 15 of the same article that says the state must "protect and promote the right to health of the people."
Constitutional law professor John Molo said that Panelo is mistaken.
"The constitutional provisions cited give those powers to the State. The President is not the State; he is just a part of it. Another branch (Congress) has to make an act a crime first before the executive can order arrests, and even then only after probable cause determined personally by a judge or warrantless arrests as defined strictly by the Supreme Court," Molo told Rappler.
The Constitution, he added, doesn't allow presidents to declare, on their own, which acts are criminal, and have people arrested.
"We elect presidents, not kings," said Molo.
Integrated Bar of the Philippines national president Domingo Egon Cayosa said the same thing.
"There is no law as yet punishing refusal to be vaccinated. Therefore there is no legal basis for arrest," he said.
Not on same page with Roque, Guevarra
Panelo's legal opinion differs from those of Justice Secretary Menardo Guevarra and Presidential Spokesperson Harry Roque, two other lawyers in the Cabinet who advise Duterte on legal matters.
Roque said on Tuesday that while there is legal basis for Duterte's arrest order in Philippine jurisprudence, Congress still needs to pass a law making vaccine refusal a crime or making COVID-19 vaccination mandatory.
Guevarra, meanwhile, was even more conservative in his interpretation, saying Duterte's remarks were just his way of emphasizing the importance of vaccination and that there is no legal basis for such arrests.
Panelo is yet to respond to Rappler's query on whether he has formally recommended to the President that arrests can already be made even without a new law.
But Roque said on Tuesday that the President thinks a law is necessary.
The different interpretations of Duterte's legal advisers indicate a lack of a unified stance in the Cabinet or a lack of consultations with one another.
Guevarra said he doesn't consult Panelo before responding to reporter's questions on legal issues surrounding Malacañang pronouncements. Roque is yet to respond to Rappler's queries on Panelo's legal opinion.
Panelo's bizarre legal stances
This is not the first time that Duterte's chief counsel took a legal stance contrary to those of Roque or Guevarra.
In May 2020, Panelo made the outlandish claim that the COVID-19 pandemic can be basis for Duterte to declare martial law.
"There is a new international meaning for invasion. It can mean the entry of a disease. There is an actual invasion of the coronavirus disease," said Panelo in his show, Counterpoint, aired by state-run PTV.
Roque later on said Duterte did not share Panelo's views.
"I think that is the personal view of Secretary Panelo. There's a memo which designates the Office of the Presidential Spokesperson as the only authorized office to speak on behalf of the President," said the spokesman.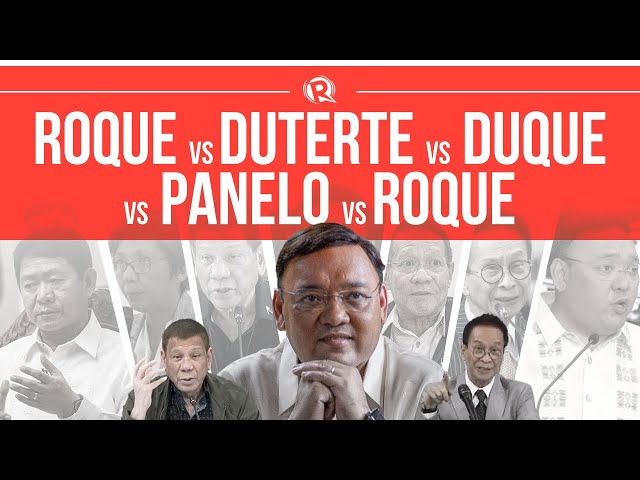 Panelo had also claimed in 2017 that the Constitution allows Duterte to declare a revolutionary government. In contrast, Roque has said a revolutionary government is unconstitutional.
"Precisely, it is called revolutionary because it does not fall within the framework of the Constitution," he had said in September 2020 in a CNN Philippines interview. – With reports from Lian Buan/Rappler.com