PNP chief Debold Sinas had thumbed down the tradition of sealing cops' guns for this holiday season, saying police are now 'disciplined'
Police Senior Master Sergeant Jonel Nuezca, the cop who shot a defenseless mother and son in Tarlac, was off-duty at the time he drew his gun, highlighting consequences of President Rodrigo Duterte's own order allowing cops to carry firearms even while off-duty.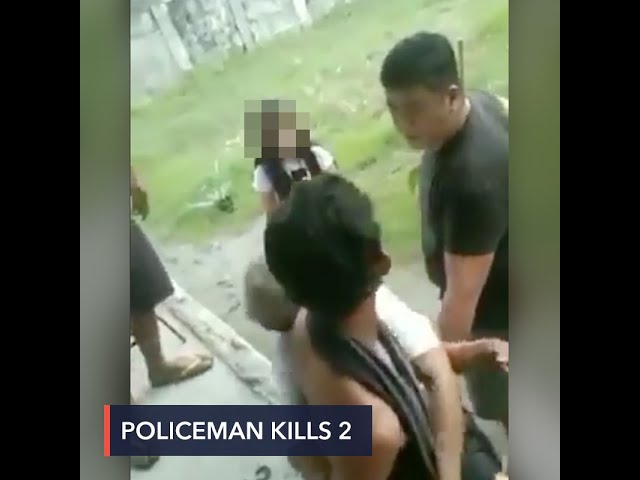 The shooting also happened after the Philippine National Police (PNP) decided to again do away with the practice of muzzling cops' guns during the holidays.
Tarlac police chief Police Colonel Renante Cabico confirmed that Nuezca was off-duty on Sunday, December 20, and had just arrived home from his assignment in Parañaque City's crime laboratory.
But one reason while he was still able to bring his permanent-issued short firearm was because of an order from Duterte.
"Nagkaroon din ng directive sa atin mahal na Presidente noon na yung mga off-duty, they are allowed to carry their firearms," said Cabico on Monday, December 21, in an interview with DZBB.
(Our beloved President gave a directive before that those who are off-duty are allowed to carry their firearms.)
"Kasi nga po may mga insidente kung saan alam naman natin, yung krimen nangyayari sa hindi natin inaasahan," added Cabico.
(Because there are incidents which we know about when a crime happens when we least expect it.)
PNP chief: No need to muzzle police guns
Only a week before the Tarlac murder, PNP chief General Debold Sinas said there was no need to seal the muzzle of cops' guns during the holidays because he believes policemen to be disciplined.
"May self-restraint at disiplina na ang karamihan sa amin and proven na maski may tape ka, kung gusto mo magbaril, gagawin mo," he said on December 15, as quoted by state-run Philippine News Agency.
(Majority of our police officers now have self-restraint and are disciplined. It was also proven that even if your gun is taped, if you want to use it, you will use it.)
The gun muzzling tradition was first stopped in 2016, under the watch of Duterte's first PNP chief Ronald dela Rosa.
Sinas claimed the practice of muzzling guns made cops "hesitant" when responding to crime and thus "hampered" police response.
Duterte's 2017 order
In 2017, as Duterte gave soldiers 3,000 pistols in a Malacañang ceremony, he said he wanted law enforcers to have guns even during their periods of leisure or recreation so they could defend themselves when they are attacked by armed communists.
"I am not in favor of the rule that you cannot bring your side arm outside of your camp or residence. I will overrule that kind of regulations because it is stupid," said Duterte back on July 18, 2017.
In the same speech, the President told soldiers to be responsible with guns and not to use them "against innocent civilians."
A year later, in 2018, then Philippine National Police chief Ronald dela Rosa echoed the same orders, this time specifically for cops.
"Bakit 'di natin gawing uniform practice yan sa lahat? Magdala ng baril para matakot ang mga holdaper. 'Marami palang pulis ngayon na nakacivilian, wag tayong mangholdap'," Dela Rosa said then.
(Why don't we make this a uniform practice? Cops should always bring a gun to scare robbers. 'If there are many policemen in civilian clothes, let's not rob anymore.')
Cops, however, should not display their guns or use them against innocent people, Dela Rosa had said back then.
But he defended the proposal, saying it could be used to deter crime since off-duty police have supposedly been known to foil bus or jeepney robberies because they had a gun.
Lacson has a different recommendation
Dela Rosa is now a senator and his fellow police chief turned lawmaker, Senator Panfilo Lacson, has an opposing recommendation.
"As a policy recommendation, policemen should turn in their issued firearms to their unit's armorer or supply officer when on off-duty status," said Lacson in a statement sent on Monday.
He also said cops should not be issued Permits to Carry Firearms Outside Residence (PTCFOR) while still in active service.
The PTCFOR allows registered owners to carry their firearms outside their residence or place of residence. No less than the PNP chief or an authorized representative issues these permits, which are coursed through the PNP's Firearms and Explosives Office.
Tarlac police vow no special treatment
Tarlac police chief Cabico gave assurances that there would be no special treatment for Nuezca even if he is a fellow law enforcer.
"Hindi po mangyayari sir, wala na po 'yung mga ganun panahon. Hindi po namin kinukunsinti yung mga ganitong aksyon," he said.
(That won't happen, those days are over. We don't approve of this kind of action.)
He then reiterated the PNP's campaign to cleanse their ranks of abusive cops and he said the arrest of the suspect should be a "lesson" for all police personnel that they are "not exempt from enforcement of the law."
Yet Duterte himself has repeatedly told police that he would protect them if they are accused of abusing their authority, as long as their action was done in line with "performance of duty."
Duterte has gained notoriety for publicly telling law enforcers to shoot drug suspects and criminals who violently resist arrest. (READ: Shoot to kill? Duterte's statements on killing drug users)
Nuezca surrendered to the Rosales police station in Pangasinan nearly an hour after the 5:10 pm shooting on Sunday. Paniqui cops picked him up and is now in their custody. – Rappler.com