'There's no reason that it would drag on beyond two months,' Marikina 2nd District Representative Stella Quimbo tells PhilHealth officials during a House hearing
The Philippine Health Insurance Corporation (PhilHealth) has delayed and even denied payments to hospitals for their services from 2020 to 2021 because of issues with paperwork, representatives of the national health insurer told lawmakers on Friday, September 3.
In a presentation before the House committee on good government and public accountability, PhilHealth President Dante Gierran said that PhilHealth recorded P21.1 billion worth of claims still being processed, and P6.2 billion worth of denied claims.
Gierran said that not all of the P21.1 billion claims in process are counted as delayed, but he did not give an exact figure of the delayed claims.
Gierran cited the following as the main reasons for delays in PhilHealth payments: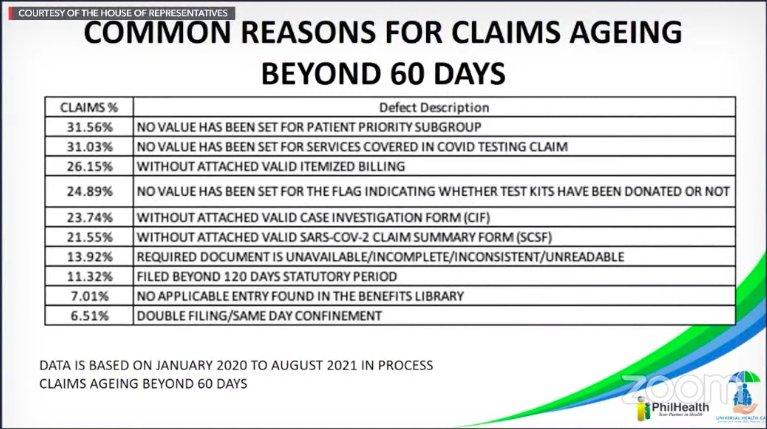 The PhilHealth Charter mandates the reimbursement of medical providers' claims within 60 days from filing.
The following, reasons, meanwhile, were listed as reasons for denying hospitals' claims: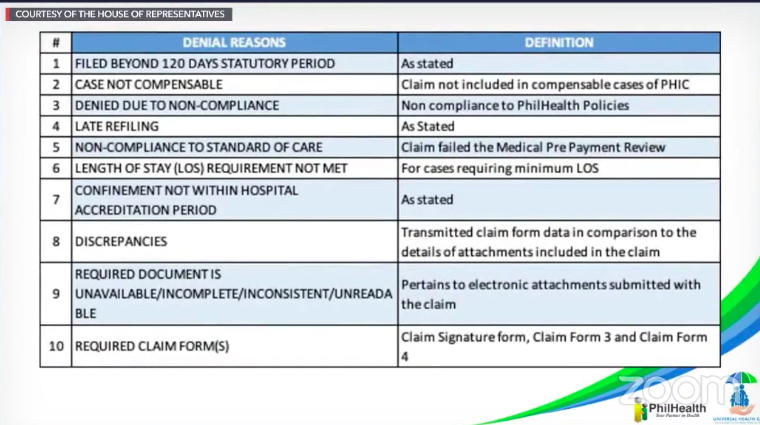 Why does this matter?
The Philippine Hospitals Association said as early as May that hospitals are in "severe financial distress" because of delayed payment of its claims from PhilHealth. With less hospitals open, the Philippine health system is becoming more vulnerable to being overwhelmed by the coronavirus pandemic.
Lamwakers, among them Deputy Minority Leader Stella Quimbo, said that most of the reasons that PhilHealth cited for its delayed payments and denial of claims could easily be remedied.
The Marikina 2nd District Representative said that the reasons cited are "mechanical" and not related to fraudulent claims, and can easily be fixed through the proper handling of paperwork.
During the hearing, Gierran explained that it only suspected fraud in 6.51% of the delayed claims that have double filing – two claims are filed for the same case – but these cases are still under investigation. In 2021, PhilHealth counted 800 cases rejected for fraud, after processing 99,787 processed claims.
As for the other cases, PhilHealth Acting Executive Vice President Eli Dino Santos said some requirements needed certifications and court intervention, justifying the delay.
Quimbo, however, was not convinced. "It's just a certification, which is fairly easy to generate…. Looking at all these reasons, there's no reason that it would drag on beyond two months," Quimbo said in a mix of English and Filipino.
PhilHealth Corporate Affairs Vice President Shirley Domingo said the agency was trying to address the delays by asking their regional directors to conduct an "information campaign" for hospitals to properly fill out the forms.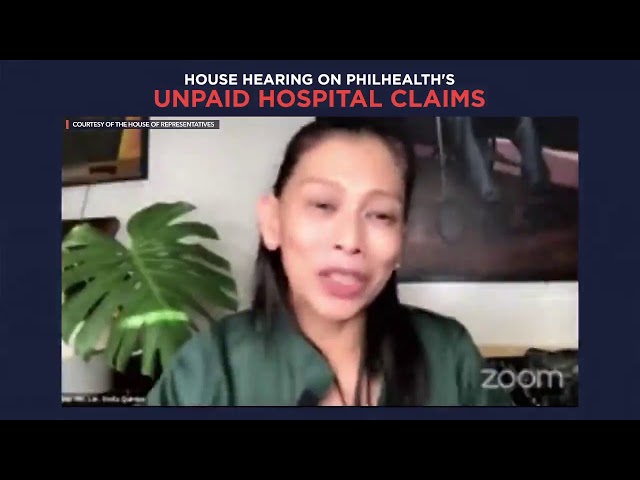 – Rappler.com