This is AI generated summarization, which may have errors. For context, always refer to the full article.
(UPDATED) Opposition lawmaker Edcel Lagman is asked to submit a new written request, which justices target to discuss in their en banc session on February 23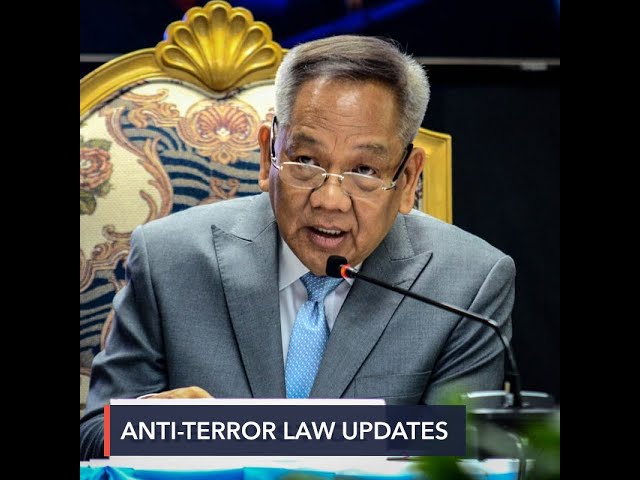 Threats made by Lieutenant General Antonio Parlade Jr and the raid of a Lumad school in Cebu City have resulted in a redeliberation for an injunction on the feared anti-terror law.
Chief Justice Diosdado Peralta asked petitioners to submit a written request for the Temporary Restraining Order (TRO), outlining the new developments. After this submission, the court would then ask Solicitor General Jose Calida to reply.
It was opposition lawmaker Edcel Lagman who raised the request to the Court at the end of Day 3 of oral arguments on Tuesday, February 16.
"Your honors for the first time in history, petitioners and their counsel before this honorable court are seriously threatened with prosecution under the challenged statute by no less than a military general who is part of the State, enforcing the controverted Anti-Terror Act," Lagman said.
Lagman added: "Also for the first time your honors, a petitioner before this honorable court, Chad Booc, in GR 252904 has been taken into custody by police enforcers from the SVD Retreat House at the University of San Carlos yesterday."
"Because of the occurrence of these ominous events, we respectfully pray and reiterate our prayer for the issuance of injunctive reliefs in this case," Lagman ended his manifestation.
Peralta told Lagman to submit a written request that justices could deliberate on. The 37 petitioners have previously asked for a TRO, but none has been issued 7 months since the law took effect.
"There's a pending motion you filed before but we did not act on that, that means that we denied it because there was no resolution, but you are alleging other matters now… So, indicate your reasons," said Peralta, although a source said the chief justice might have mistakenly said that the TRO motions were already denied, when the Supreme Court merely did not act on them.
Supreme Court Spokesperson Brian Keith Hosaka has not yet replied to a clarification whether the earlier motions for TRO were denied or just not acted on.
Associate Justice Ramon Paul Hernando said this process must be expedited, in which both the written request and Calida's reply must be in by Monday noon, February 22.
"So by Tuesday the Court can be able to tackle the matter," said Hernando, although Calida tried to ask for more time to "go deeply" into their reply.
Peralta said Calida has 10 days from receipt. Ten days will not make it in time for Tuesday, February 23, which is the justices' en banc session, also the continuation of the oral arguments.
Lagman was referring to Parlade's threat against petitioners. Parlade, the spokesperson of the National Task Force to End Local Communist Armed Conflict (NTF-ELCAC) said on Facebook: "Very soon, blood debts will be settled. The long arm of the law will catch up on you, and your supporters."
Meanwhile, Booc was a volunteer Lumad teacher who was among 26 people arrested in a raid of a school in Cebu City, but which the police claimed was a rescue. The University of San Carlos (USC) and the Societas Verbas Divini (SVD) have denied that the children were held captives. The children were staying at the SVD retreat house inside USC, one of the country's premiere universities.
Police accused Booc and other adults in the group of training the children to be communist combatants. The cops threatened to sue them under war laws of the International Humanitarian Law (IHL) and Special Protection of Children in Situations of Armed Conflict Act.
Booc's lawyers also filed a manifestation before the Supreme Court on Tuesday, and added that Booc's co-petitioner Windel Bolinget was ordered arrested on September 25, 2020.
Bolinget, head of the Cordillera Peoples Alliance, was ordered arrested over an alleged murder in Davao del Norte in 2018. Bolinget then sought to be in the custody of the National Bureau of Investigation (NBI) in Baguio, as he feared for his life after Cordillera police director Brigadier General R'win Pagkalinawan warned of a shoot-to-kill order if he resisted arrest. 
The manifestation said Bolinget's arrest order "is the result of trumped-up charges" that he was "was targeted in his position as head of the Cordillera Peoples Alliance." Bolinget was previously included in a Department of Justice (DOJ) terror list, which the department later withdrew. 
"The arrest of petitioners Windel Bolinget and Chad Errol Booc show the imminent danger that human rights defenders and dissenters face, particularly with the passage of the anti-terror law, and further prove the chilling effect that such law can create, as activists, indigenous peoples, and indigenous peoples' rights supporters are now tagged as criminals," said the manifestation.
The petitioners have been pressing for a TRO ever since the anti-terror law took effect, with one pleading even saying that if the Supreme Court does not temporarily stop the law, "freedoms of the Bill of Rights will be irrevocably and irreversibly chilled and mangled beyond recognition." (READ: In anti-terror law case, has Supreme Court shown conscience?)
The petitioner group of retired senior justice Antonio Carpio has pointed out that the Supreme Court has all the requisites to issue a TRO.
Oral arguments will resume on February 23. – Rappler.com