Acting Cebu City Mayor Michael Rama apologizes for the 'excitement' of participants at the Partido Barug event
The Cebu City Emergency Operations Office (EOC) has sent a show-cause order to Partido Barug, a Cebu-based political party affiliated with the ruling PDP-Laban, following reports of health protocol violations during its event announcing its 2022 local candidates.
City Councilor Joel Garganera, deputy chief implementer of the Cebu City EOC, said in a phone interview with Rappler on Wednesday, October 6, that the show-cause orders have been sent to the venue and the event organizer.
"This is our normal practice. If there are any reports of capacity breaching and protocol violation, we always send a show-cause order," he said.
The Cebu City EOC gave the venue and the organizers three days to explain in writing why they should not be held liable for alleged violations of COVID-19 protocols during the Partido Barug event held on Tuesday, October 5.
The Partido Barug event included Acting Mayor Michael Rama, who the party endorsed as its mayoral bet, along with City Councilor Raymond Alvin Garcia who is running for vice mayor.
Presidential Spokesperson Harry Roque was also at the event to endorse Rama's mayoral bid on behalf of President Rodrigo Duterte.
Cebuanos online criticized the event as the participants reportedly violated protocols that Rama himself had ordered. Rama, who is acting mayor while Mayor Edgar Labella is still on medical leave, signed Executive Order 143 which sets general community quarantine protocols in Cebu City.
Garganera said that Collin Roselle, a lawyer who works with the Partido Barug slate, received the show cause order on behalf of the event organizers.
Garganera said in a phone interview with Rappler that Rama himself had admitted that they were not able to control the crowd during the event.

Garganera is part of the Partido Barug slate but he was not at the event as he has to attend to his duties at the EOC.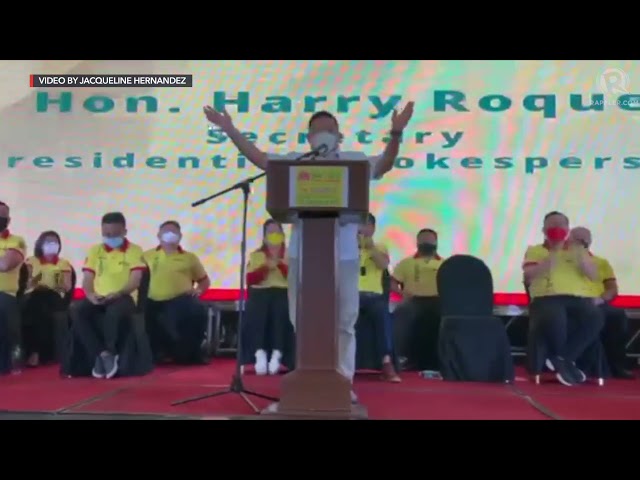 Rama, in a press conference on Wednesday, apologized to the public and said that there were indeed moments when he could not control the "excitement" of those who attended their event.
"There was a moment when people were already so excited in a way. We cannot blame excitement. Excitement can always create concern and so once again, on behalf of my group, I offer my apology," he said. – Rappler.com