The Department of Health earlier said that Pasig is among the cities being eyed for the pilot rollout of vaccines as it is prepared ahead of others
Pasig City is the first local government unit (LGU) in the country to have an approved vaccination plan, Mayor Vico Sotto announced on Tuesday afternoon, January 26.
"I was told that Pasig is the First LGU with a DOH (Department of Health)/WHO (World Health Organization)-approved vaccination plan!!" Sotto announced through a tweet.
Sotto made the announcement after meeting with vaccine czar Secretary Carlito Galvez Jr and testing czar Vince Dizon.
The DOH earlier announced in a Senate hearing that Pasig City was one of the cities it was eyeing for the pilot vaccine rollout as it was prepared ahead of others.
"Our LGU's Beat Covid-19 Task Force will continue to work with our national government agencies, WHO, private medical institutions, and NGOs. They've been with us every step of the way," Sotto said.
Why does this matter?
The Department of the Interior and Local Government (DILG) required LGUs to get an approved vaccine plan before they can receive their share of vaccine doses from the national government stockpile.
The checklist includes the following:
Preparation of information campaigns to encourage vaccinations
Preparation of a master list of priority individuals in compliance with World Health Organization (WHO) guidelines
Identification of possible vaccine centers with cold storage facilities and other logistical equipment
Preparation of a master list of human resources and personnel needed in the vaccination program, like doctors, barangay health workers, and other medical personnel
Attendance of health personnel in vaccination training programs via the DOH website at learn.doh.gov.ph
Reorganization of emergency operations centers to include a dedicated arm for vaccination concerns
Preparation of barangay personnel and volunteers to assist the vaccination program
Following these steps ensure that vaccines would not be put to waste as they would be properly transported, stored, and administered.
Pasig City's vaccine plan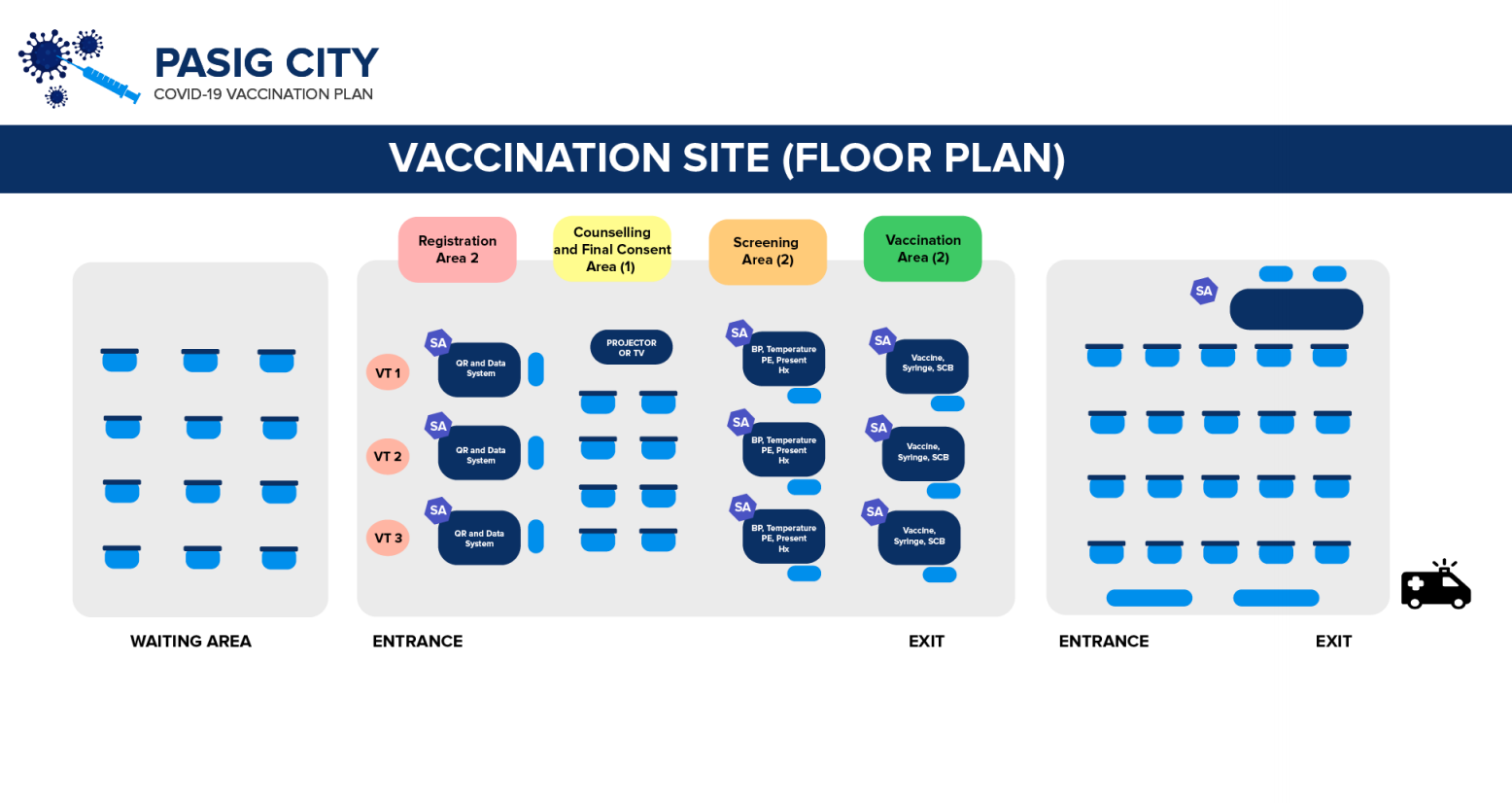 The Pasig City LGU shared its vaccine plan to the public through a slide presentation.
The plan is divided into 3 phases: pre-vaccination, vaccination, and post-vaccination.
Pre-vaccination – the most detailed of the phases – consisted of an account of all its health workers, senior citizens, persons with disabilities, the police force, and indigents as priority targets for the jabs.
The city plans to have 16 vaccination sites that aim to inoculate over 33,000 people per week.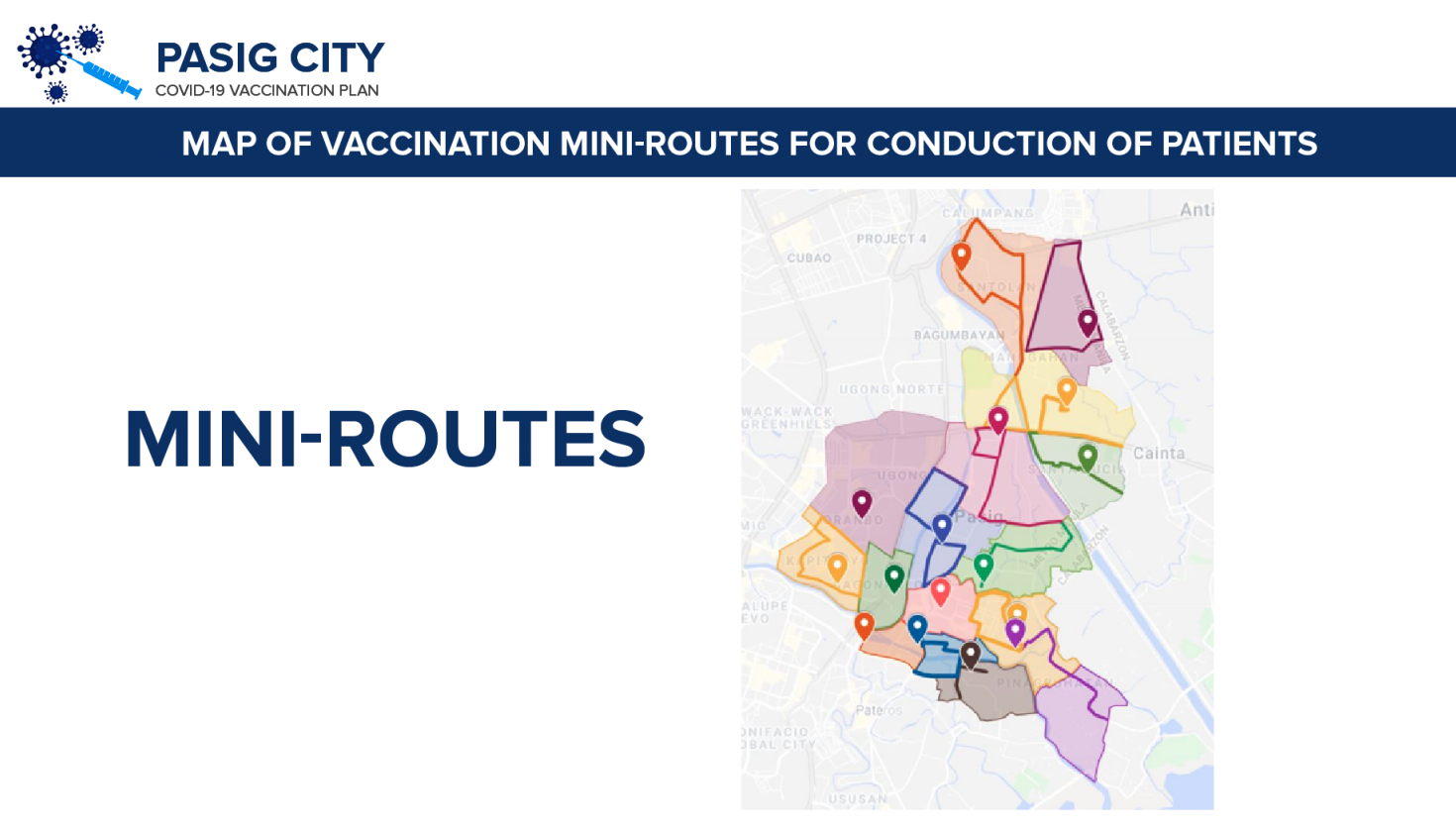 The pre-vaccination phase also included an audit of supplies, a transportation plan to most effectively distribute them, and a communication plan to campaign for vaccination.
The vaccination phase is comprised of floor plans of the vaccination sites, the step-by-step process that a person getting vaccinated goes through, and an emergency response plan.
The post-vaccination stage consists of monitoring vaccinated people, listening to feedback, and a continuation of the communications plan to make announcements to the public. – Rappler.com