This is AI generated summarization, which may have errors. For context, always refer to the full article.
Platform Pol.Is, used by Taiwan Digital Minister Audrey Tang, is now being used to get Pasigueños' views on a plan to reserve streets for jogging, biking, outdoor dining, and shopping
The Pasig City government is using a data science-driven online platform to consult residents, workers, and students in the city about its plan to establish "open streets" during the COVID-19 pandemic.
The platform, Pol.Is, the brainchild of Seattle-based developers, launched an online survey on Friday, October 9, during an "Online Assembly on Open Streets" organized by the Makati Business Club and the Konrad Adenauer Foundation.
Participants of the virtual gathering were the first to try out the innovative survey, which uses machine learning to sift through how respondents approved or disapproved of a variety of statements on open streets crafted by the Pasig government.
Questions range from general ones like, "Ang kalye ay hindi para sa mga tao (Streets are not for people)" to concrete proposals like "Okay lang na isara ang ibang kalye sa mga motorista (It's okay to close off some streets to motorists."
"We're really happy to partner here with Pol.Is and with Makati Business Club to get a better sense of people's attitudes, of people's belief about open streets and people's familiarity with the concept just so we can plan our projects better," said Pasig's chief transport planner Robert Anthony Siy III.
Pol.Is also allows respondents to make their own suggestions, which are also sent to other respondents for them to approve or disapprove. The platform's algorithm then groups the results to show where participants agree and disagree, which statements were the most divisive, and where consensus could be found.
It generates an opinion map showing where certain groups of respondents stand in relation to statements and suggestions, allowing policy makers in the city to get a sense of public sentiment on specific, practical concerns about its proposal.
Pol.Is CEO and co-founder Colin Megill also explained the idea of Pol.Is and how it works.
Towards the end of the forum, the floor was opened to questions from participants.
'Open streets' can save lives
During the online consultation, Siy gave a brief description of their open streets idea.
The plan is to close off certain streets to motor vehicles and use the space for jogging, biking, retail, outdoor shopping, and outdoor restaurant dining instead.
This is based on the findings of health experts that COVID-19 transmission is greatly reduced when people our outside, where air circulation disperses infected droplets and physical distancing is easier to do.
The pandemic has highlighted Metro Manila's lack of open, green spaces where citizens can pursue activities in a safer manner while a vaccine is not yet distributed.
"In Pasig, one thing that's become very concerning for us is household transmission in crowded living spaces. For many people in the Philippines, you don't have a lot of housing square meterage or housing area per person so it's become very important for people to have ways to spend their day without being with much close contact even with their own family members, just to minimize that risk," said Siy.
Some streets they are considering are Caruncho Avenue in front of Pasig City Hall. The government also plans to ask barangay officials to suggest which 50 to 100 square-meter stretch of streets in their barangays to turn into open streets.
"When you do things like take road space from cars and give it more towards people-centered purposes by turning them into car-free streets where people can walk and play, this is something that has a lot of benefit even before COVID but during COVID," said Siy.
Open streets have the added value of providing a safe route for medical frontliners and other workers to get to their destination without taking enclosed public transportation.
Car-free streets are not new to Pasig City. Siy said that based on their experience, blocking certain streets from car traffic has not significantly impeded car flow in the city, even when certain streets were closed during a weekday.
Involving the public
The Pol.Is survey will remain live until Saturday, October 17. Then on October 23, the results will be discussed in another online assembly, this time with Pasig Mayor Vico Sotto himself.
Only Pasig City residents or people who work and study in the city are asked to answer the survey. To get started, those interested can click this link or use the QR code below (also posted in the Makati Business Close Facebook page). These lead to an information sheet the participant must fill up.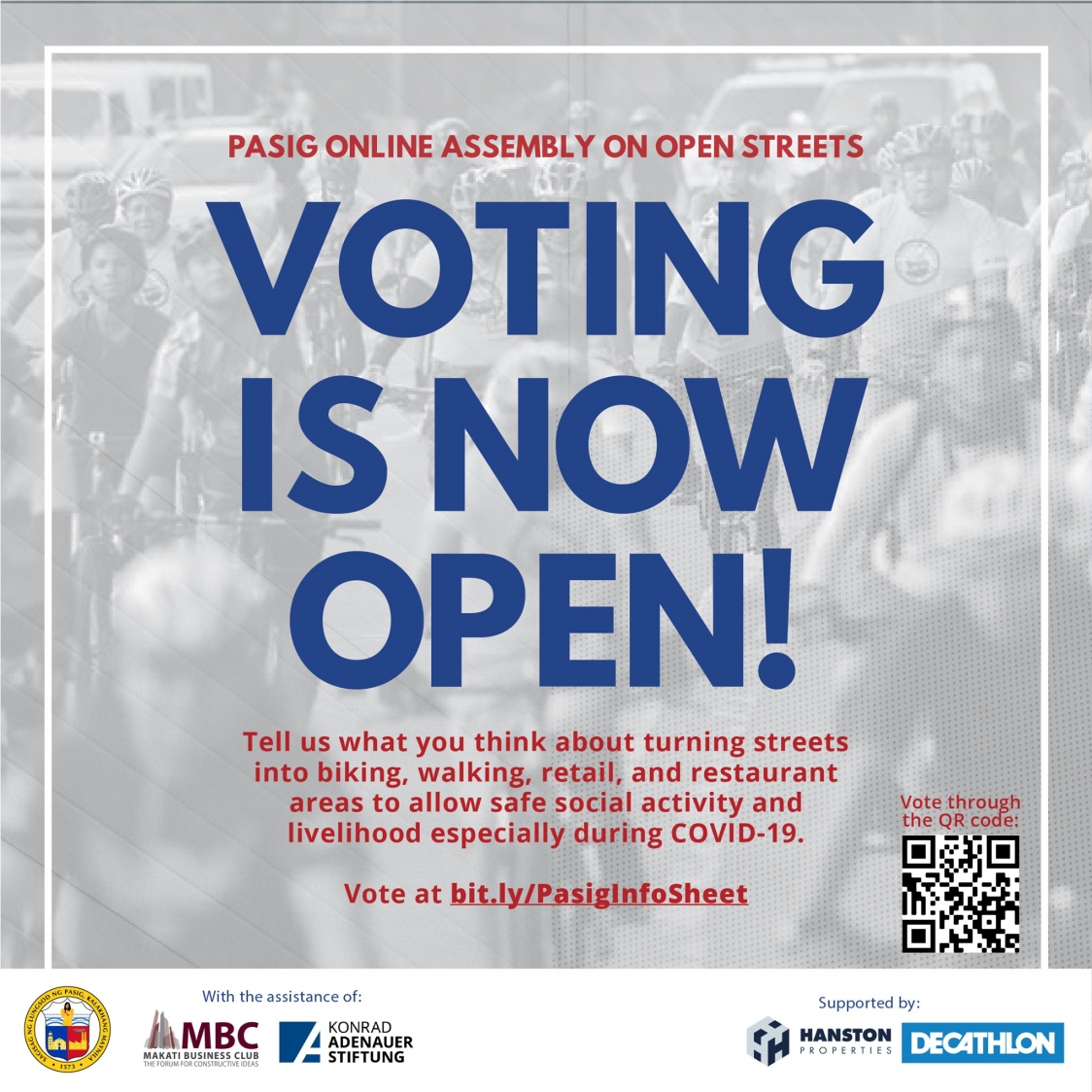 The information sheet is one way the city government makes sure that only Pasig residents, students, and workers gain access to the Pol.Is survey.
Siy said the Pol.Is survey will be only one way to consult the people of Pasig, recognizing that not everyone has access to web-based technology. They plan to talk to other sectors like tricycle drivers and street vendors.
Pol.Is has been used by the Taiwan government for its own public consultation initiative, Join. Taiwan's Digital Minister Audrey Tang recommended the platform to the Pasig City government. – Rappler.com