(1st UPDATE) PDEA Director General Wilkins Villanueva also says in a Senate hearing that both his group and the PNP were fooled by their informants
Exactly three months after it happened, the head of the Philippine Drug Enforcement Agency (PDEA) blamed lapses by members of the Philippine National Police (PNP) for the deadly outcome of their misencounter.
On the night of February 24, a gunfight broke out between Quezon City Police District's Special Operations Unit and PDEA's Special Enforcement Service near Ever Gotesco mall in Quezon City.
Two cops, a PDEA agent, and an informant were killed in that incident, which both groups said was a misencounter.
"This unfortunate incident ay 'di dapat mangyayari kung tama lang sir yung ginawa nilang procedure… Pero hindi eh! Hindi namin alam sir na PNP sila," said PDEA Director General Wilkins Villanueva Monday, May 24, during the hearing of the Senate Committee on Public Order and Dangerous Drugs.
(This unfortunate incident should not have happened if they followed the right procedures. But they didn't. We didn't know they were PNP)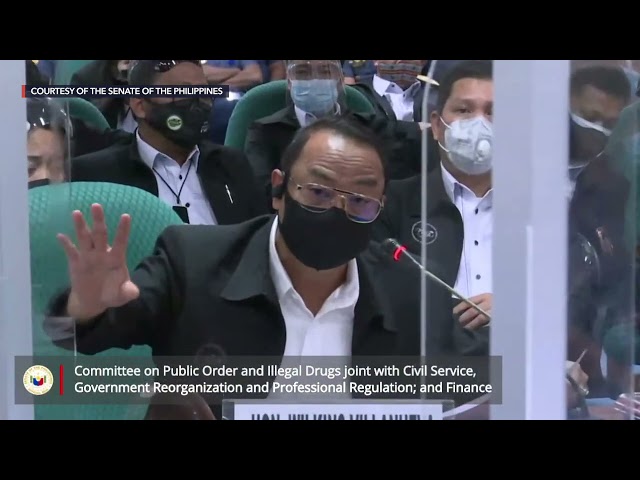 Aside the cops disregarding protocols, Villanueva also admitted during the hearing that a PDEA informant fooled them about developments that fateful evening. He identified the informant as a certain James Tan, a drug dealer.
"Kumbaga pinaglaruan tayo ni alias James Tan alias Budoy. Kumbaga, sinalya-salya tayo dito hanggang sa nagkaroon ng buy-bust operation pareho (We were fooled by this alias James Tan aka Budoy. We were misled until we [PDEA and the cops] were made to believe that there was a buy-bust)," Villanueva added.
Meanwhile, committee chair Senator Ronald dela Rosa affirmed that both law enforcement agencies may have been fooled by their informants. He said an initial report by the National Bureau of Investigation also mentioned that the cops and PDEA were both taken for a ride by their assets.
"'Yung explanation mo, seems to bolster the statement of General Villanueva na parang pinaglaruan lang sila ni Untong (Your statement seems to bolster General Villanueva's statement that they were misled by Untong)," Dela Rosa told NBI NCR Director Cesar Bacani.
As the third party investigator, the NBI conducted an independent probe into the incident. Bacani said they would conclude the investigation in two weeks.
NBI's timeline
According to the NBI's initial investigation, the PNP had set an anti-drug operation in Baclaran, Parañaque City, on February 23 against a certain "Mark," sibling of drug dealer "Omar Kassan." It was this Mark who was in contact with PNP's informant, "Mama Jo."
However, that operation was called off by Mark because he suspected that he was dealing with cops.
After that incident, the cops wrote a coordination letter to the PNP. That letter stated that they would have another operation in Litex, Quezon City on February 24.
On that evening, the PDEA was supposed to hold a separate operation in Quiapo, Manila, against a certain "Manisan." PDEA's operation against Manisan was scrapped.
While the PDEA team was on its way back to base, their informant, Untong Matalnas, said they had another operation in Litex, Quezon City.
PDEA agreed to go into this operation unaware that a police team would also be in that area that same evening.
PDEA said their vehicle overheated and got stalled in front of a fast food chain. This was where the shootout happened.
According to the NBI, the PNP was expecting Untong, PDEA's informant, to sell illegal drugs.
Meanwhile, the PDEA was expecting Mama Jo, PNP's informant, to return the drugs she acquired from PDEA's target.
The NBI said based on its initial findings it was Untong, who lied that he would sell drugs to Mama Jo. That lie led to the entire mishap.
Lack of coordination
Dela Rosa, a former PNP chief, said the police should oversee the drug operations to avoid the lack of coordination among law enforcement agencies conducting anti-drug operations.
"Dapat ang pulis ang central coordinating body sa lahat ng law enforcement operations sa area nila (The police should be the central coordinating body of all the law enforcement operations being conducted in their area)," Dela Rosa said.
Last May 14, the PNP and PDEA almost had another misencounter during a buy-bust operation in a Quezon City mall.
Few days later, officials of both agencies met and decided to craft unified guidelines in conducting anti-drug operations to avoid a repeat of these fatal errors.
The guidelines aimed to establish better communication and coordination procedures between the two agencies when conducting operations in specific areas. – Rappler.com