The government stands to spend P9.6 trillion or P813.42 billion in the next 20 years for the pension of soldiers and cops. If reforms are for new entrants only, GSIS says it will take '8 or 9 decades' for the bleeding to stop.
It will take a lifetime before government coffers stop bleeding from the hefty expense of pensions for military and uniformed personnel (MUP).
This would be the case if Congress decides to pass a law that would cover only new soldiers and cops, as this appears to be the closest to a compromise legislators could get with security forces.
At the Senate hearing on the proposed MUP pension reform on Thursday, September 30, Senator Sherwin Gatchalian asked how many years would it take for the current MUP system to end.
"If we apply it to the new entrants, obviously, in effect, we're stopping the bleeding. And that bleeding will take some time to stop – probably a generation. I'm just wondering how long is that bleeding so to speak?" asked Gatchalian.
Government Insurance System Service (GSIS) Senior Vice President and Chief of Actuary Office George Ongkeko Jr. said that "probably eight or nine decades," as it includes the current active force.
"If an active member right now is 20 years old, he reaches mandatory retirement at 56 years old, that's already 36 years. But he could live on until let's say, 80 or 90 years old. Essentially, if we want to be sure… probably eight to nine decades," Ongkeko explained.
Senator Panfilo Lacson, chairman of Senate committee on national defense, noted that officers usually start at 21 years old, while enlisted personnel could be as young as 18 years old.
Bleeding coffers dry
According to the initial actuarial study of the GSIS, the total unfunded liability for the current MUP pension system is at P9.6 trillion or P813.42 billion per year in the next 20 years if reforms are not implemented.
Under the current scheme, MUPs do not pay for their pensions.
Upon retirement at 56 years old or when MUPs reach at least 20 years of service, they get a higher rank, and pensions are pegged to the current salaries of the active personnel – a procedure known as 'automatic indexation.'
The P9.6-trillion figure scenario is also based on the assumption that the yearly increase in salary is at 10%.
But if that variable is changed, say, the annual salary increase would be capped at 5%, then the total funding requirement would go down by 40% to P5.71 trillion.
What's the best case scenario?
In the latest GSIS presentation that pegged the annual salary increase at 5%, making both the active personnel and the new entrants pay for their pensions would save the government the most money by P4.35 trillion.
This scenario removes automatic indexation, retiring at actual rank, with a minimum pensionable age of 56. The total funding requirement would be down by two-thirds at P1.36 trillion. This means that the government would be shelling out P120 billion yearly in the next 20 years.
While this is the best scenario, security forces do not necessarily agree with it. For them, the best scenario, still, is the one that covers new entrants only.
Senators also appear to support, as a compromise, that reforms should cover new entrants only.
Retired navy officer vice admiral Ariston delos Reyes, however, voiced out his concerns against reforming the current pension system. He said that changes in the current system could discourage new applicants.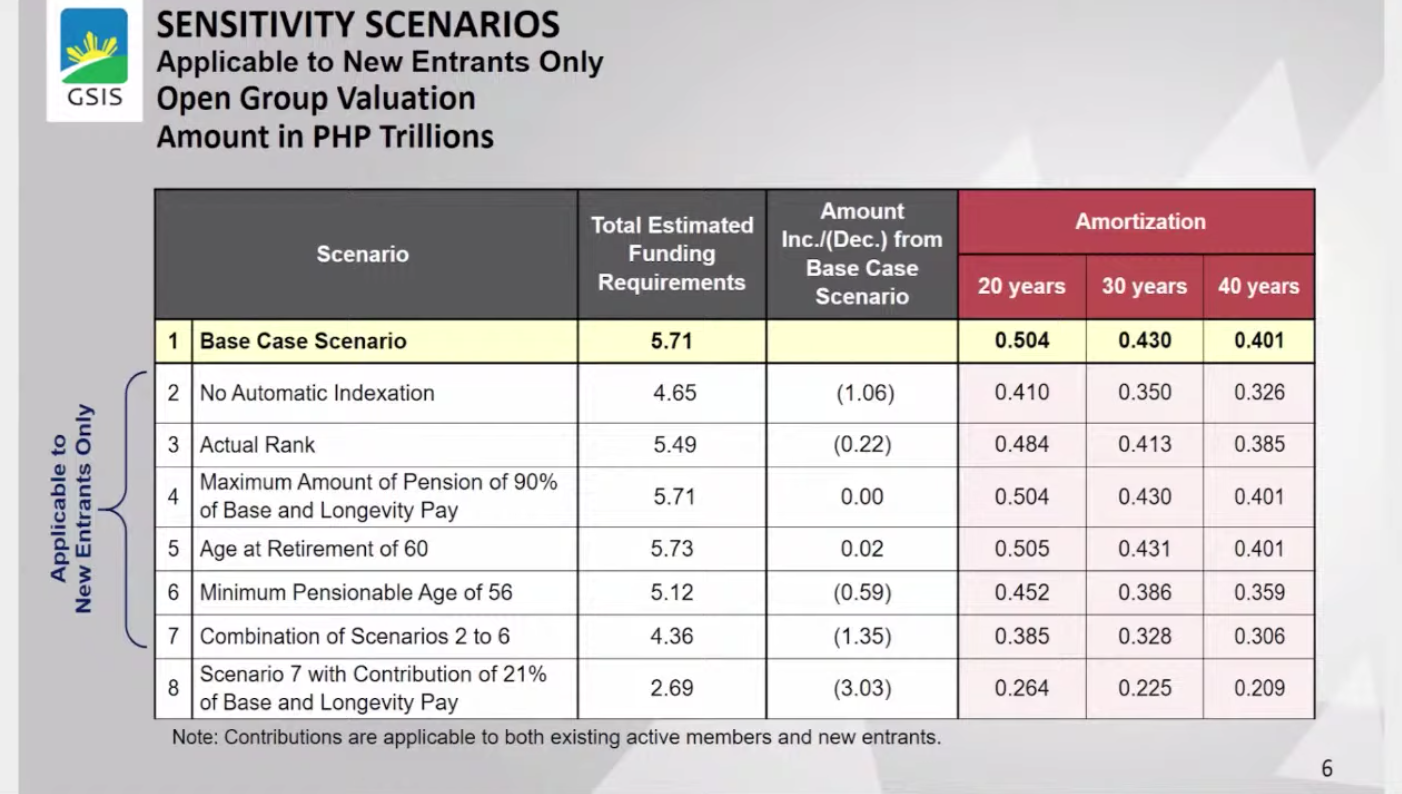 In Ongkeko's presentation, the following reforms would lower the funding requirement to P4.6 trillion:
No automatic indexation
Retiring at actual rank
Maximum amount of pension is pegged at 90% of base and longevity pay
Mandatory retirement at 60 years old, with the minimum pensionable age at 56
GSIS, however, did not include the computation if only new entrants would pay mandatory contributions. In Ongkeko's presentation, he showed that the funding requirement would be lowered to P2.69 trillion should both active personnel and new entrants pay for their pensions.
During the hearing, senators asked GSIS if it could create more scenarios that would cover new entrants only, given that the "least sensitive" scenario involves them.
They gave GSIS the liberty to create its own assumptions such as the rate of annual salary increase and the computation for mandatory contributions.
Lacson said that a technical working group will be created to discuss the matter further. – Rappler.com